BeAdvisors Art Department has been touring New York to select the most promising emerging artists of Frieze New York 2021
Discover here our selection of emerging artists in our Collectors Guide to Frieze New York 2021
Tahnee Lonsdale
b. 1982 in UK. Lives and works in Los Angeles
Tahnee Lonsdale's paintings create iconographic tableaux of heartbreak and reconciliation in im- pactfully spare compositions. The anonymous geometric silhouettes that appear in Lonsdale's work serve as representations of the self, split into identical figures whose interactions suggest the range of human emotion. These scenes of struggle and triumph are testaments to human resilience
Tahnee Lonsdale holds a BA from the Byam Shaw School of Art in London. Since graduating in 2007, she has been short-listed for both the Dazed and Confused Emerging Artist Award and "100 Painters of Tomorrow." Her work has been exhibited widely in her native Britain, as well as in the United States at venues such as the Orange County Center for Contemporary Art in Santa Ana, CA. Lonsdale currently lives and works in Los Angeles.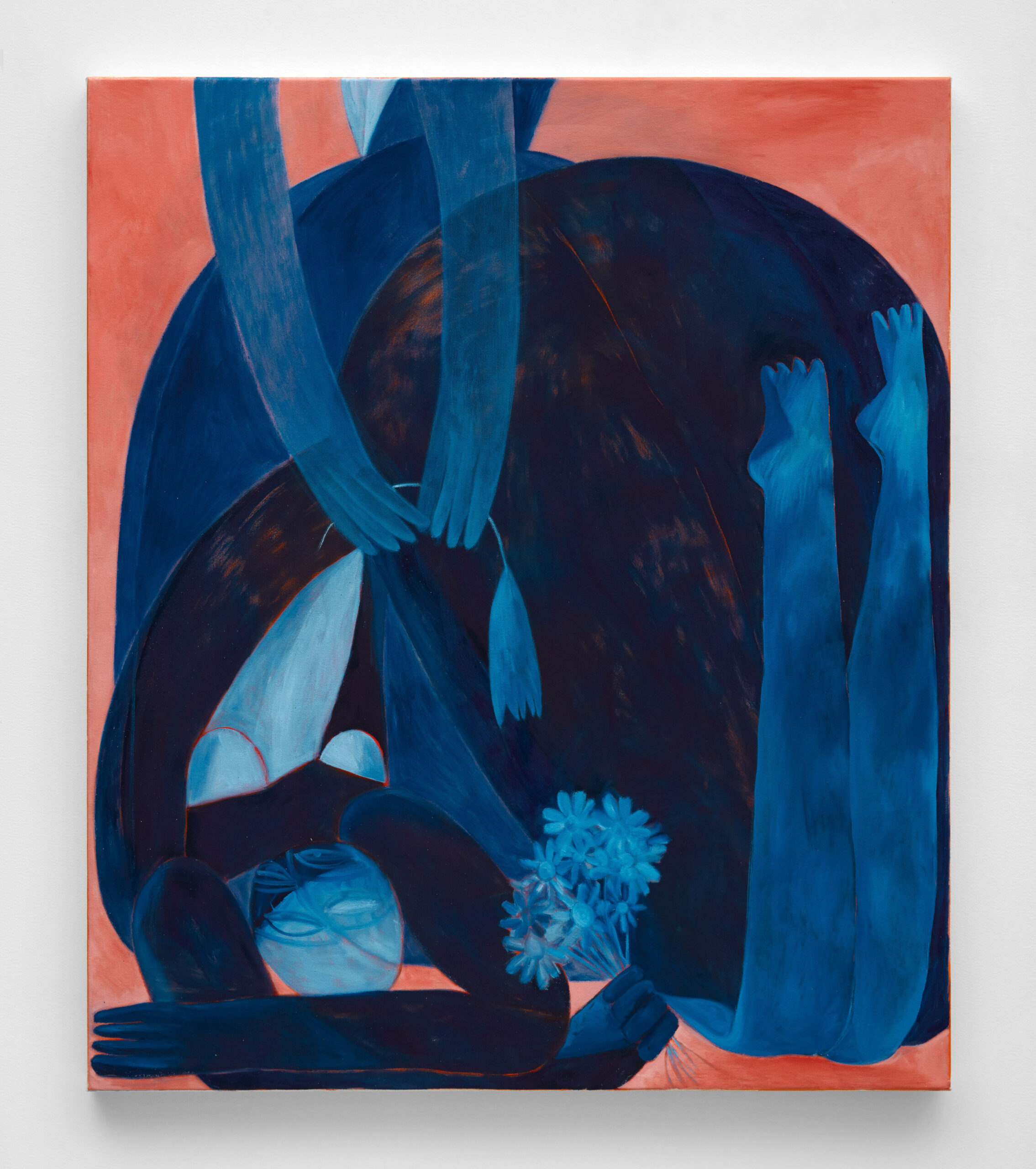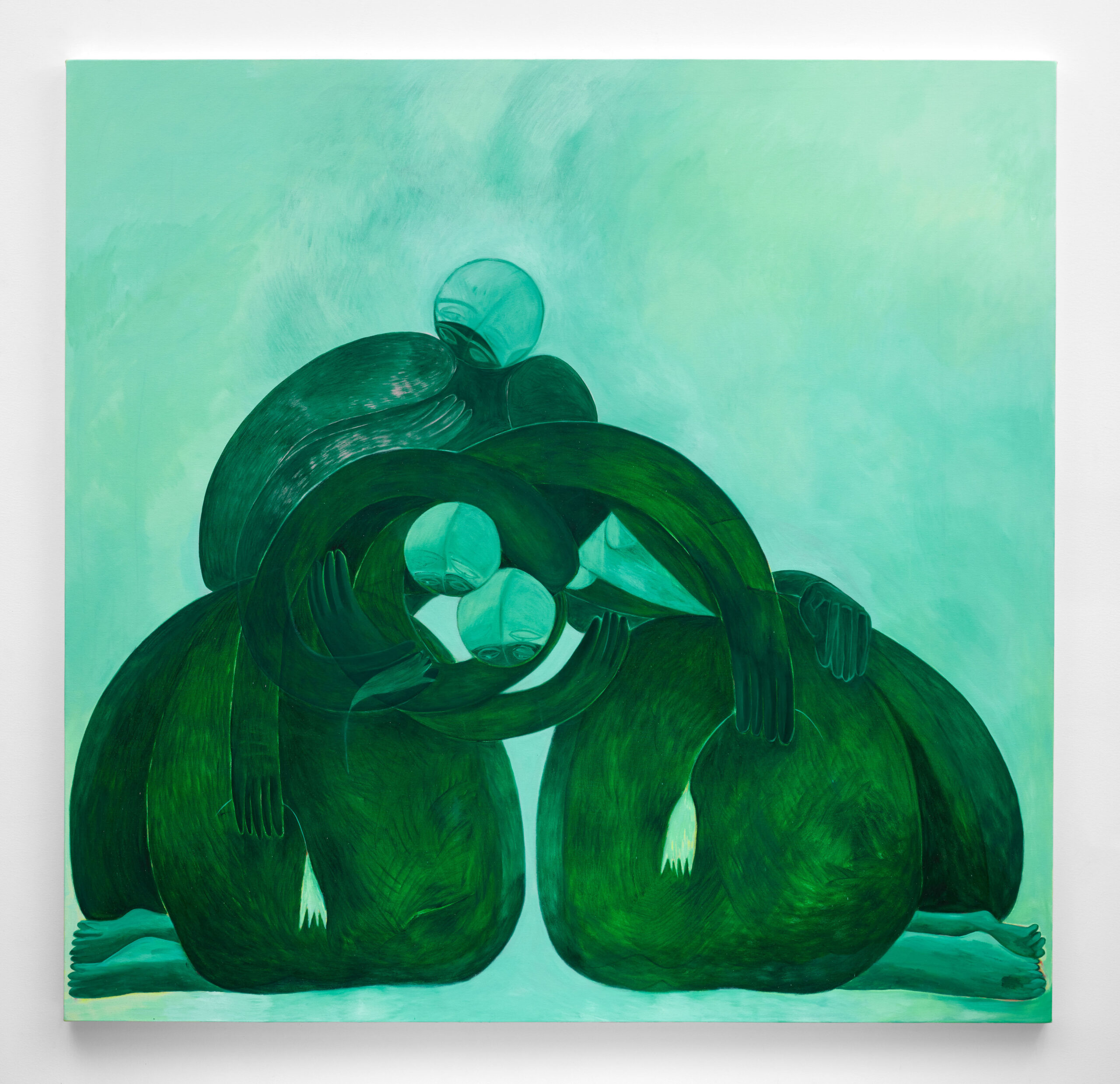 Louise Giovanelli
b. 1993 in London. Lives and works in Manchester, UK
Louise Giovanelli's paintings might be contemporary, but they are infused with layers of history. The London-born artist is inspired by early Renaissance Masters such as Duccio, Giotto and Piero della Francesca.
She builds up semi-translucent layers of paint to explore notions of flatness, light, and rich, lumi- nous colour. Though her works might appear abstracted, you will often find the spectral outline of architectural ornamentation or figures from an aged fresco. Scratches on her canvases serve to break the illusion of the painted surface and reveal the layers beneath.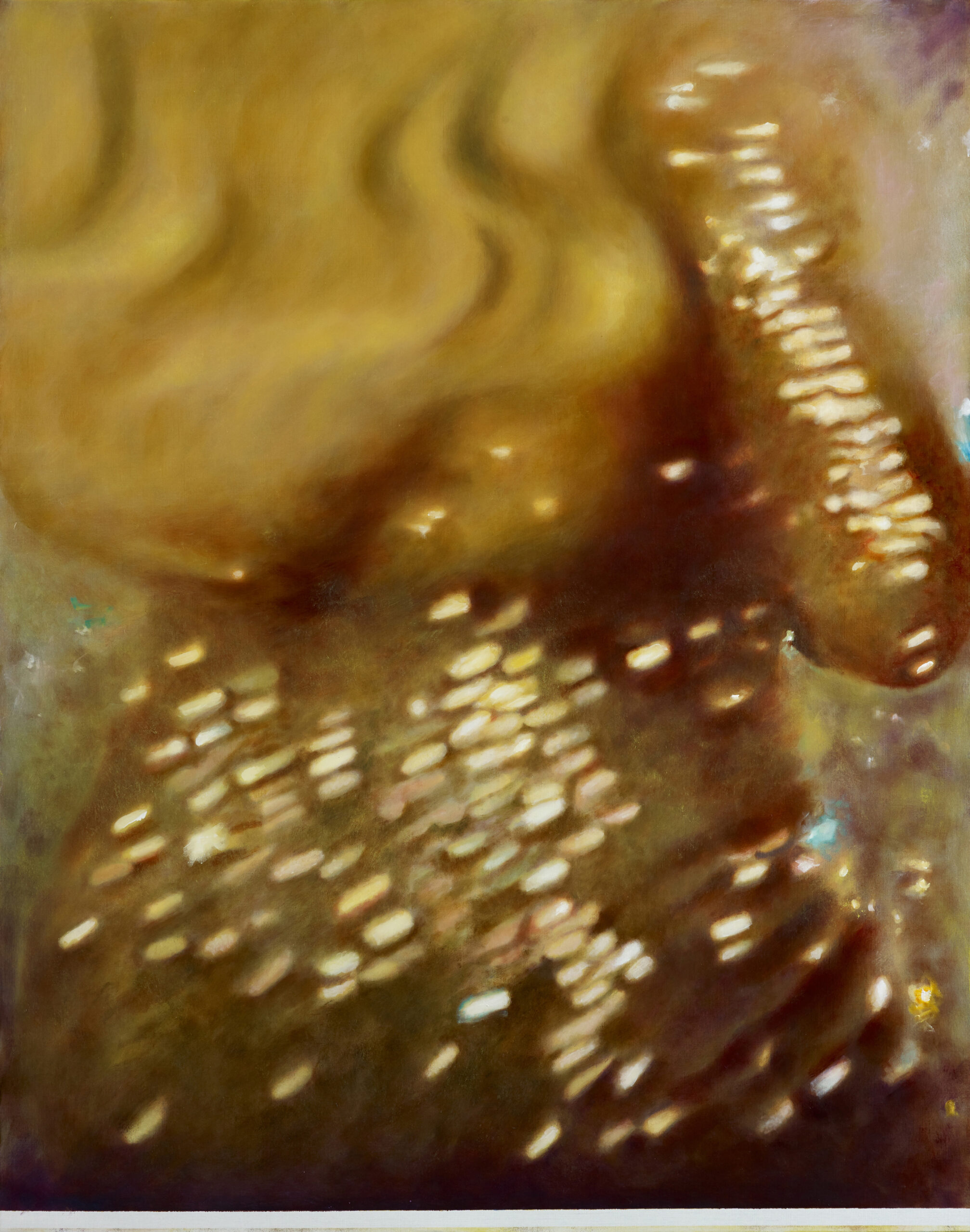 Dana Lok
b. 1988 in Berwyn, PA. Lives and works in Brooklyn, USA
Lok's paintings and drawings play with sequence, point of view, language, illusion and flatness to investigate the magical threshold between a sign and what it points to. The artist draw on the history of painting and animation for source material.
She treats flat, still images as spaces you can move through, like a theater set, or see a second mo- ment of, like two frames of an animation. Lok's pictures take an active stance towards the audience observation, her paintings explore the visual possibilities tucked inside everyday metaphors we use to understand knowledge, representation, language and time.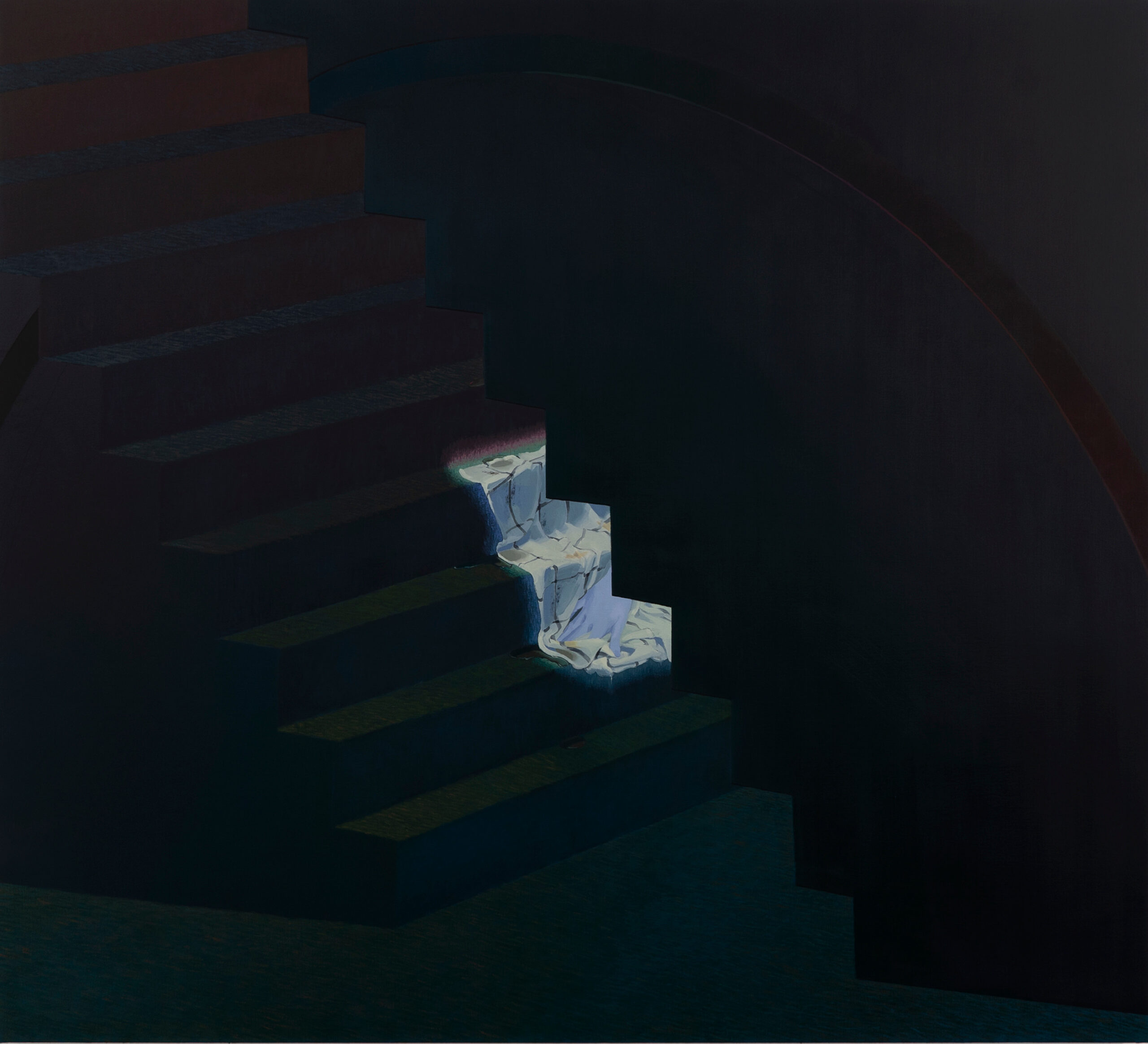 Kathia St. Hilaire
b. 1988 in Berwyn, PA. Lives and works in Brooklyn, USA
Kathia St. Hilaire interlaces elaborate processes and personal narratives into her practice. Drawing from Haitian Vodun culture and her upbringing in a South Floridian Caribbean community, St. Hi- laire's interdisciplinary work is densely layered and evocative of traditional tapestry fabrics.
Using relief printing techniques and oil based and metallic ink on sugar packaging and box braid packs, she elevates these discarded objects into meaningful materials, reflecting on the notion of beauty products as luxury commodities.
Erin Jane Nelson
b. 1989 in Neenah, WI. Lives and works in Atlanta, GA
Erin Jane Nelson makes sculptural collages that challenge the boundaries of photographic images as an artistic material. By combining photographs Nelson makes with textiles, ceramics, or other non-traditional substrates, she creates new hybrid forms.
Although the conceptual specificities of each body of work are different, Erin's practice explores the role of climate change and its psycho- logical, sociopolitical, and spiritual effects. By incorporating humor and self-mockery, her goal is  to create a new approach to "environmental" art that acknowledges the complexity of race, gender, class, and colonial history within a radically changing environment.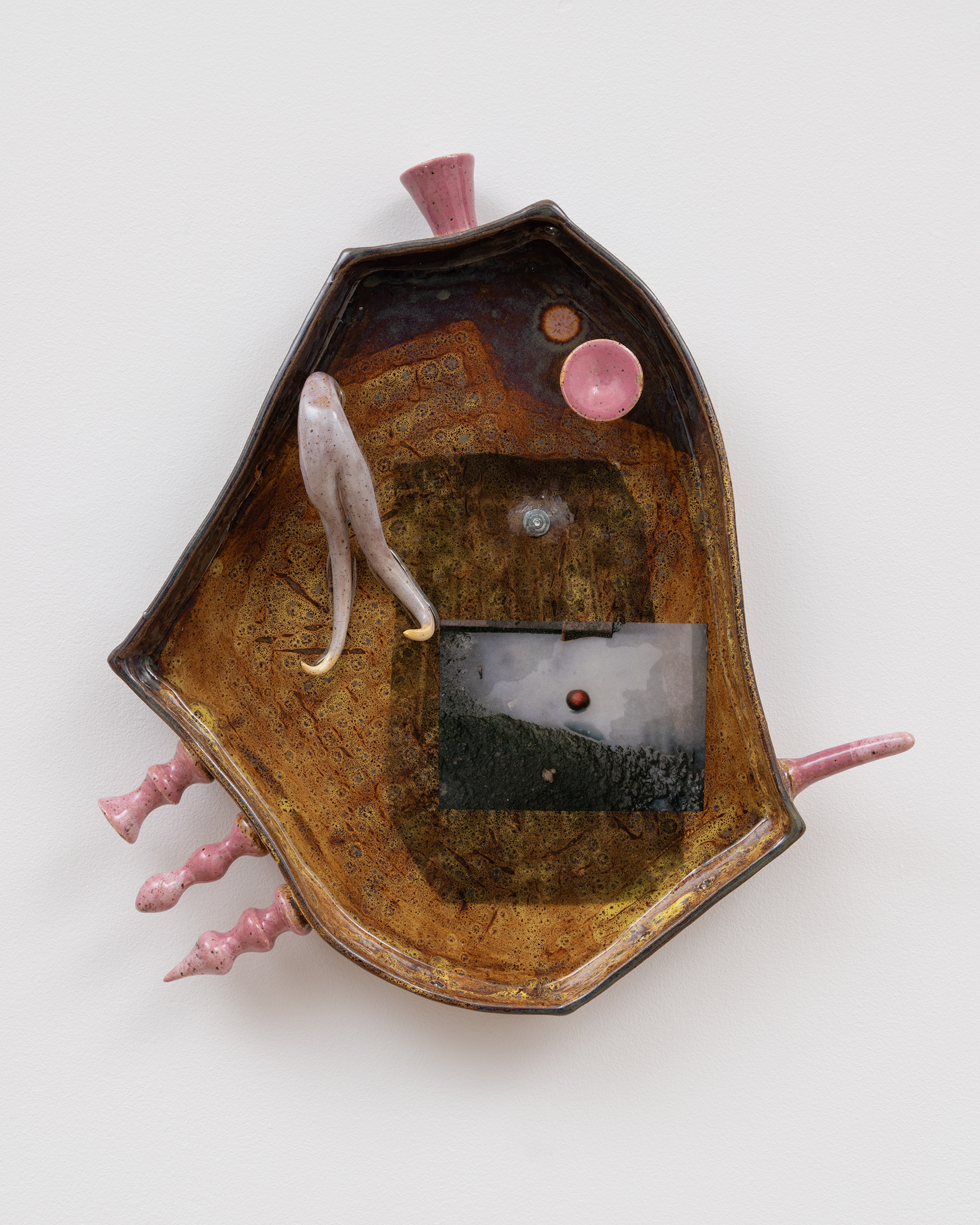 b. 1987 in Tehran, Iran
In his work, Hadi Fallahpisheh employs a seemingly humorous cast of characters – humans, cats, mice, and other animals, to enact a meditation on themes of displacement, alienation, and entrap- ment. Fallahpisheh's characters are placed within seemingly generic architectural environments, such as houses, fences, or other barriers, the figures' interactions quickly take on resonance with familiar social hierarchies – the power structures within society, ideas of ownership and residence, and inside versus outside.
These figures appear to revel in their own personal vices, confusing the morality implied by the traditional roles they assume. Often engaging in a tongue-in-cheek violence, which carries over to Fallahpisheh's sculptural and installation-based works, his characters reflect how tenuous and fragile the familiar structures of our society can be, and a shared fear of isolation.