BeAdvisors Art Department has been touring London to carefully select the most promising emerging artists of the Frieze London Week.
Despite the current historical situation, and the digitalization of the fair, galleries have been able to show new and promising artists by making the best of the vibrant atmosphere and fresh initiatives around the city.
We have been browsing Frieze London Viewing Rooms, we paid a visit to the 8th edition of 1-54, we went across town to find out the most exciting exhibitions, including, of course our new format "Off-site" which we launched in East London throughout the week.
Discover here some our selection of emerging artists in our Collectors Guide to Frieze London Week 2020!
Frieze London Viewing Rooms
The 2020 Edition of Frieze London took place in the digital space with Frieze Online Viewing Rooms. Frieze OVRs allow collectors, art professionals and art lovers to browse artists and artworks through the digital Fair, and to experience it as close to its real counterpart as possible.
1-54
1-54 is the first leading international art fair dedicated to contemporary art from Africa and its diaspora. Drawing reference to the fifty-four countries that constitute the African continent, 1-54 is a sustainable and dynamic platform that is engaged in contemporary dialogue and exchange.
Goldsmiths CCA: SOLOS
Goldsmiths Centre for Contemporary Art presents SOLOS, a series of new commissions by early career artists who have been making work at home or in their studios throughout the lockdown. The programme has been specifically devised as a commissioning structure with which to support the creation of new work during a time of severe precarity, by artists who are part of the CCA's community.
Off – Site
In times of global restrictions we wanted to offer our contribution in creating new exhibition formats and new ways of fruition for contemporary art. So on the Frieze Week we invited two London Galleries to experiment new ways of cooperation outside the comfort of their respective gallery spaces. In an unconventional location in East London Bosse&Baum and Sid Motion Gallery have been presenting works by the artists Luke Burton and Morgan Wills.
Tenant of Culture
Soft Opening, London
Frieze Online Viewing Rooms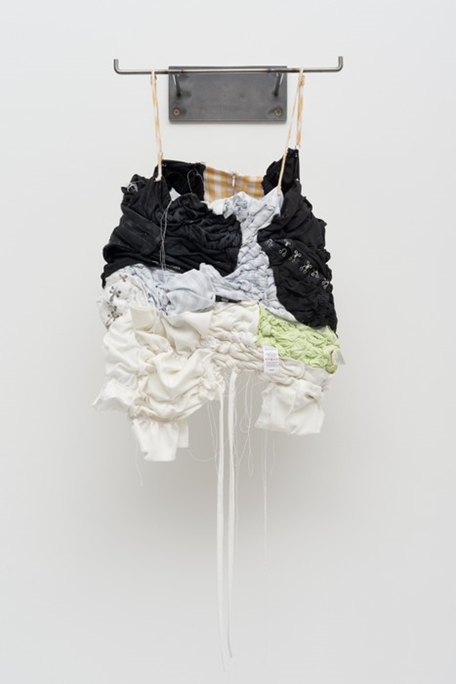 For Tenant of Culture, contamination and disruption represent a form of collaboration. Traces on a garment that would otherwise decrease its value become vital visual elements that address the market for artificially ripped or faded clothing to examine authenticity as a status symbol. Taking clothing, shoes and accessories apart to reveal their seams, stains and wear similarly enables the artist to mine material for design decisions that uncover traces of the individual responsible for its assembly and interrogate the ambiguous ethics of production. The re-stitched, mutated former wearables exist somewhere between sculpture and product, strangely familiar to everyday articles of dress. For Tenant of Culture, the highly formalised division of labour in the production of apparel is structurally embedded in mass-produced garments.
Tenant of Culture incorporates these materials into sculptural assemblages utilising a reconstructive process that involves sewing, felting, padding and fraying combined with materials found in home decoration and more readily associated with durability. Considering the lifespan of these sculptural components enables the artist to question the commercial strategy of material obsolescence that enforces capitalist overproduction. The artist examines the strategic codification of visual languages and techniques in luxury commodity production that obscure or expose dynamics of power, domination and assertion of class via a constant re-/ de-valuation of goods. Tenant of Culture is the artistic practice of Hendrickje Schimmel (b. 1990, Arnhem, Netherlands), who lives and works in London, UK. She received her MA in Mixed Media from the Royal College of Art, London, UK in 2016, and completed a BA in Womenswear at Hogeschool voor de Kunsten, Zwolle, Netherlands in 2012. Forthcoming solo exhibitions include: Kunstverein Dresden, Dresden, Germany (2021), Sophie Tappeiner, Vienna, Austria (2021) and Fons Welters, Amsterdam, Netherlands (2021). Recent solo exhibitions include I forgot to tell you I've changed, at Het Fries Museum, Leeuwarden, Netherlands (2020); Eclogues (an apology for actors) at Nicoletti Contemporary, London, UK (2019); Works and Days at Outpost Gallery, Norwich, UK (2018); Deadstock at Sarabande Foundation, London, UK (2018); Climate | Change at Clearview, London, UK (2017); and The Latest Thing at CODE ROOD Koningsweg, Arnhem, Netherlands (2016).
Holly Hendry
Stephen Friedman Gallery, London
Frieze Online Viewing Rooms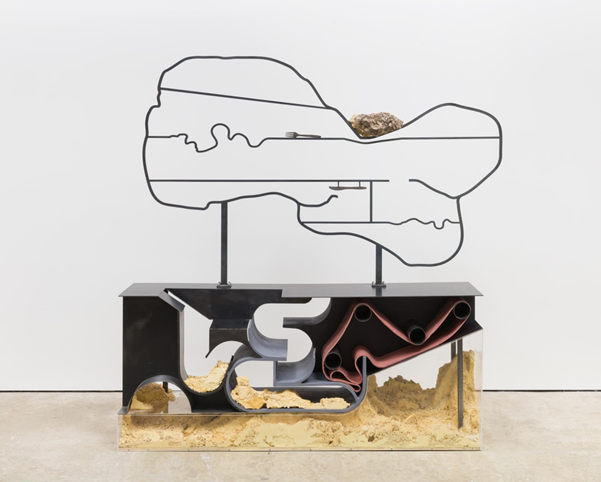 Holly Hendry's large-scale sculptures and installations explore the tensions between internal and external spaces. Her works construct and reveal interiors of architectural materials using cross-sections to expose sediment-like layers that appear both bodily and industrial. 'Digesting the conversation' explores the blurred relationship between our bodies, emotions and mechanisation, simultaneously exploring ideas connected to imitating life through the    mechanical, humour and skin surface.
Hendry is influenced by construction diagrams, ranging from DIY manuals to electric and motor instructions. The artist explains, "I am interested in the translation from these very diagrammatic approaches into something much more felt and sensory, such as the seductive curves of the plaster forms." Hendry incorporates sections of disembodied portraits that reveal their interior workings, taking formal inspiration from defunct machinery and diagrammatic depictions of anatomy. In this work a multiplicity of industrial materials, including plaster, steel, jesmonite, Perspex, marble, rocks, silicone, sand, chalk and aggregate, form surfaces,  interior spaces and lines.
'Digesting the conversation' investigates areas underneath and hidden, using cross-sectional cuts that expose insides as edges and reveal layers of debris built up internally. In this work the interior cavities and exaggerated, cartoon-like shapes are suggestive of digestive processes, evoking intestinal systems and bodily functions in conversation with the linear, rhythmic form above the surface of the work. 'Digesting the conversation' incorporates the architecture of its surroundings through negative space, existing at the intersection between situation, body and abstract form. Hendry is concerned with the building blocks of both body and structure, examining waste, decay and the inner workings of the human body in all its lived, material and messy forms.
Omar Gabr
Ubuntu Art Gallery, Cairo
1-54 Contemporary African Art Fair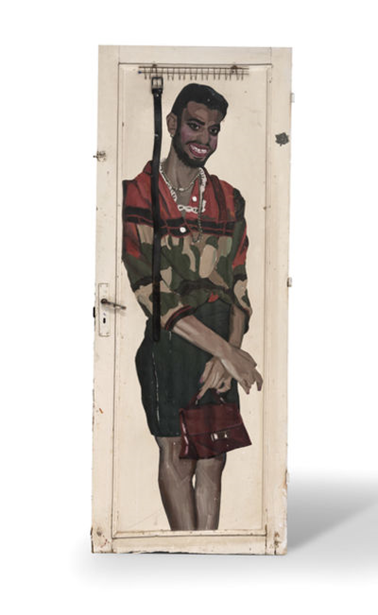 Born in 1999 in Cairo, Egypt where he currently lives, Omar holds a Diploma of Secondary Commerce. He is a self-taught artist curious to experiment with different techniques and experience different materials.
His work is mainly inspired by his everyday experiences and his political beliefs. You'll find that a vernacular of people appears within Gabr's work, rendered in a contemporary visual language that holds exceptionally powerful grounds. Down casted and in despair, though not literally communicated, they are common motifs that seem to be ongoing within Gabr's body of work, mainly through the facial expressions he conveys.
His colour palette ranges from a solid and vibrant background colours to a more tranquil choice of colour and oftentimes just monochrome, all of which add to the emotional state, subjects and ideas behind his works that visualise true and humane stimulations of drama that relates to a young demographic. He has participated in many group exhibitions, including 'Different Melodies' in 2019 at Ubuntu Art Gallery, 'Youth Salon' in both 2016 and 2018 as well as Cairo Salon and multiple other exhibitions. His solo exhibition 'The Phase' was held in 2018 at Easel & Camera gallery. His work was showcased at 1-54's Marrakech 2020 edition.
Lindsey Mendick
Goldsmiths SOLOS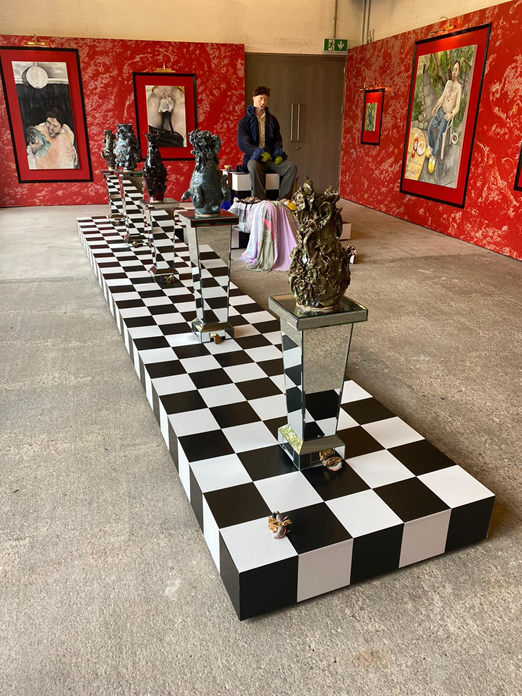 Mendick's work often draws on the autobiographical, spinning personal stories into fantastical immersive environments populated with objects and sculptures whose materiality and narrative qualities move through seduction, horror and ribald humour. Drawing together a myriad of references, this new body of work brings Mendick's precise handling of the affective qualities of interior spaces, into contact with the film tradition of gothic horror, with its combination of sex and death, power and bodily violence.
Are You Going to Destroy Me? centres on Mendick's relationship with her now fiancé; the title quotes the question she asked him on their first date. Taking a cue from the inherent vulnerability one faces within the power structures of a romantic relationship, she draws on their shared love of the gothic horror movies that have been a mainstay throughout the lockdown. Drawing on a maximalist aesthetic established by films such as Suspiria (1977) and Peter Greenaway's The Cook the Thief, His Wife and Her Lover (1989), Mendick has transformed the gallery space into a macabre interior. Vivid red tomato sauce wallpaper bears paintings of the couple, with her fiancé cast as a vampiric lover. Mendick is remarkably open in sharing the stories and intimate parts of her life, and this vulnerability is heightened as she, for the first time, makes paintings for this exhibition. Elsewhere vitrines contain objects and artworks related to the detritus of lockdown. Mirrored pedestals support complex glazed ceramic forms, both vessels and figures. Full-scale costumed figures mix fast food iconography with portraits of the couple metamorphosing; the body in Mendick's work is unstable and excessive. The installation moves through the provocations of the gothic genre to explore and exploit the gendered tropes of submission and domination within relationships.
Morgan Wills
Sid Motion Gallery, London
Off-Site London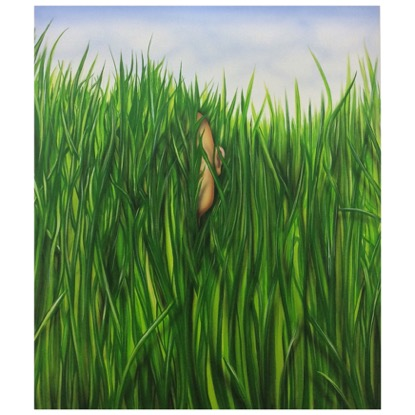 The bright colours and bold forms used in these new works are seemingly light and amusing at first glance – but through the artists' employment of repetition, gesture and of the absurd Wills manages to address existential anxieties inherent to the human condition and alludes to the anxieties in the creative process itself.
Morgan Wills, born in 1992, studied Painting at Wimbledon College of Art, graduating in 2014. His previous exhibitions include '12 Conversations', and 'Play on Repeat', Sid Motion Gallery, London, 2016 and 2018, 'Wisdom Tooth' Unit1 Gallery/Workshop, London, 2017, 'Sorry About Last Night', The Washington, Sheffield; 'Versions', Benevolent Association of Excellent Solutions (BAES), London; 'Bloomberg New Contemporaries', 2015, ICA, London and Backlit Gallery, Nottingham; 'MK Open', MK gallery, Milton Keynes, and 'Assembly' at Triangle Gallery, London. Wills was shortlisted in 2014 for the HIX Award, shown at CnB Gallery, London, and has completed a three-month Studio Residency at Unit 1 Gallery, London. Wills work was included in the group show 'Hyper Mesh', at Assembly Point in January, and a selection of his new monochromatic paintings were shown at Sunday Art Fair in October.
Luke Burton
Bosse & Baum, London
Off-Site London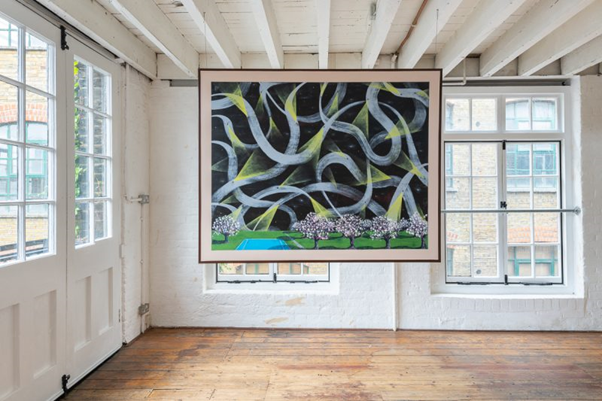 Luke Burton's third solo show at Bosse & Baum, Impossible Weather, brings together new paintings and vitreous enamels that examine the role scale plays in the psychic space of image-making and our own environments. The exhibition consists of two complimentary but materially contrasting bodies of work: one large landscape painting depicting a particular view of Girton College, Cambridgeshire, where Burton has recently held a year-long residency. The other, a group of enamel miniatures shown reflecting and refracting, literally and figuratively, the formal and symbolic space of the painting. Girton is situated between two large motorways, which can be perpetually heard as a low atmospheric hum against the relative isolation and verdant gardens that surround the college's buildings. Burton understands this ambient sound as inherently environmental and decorative, infusing his representation of the superhighway with a cosmic, musical atmosphere, collapsing vast spatial distances and sounds into a single frame of a painting on canvas.
It is depicted as something magical and celebratory, formally ordered and yet also elemental, sprawling, toxic and chaotic. Below the horizon line is a grass tennis court that is seemingly abandoned from play and an apple orchard in full bloom, also suggestive of different ideas of excess and emptiness; connectivity and isolation. In a time when physical movement is so restricted, the roads express dynamism, swirls of interlacing expressionistic brush marks, an index of the hands' movement and touch. In contrast, the tiny cars seem toy-like and static. We see headlights signalling to each other as a binary, on/off interaction, suggesting the digital platforms on which we are now so dependent – stationary, mundane, yet oddly magical light boxes for communication.
Luke Burton (b. 1983, London) studied at Chelsea College of Art and Design, BA, London (2002 – 2005) and MA at the Royal College of Art, London (2011-2013). Recent exhibitions include: Podium Sales, Picnic Gallery, London (2019); CAMEO, A-dash, Athens (2019); Out of Office, PADA, Lisbon (2019); Outlines Roughly the Size of a Suit, with Victor Seaward, Union Gallery, London (2019); P is for Portrait, Pitt Studio, Worcester Art Centre (2019); Paper Cuts, curated by Kristian Day, Saatchi Gallery, London (2018); The Lotus Eaters, Aindrea Contemporary, London (2018); Becoming Sweet New Styles Bosse & Baum, London (2018); Sweep / Landskip, Kinokino Kunstal, Stavanger, Norway (2018); Granpalazzo, Ariccia, Rome (2017); Print Department, Division of Labour, London (2017); Waves, Turf Projects, London (2017); Luke Burton is currently Artist-in-Residence as a Visiting Fellow at Girton College, Cambridge where he will have a solo exhibition in 2021. He will be showing some new work at KIAF Art Seoul in September 2020.