During this difficult moment due to the worldwide outbreak of COVID-19, Art Basel decided to launch a virtual section on the occasion of the Hong Kong 2020 edition: Viewing Rooms.
Viewing Rooms allows collectors, art professionals and art lovers to browse artists and artworks through Art Basel's website, and to experience a virtual tour of the fair.
BeAdvisors Art Department embraced this initiative and virtually toured Art Basel Hong Kong with a view to carefully select the most remarkable galleries and artists.
Discover here some of the most interesting emerging artists in our Collectors Guide to Art Basel Hong Kong 2020!
Cecile B. Evans
Galerie Emanuel Layr (Wien)
Born in 1983 in Belgium, lives and works in London
The emotional dissonance between constructed reality and lived experience is an ongoing consideration in Cécile B. Evans' work. Through the narrative of the fictional television series AMOS' WORLD, Evans alludes to the top-down architecture that pervades the networks we navigate, each subject to a historically significant entropy that forges a fierce divide between the singularly driven intention coming from architects and the multiple realities that inevitably emerge within these systems. As the drama unfolds, what is presented as an ideal living situation by the architect Amos becomes more and more problematic — as his world breaks down, the tenants engage in the difficult task of building a resolution together. Evans will present sculptures from AMOS' WORLD, fragments of architecture, storyboards and video excerpts visualizing the remains and re-imaginings of the architect's plan.
Evans has received commissions from the Serpentine Galleries, London and the Palais de Tokyo, Paris and participated in group exhibitions at Bergen Kuntsmuseum (Norway), Jerwood Foundation (London), Pilar Corrias Gallery (London) and Kunstverein München (Munich). She has a solo exhibition at Seventeen Gallery (London) and her films have been screened at the BFI (London), Grand Century (NY), Hamburg Film Festival, and Art Basel Miami. Evans received art awards including the Frieze Art Fair's Emdash Award (2012) and Palais de Tokyo/Orange's Push Your Art Prize (2013), and a number of grants and residencies such as Wysing Arts Centre (UK), CCA Andratx (SP), and the Arts Council of England.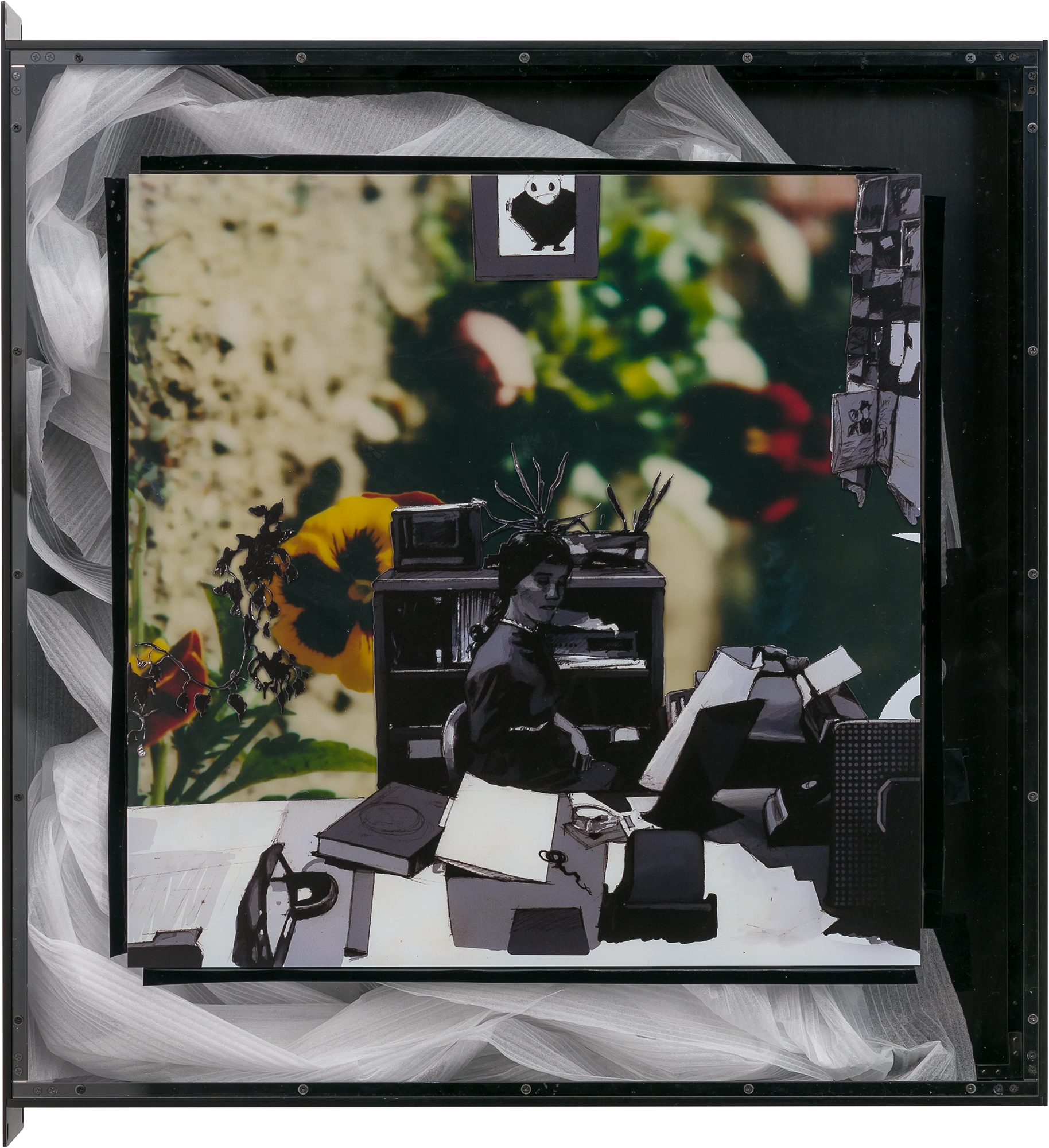 Vittorio Brodmann
Galerie Gregor Staiger
Born in 1987 in Ettingen (Switzerland) lives and works in Berlin.
Vittorio Brodmann gravitates towards the exploration of archetypal subjects using various techniques that combine figuration and abstraction, connecting problems posed by his chosen medium within a larger cultural framework of representation. In the body of work presented here, Brodmann plays with intertwining dichotomies. On the one hand, the artist mixes elements ranging from pop to "unstable Surrealism" (as Paul Teasdale described it in a Frieze article on humour in contemporary painting), and on the other, Brodmann exploits a tension between abstract and figurative components. This play with abstraction and figuration can be a result of dissolving specific lines into less tangible forms, or the reverse, with random shapes turning into concrete decipherable images using pareidolia as a means to build layers of paint as well as meaning.
Vittorio Brodmannstudied at ZHdK, Zurich and HEAD, Geneva. Recent solo shows include 'Zweig im Regen', Kunstverein Nuremberg; 'Plight', Truth & Consequences, Geneva; 'Calamity', Gavin Brown's Enterprise, Sant'Andrea de Scaphis, Rome (all 2019), 'Annual Exterior Project 2018', Kunsthaus Baselland, Basel; 'Two Birds, Two Stones', Freedman Fitzpatrick, Los Angeles (both 2018) ,'Legs All Water', Galerie Gregor Staiger, Zurich (2017) and Water Under the Bridge', Kunsthalle Bern (2016). His work has been featured in group exhibitions at Forde, Geneva (2019), Kunstverein Nürnberg, Al- brecht Dürer Gesellschaft, Nuremberg, Frans Hals Museum, Haarlem, The Netherlands, Tanya Leighton, Berlin, MAMCO, Geneva, Freedman Fitzpatrick, Los Angeles (2018), König Galerie, Berlin (2016) and many others.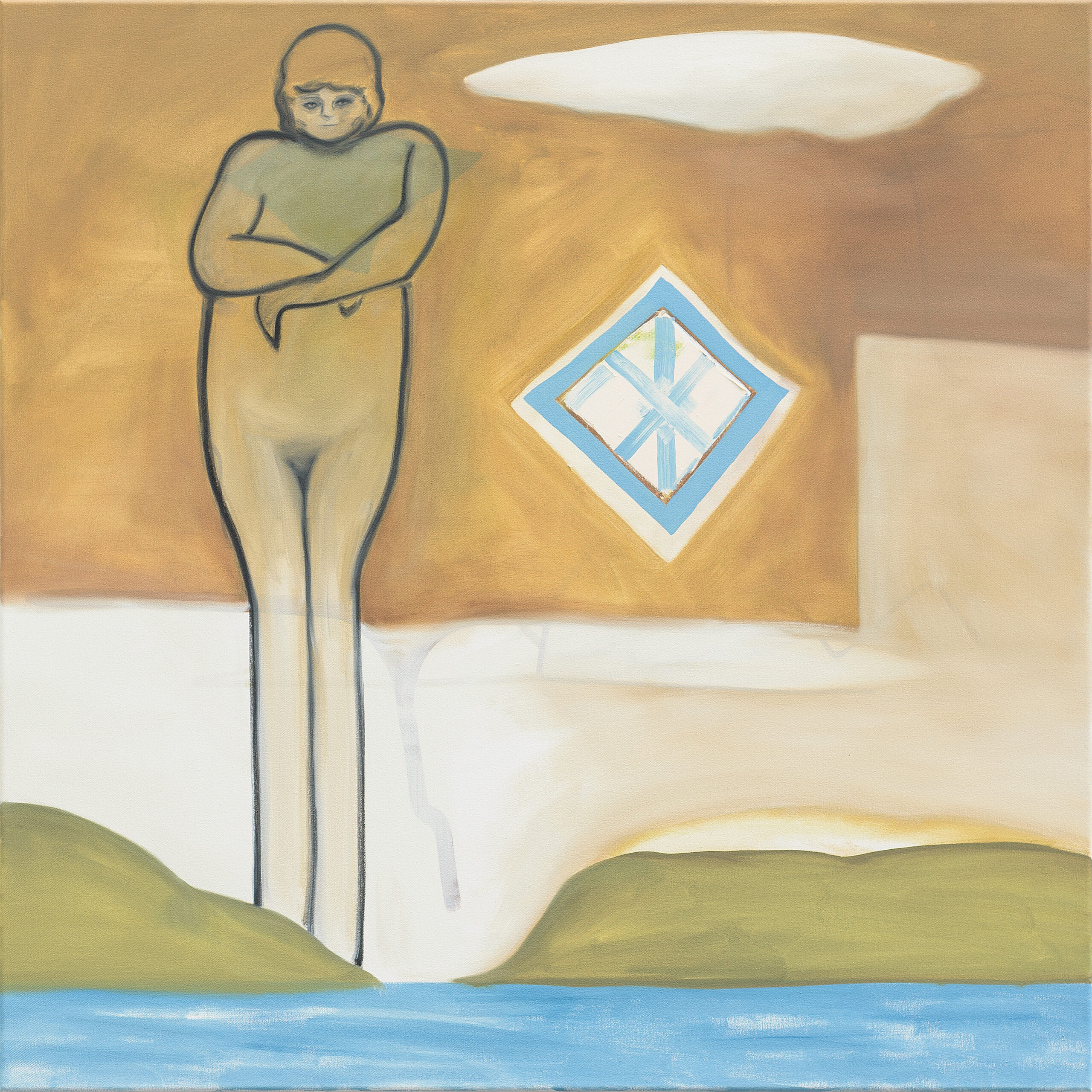 Matt Paweski
Herald St (London)
Born in 1980 in Detroit (USA),  lives and works in Los Angeles
Matt Paweski's works are constructed, assembled, and painted by hand, based on standardized processes and measurements organized by Paweski in the studio, which are adapted according to his intuition in the moment. The works embrace the artifice of the American West while also willfully obscuring their purposes within the parameters of abstraction. His latest works give the appearance of machine parts severed and then embellished, lifeless forms given new vitality. Their disabled quality assumes a functionality that the objects reject by their muteness. They escape the potential enslavement to design and operation by being presented statue-like, laid bare and to be witnessed. Their scale asks to be engaged by the whole body and also by the hand, to be observed like remainders still pulsing with formal life energy. That energy is not in service to us, but to its own self. The parts become whole and alive as they evade understanding, shattering any sense of stability or completion, and producing a sense of wonder.
A selection of recent solo exhibitions includes: Lulu, Mexico City (2018, two-person with Ella Kruglyanskaya); Herald St. London (2017); Matt Paweski, Ratio 3, San Francisco (2016); and New Sculpture, South Willard, Los Angeles (2015). In 2018, Paweski took part in the group exhibitions Rock, PHIL, Los Angeles; A Page From My Intimate Journal (Part I) —, Gordon Robichaux, New York; Condo, Park View/Paul Soto, hosted by Queer Thoughts, New York; and US Softcore, curated by Matt Paweski, South Willard, Los Angeles. In 2016, he was exhibited in Walk Artisanal, Los Angeles; and, in 2015, in Kleenex Rose, Bodega, New York; The Curve, Wallspace, New York; and Matt Paweski and Andrea Sala, Cherry and Martin, Los Angeles. Upcoming solo exhibitions include Park View/Paul Soto, Los Angeles in December 2018 and Herald Street, London in May 2019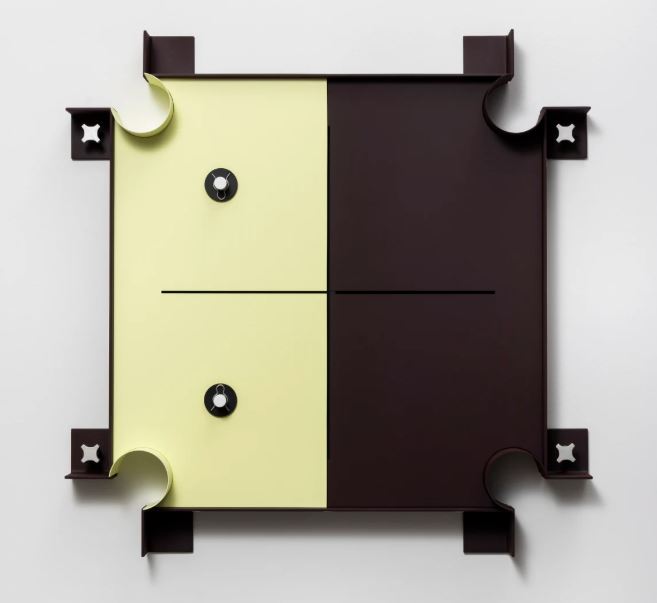 Flo Brooks
Project Native Informant (London)
Born in 1987, lives and works in Brighton
Flo Brooks is a painter of modern life. His practice could be considered as a revising of traditional genre painting: at the very centre of each picture is a personal reflection on work, leisure and the in-between. As Brooks reveals, his approach to painting is "figuring out how I can integrate numerous voices and subjectivities into a visual narrative so that it pushes beyond a linear or hierarchal framework, whilst also just telling a story. I'm interested in the ways I can make visible divergent strands of knowledge exposed to us through our communities and networks, and show the ways these impact our interactions on a micro- scale". In his new series, Brooks produced six paintings which focus on the life of a public space, and the people and communities which divergently use it over different points of time. Each narrates a different use: as a space for sex, for squatting (i.e. temporary home), for reuse as an alternative space, for sale as a new property, and for demolishment. Each painting conveys different acts: furtive exchanges between possible lovers, ordering a drink at a bar where once were sinks, trying to make a bed on the cold tiles. Clues to space's former histories are weaved into each of the paintings, and certain characters appear in more than one picture. As in previous works, Brooks has interlaced motifs of the body and his own gender transition. Other elements explode out of the canvas' frame: contraceptive pills, plastic bottles, stuffed animal toys. In addition, two smaller works reference 17th-century Dutch paintings. As in the traditional "keyhole" painting, Flo presents views through a window – discarded corrugated iron, a fox slipping through a hole in the fence as well as flowers, funghi and weeds sprouting from the ground. However, upon closer inspection both depict a solitary figure in darkness, oblivious to the viewers presence.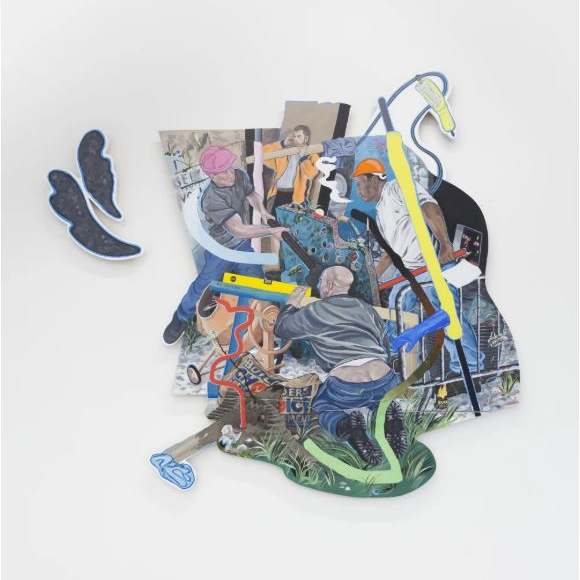 Heemin Chung
P21 (Seoul)
Born in 1987, lives and works in Seoul
P21 presents new works in various media by emerging, Seoul-based female artist, Heemin Chung. Chung strives to capture the senses that are overstimulated or deficient in the digital media environment and portrays them on the canvas and screen. The ever-changing digital media boasts of "how real" the image is. However, to the contrary, the true reality experience through direct touching has become a rarity. Through her work, Chung approaches the deficiency of tactile sensations and desire for it in the modern world that is only "filled" with virtual images. In her work, Chung strives to accentuate this sense—the desire to touch—that is so instinctive but missing in the digital world by superimposing a web graphic visual language and the physical properties of the material on the canvas and the screen.
Heemin Chung pays attention to the characteristics of the images produced in the digital environment and culture, and the way of experiencing them. She strives to explore the meaning of painting and how it relates with the unfamiliar sensations in the new circumstance. Chung received her BFA in Painting from Hongik University and MFA from Korea National University of Arts, Seoul, Korea. She held solo shows at P21 (2019), Kumho Museum of Art (2018), Project Space Sarubia Dabang (2016) and has shown in various institutions such as the National Museum of Modern and Contemporary Art, Korea (2019), Kumho Museum of Art, Seoul (2019), HITE Collection, Seoul (2018), Korean Cultural Center in Hong Kong (2018) and more. Chung is the recipient of the 9th Sindoh Artist Support Program selected by Massimiliano Gioni in 2019 and was selected as one of 'Young Korean Artists' at National Museum of Modern and Contemporary Art, Korea in 2019 and Kumho Young Artist in 2018.