ARCOmadrid, the International Contemporary Art Fair organized by IFEMA, celebrates its 39th edition in Madrid from 26 February to 1 March. 209 galleries from 30 countries and more than 1350 artists will be presented around the different sections of the fair.
Discover here our selection of some of the most interesting emerging artists in our Collectors Guide to ARCOmadrid 2020!
Alvaro Urbano
ChertLüdde (Berlin)
Born in Madrid in 1983, lives and works in Berlin
For Arco Special Projects, Alvaro Urbano presented "Hands as Drawers", an immersive installation where he explores the psychological potential of the domestic home, as a parallel to the many facets of the human psyche. In his larger practice, Urbano explores the latent emotions and memories – both collective and private – within architectural spaces, often creating narratives in which fiction and history, reality and fantasy collide. The domestic environments he creates ('rooms') form a metaphorical collage of a house that brings to life the emotional resonance of our most private spaces. The unique spatial and multi-sensorial experience that is at once familiar and surreal will in turn, trigger personal associations, memories and emotions that are held deep within ourselves. Alvaro Urbano (born in Madrid, Spain) lives and works in Berlin. He studied at the Architecture School in Madrid and completed his studies at the Institut für Raumexperimente (Professor Olafur Eliasson), Universität der Künste, Berlin. In 2014 Urbano received the Villa Romana Fellowship. He attended The Artists and Architects-in-Residence program at MAK, Los Angeles in 2016/2017. Urbano's practice embraces a variety of media, from film performance to spatial installations that unfold throughout an experimental process, with a strong focus on architecture, fiction, and heterotopia. Urbano's work creates synergies between living entities in newly-conceived environments – relationships that define and render time-space situations anew.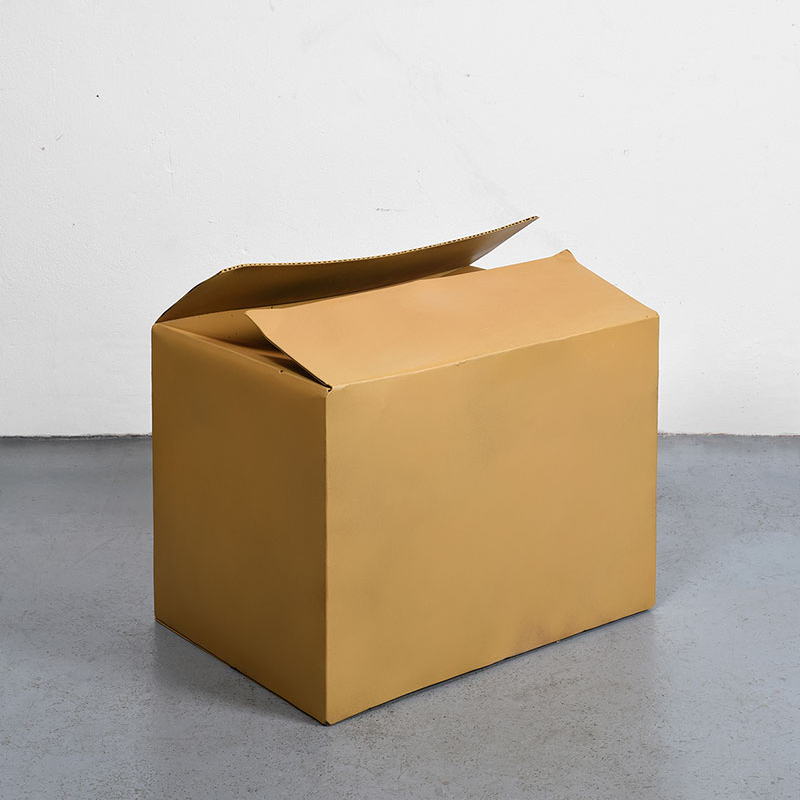 Rebecca Ness
Nino Mier (Los Angeles)
Born in Salem (MA) in 1992, lives and works in New Haven
Rebecca Ness received an MFA from Yale School of Art and a BFA from Boston University. Her work was recently included in group shows at Monya Rowe (New York, NY), Danese/Corey (New York, NY), Richard Heller Gallery (Los Angeles, CA), 1969 Gallery (New York, NY), and Gildar Gallery (Denver, CO), among others. She has completed residencies at The Chautauqua Institution (Chautauqua, NY) and the Venice Studio Arts Program (Venice, IT).
With oversized limbs, often cramped inside of the painting format, her subjects are involved in daily activities, regularly ending up in not very flattering poses. After a while, we've noticed her strange obsession with certain activities, particular body parts, and overall unusual postures, as well as her strange approach to framing her images. Her work in influenced by experience, imagination, memory, humor, pattern, fabric and clothing. In a panoply of patterns, textures, brushstrokes and marks done with an array of tools, Rebecca Ness renders the hyper vibrant world before her. Framed exactly the way she perceives them, seemingly unimportant moments in her daily commute and casual snapshots from everyday life are encapsulated in color. With a focus on non-verbal engagement, especially through clothing and attire as a source of communication, she comfortably explores the possibilities of painting while dipping into unconventional technique and concept.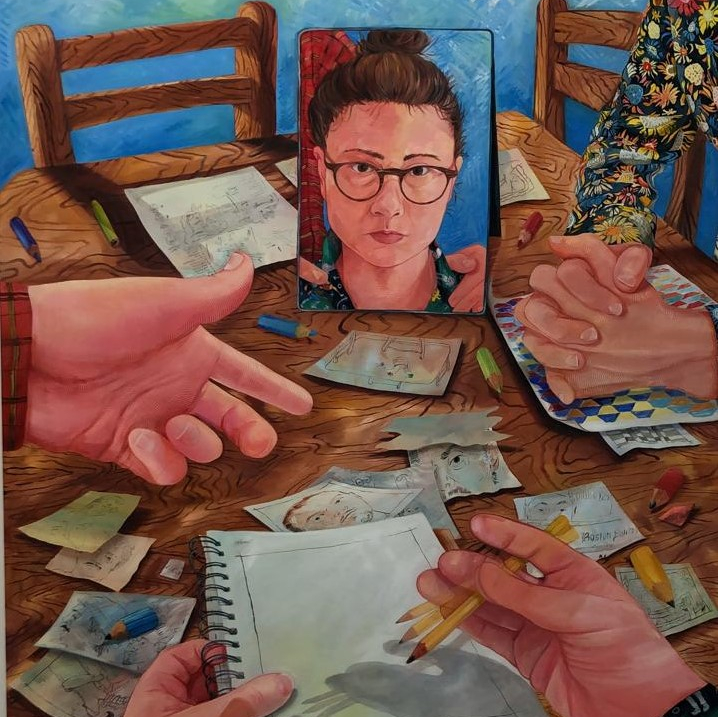 Iva Lulashi
Prometeogallery di Ida Pisani (Milan)
Born in Tirana in 1988, lives and works in Milan
In 2016 Iva Lulashi graduated from the Academy of Fine Arts in Venice. Her work starts from traces found, scene photos or frames that reflect the visual language of an Albanian story, which has never been consciously lived where it begins to incorporate erotic movies, confusing the border between the communist propaganda stills in the movies, scenes of sex, and healthy outdoor activities. Iva is part of the collective Malutta Foundation with which she has taken part in various projects such as the Malutta Black Market Foundation, Monitor Gallery in Rome, Malutta Meets the Albanian Pavilion Foundation, workshop, Venice Biennale and Rob Pruitt's flea market, AplusA Gallery in Venice. She has participated in workshops in Venice (Forte Marghera), Bruges (Het Entrepot), Salzburg (Nata Wien), Shkoder (Arthouse) and Milan (Viafarini in residence). Iva has exhibited her works in various spaces such as: "Biennale Mediterranea", Galeria kombtare e arteve (Tirana), "Premio Francesco Fabbri", Villa Brandolini (Treviso),"Premio Combat", Giovanni Fattori (Livorno), "Uninspired Architetur: Public Space and Public Memory in Albania" Sincresis Arte Gallery (Empoli), "Frames", Villa Rondinelli, Archivio Porcinai (Fiesole), "Where i feel, there i am", Miza Gallery (Tirana), Collezione Giuseppe Iannaccone (Milano),"Love as a glass of water", Salzburger Kunstverein (Salisburgo).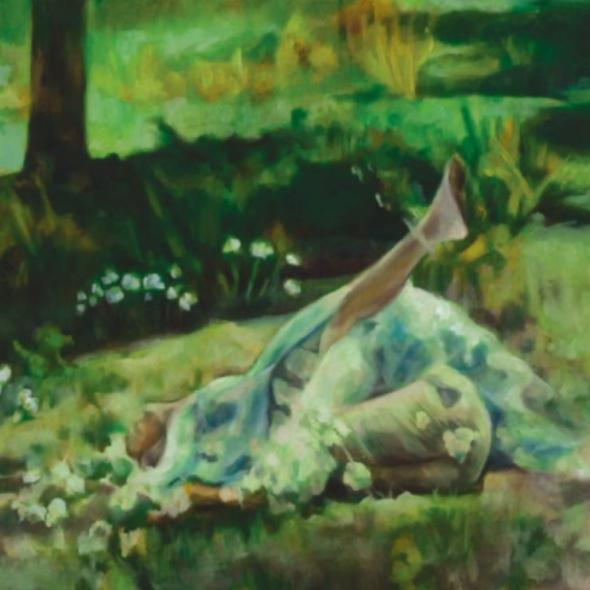 Vlad Nancă
Suprainfinit (Bucharest)
Born in Bucharest in 1979, lives and works in Bucharest
Vlad Nancă graduated from the Department of Photography and Moving Image at the National University of Arts, Bucharest. Some of his early works also employ political and cultural symbols, Through constant idiosyncratic humour and playful semiotics of imagery, Nancă's recent practice unveils a resurgence of the notion of space (from architecture and public space to outer space) thus forging constellations of subjectivities, sculptures and installations. "The question of how the grand design and architectural narratives of the 20th century reverberate in ordinary objects, in vernacular variations for the ideologies, forms and functions of modernism, is a crucial theme in Nancă's practice", alongside "the recent history of architecture and its versions of postmodernism in Western and Eastern Europe". In his 2015 exhibition "From the white square to the white cube" highlighted an imaginary intersection of the socialist utopia as seen in the works of radical Italian architects Superstudio and the reality of his family's home kitchen in socialist Romania of the 1970s. A similar retrospective look applied in a hypothetical context was emphasised in "Souvenirs from Earth" (2015), exhibition that had as starting point the question "what would you take with yourself on a translocation to a 2.0 planet?". He speculated on the possibility of colonizing Kepler 452b (a planet with similar atmospheric conditions to those of Earth) and questioned the cultural heritage one might bring to a fictitious relocation outside our galaxy. His solo-show "In the Natural Landscape the Human is an Intruder" took place at Sabot Gallery in 2018 and "VIZAVI" – solo exhibition curated by Jonatan Habib Engqvist at Suprainfinit Gallery in 2019.