The Armory Show is New York City's premier art fair and a leading cultural destination for discovering and collecting the world's most important 20th- and 21st-century art. The Armory Show features presentations by leading international galleries, innovative artist commissions and dynamic public programs. Since its founding in 1994, It was founded by four New York gallerists – Colin de Land, Pat Hearn, Matthew Marks and Paul Morris – who sought a platform to present and promote new voices in the visual arts within the last 25 years.
Independent was conceived and initiated in 2009 by Elizabeth Dee, Darren Flook, Matthew Higgs and Laura Mitterrand, with a consortium of like-minded commercial and non-profit galleries. Celebrating its 10th anniversary in New York, the gallery-run art fair Independent will welcome 50 international galleries and nonprofits to Spring Studios in Tribeca.
Discover here our selection of emerging arts from both fairs, and if you have any question, do not hesitate to write us at info@beadvisors-art.co.uk
JODY PAULSEN
SMAC GALLERY (Cape Town, Johannesburg, Stellenbosch)
Born in 1987, Cape Town, South Africa. Lives and works in Cape Town, South Africa
Jody Paulsen was born in 1987 in Cape Town, South Africa, where he continues to live and work. He specialised in Print Media at the University of Cape Town's Michaelis School of Fine Arts, and on graduating in 2009, Paulsen was awarded the Katrine Harris Print Cabinet Award. In 2012 Jody Paulsen received the Jules Kramer Departmental Scholarship Award and went on to complete his Masters Degree with his solo exhibition What You Want, Whenever You Want It in 2013. Paulsen opened his first solo exhibition, titled Pushing Thirty, at SMAC Gallery in Cape Town, followed by a solo presentation, hosted by SMAC Gallery, at Untitled Art Miami Beach in Miami, USA both in 2017. In 2018, Paulsen exhibited his work as part of the group exhibition, Passion Fruit, at Temporary Storage Gallery in New York City, USA. Most recently, Paulsen's solo exhibition, Water Me, was up on exhibition at SMAC Gallery in Johannesburg, South Africa; and his work was exhibited as part of Making Africa – a Continent of Contemporary Design at the Blanton Museum of Art in Austin, Texas. Paulsen's work forms part of numerous significant public and private collections, including Zeitz MOCAA in Cape Town, South Africa; Matthais & Gervanne Leridon Collection in Paris, France; Sovereign Art Foundation, in Hong Kong, Singapore, UK, Guernsey, South Africa; The Royal Portfolio Collection, in Cape Town, South Africa and the 21 c Museums Hotel in Louisville, USA.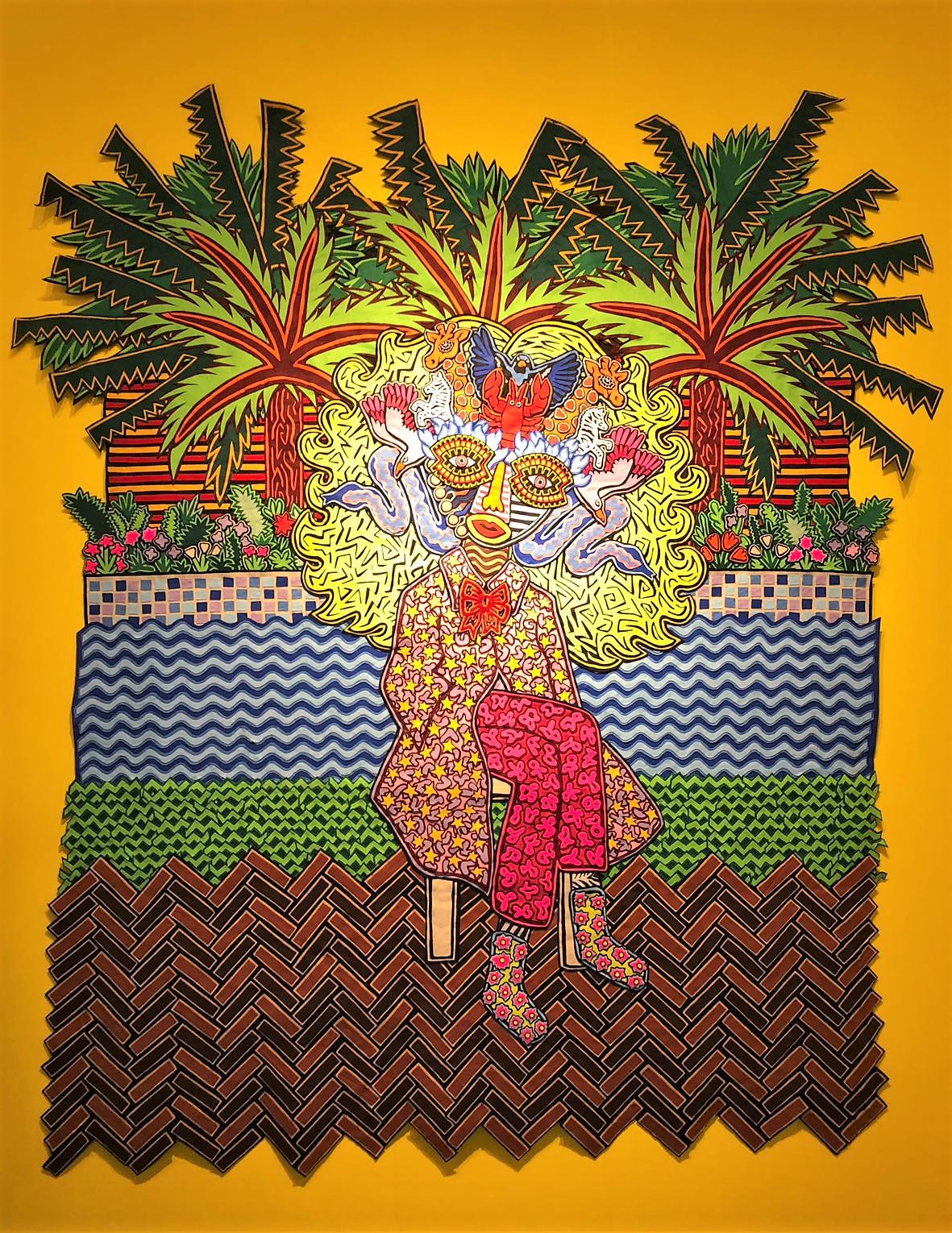 ERIC CROES
SORRY WE'RE CLOSED (Brussels)
Born in La Louvière in 1978. Lives and works in Brussels
For several years Eric Croes has been concentrating on developing themes close to his heart through the medium of ceramic. Like numerous artists of his generation, the sculptor Eric Croes re-appropriates techniques and customs which have for a long time been juxtaposed. The adherence to art or to craftsmanship, to tradition or modernity, to art or design, to manual or technological tools, has often helped define his works. Through his personal interests and practice, Eric Croes goes beyond these pseudo antagonisms and invites us to witness a unique practice, the joy of working in the studio, a return to «doing» and the pleasure of DIY and working with your hands.
Eric Croes' psychological universe has culminated in a series of 26 sculptures in ceramic, bronze and wood. He has come up with an extraordinary alphabet primer that links notions of play, chance, imagination, humour, accidents, with incredible expertise. The artist's aesthetic is inextricably linked to mythology and the universe of the bestiary, both in emotional terms and in relation to form.
The idea of the alphabet primer came about when Croes started sewing together pieces of blue denim in order to make a big patchwork. This creation evokes the memory of Eric Croes' mother who was always at her worktable, embroidering classic samplers in a red cotton cross-stitch or sewing together small pieces of fabric to make quilts.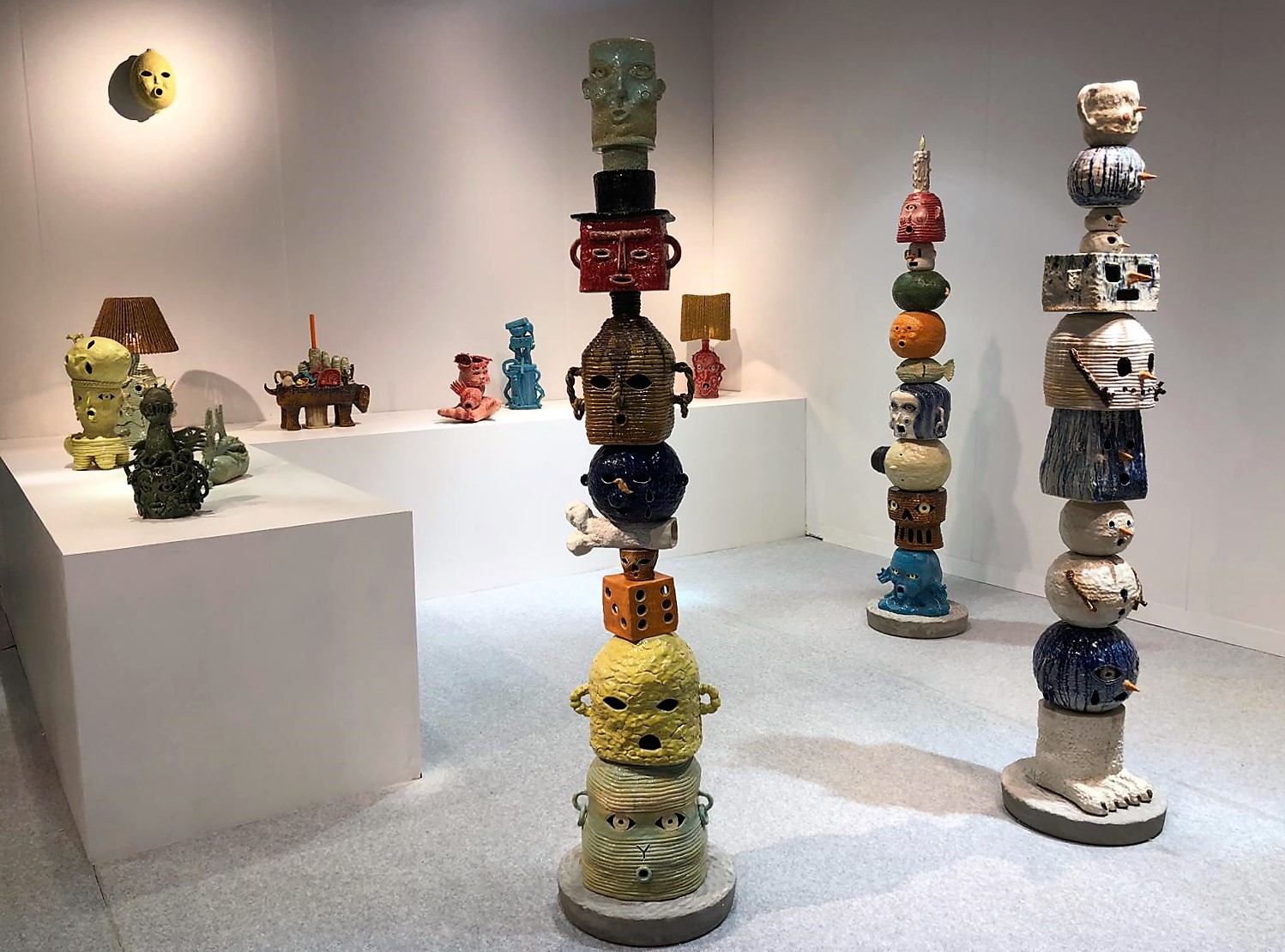 LOUISE BONNET
NINO MIER GALLERY (Los Angeles, Köln)
Born in 1970 in Geneva, Switzerland. Lives and works in Los Angeles
Louise Bonnet (b. 1970, Geneva) explores fleeting feelings of melancholy, nostalgia, and displacement in her portraits of cartoon-like, yet meticulously-rendered, characters. The exaggerated proportions of body parts and incongruous scale amplifies her depiction of emotions, making them more intense and complex in their absurdity. Bonnet creates a surrealistic atmosphere and palpable tension in her paintings that transforms what may seem mundane and everyday. Often afflicted with bouts of localized gigantism (most often at the nose), Bonnet's protagonists are strangely apathetic, content even in their disfigured states. One might think that these misshapen individuals would be sullen and withdrawn but in fact oftentimes, postures that could be interpreted as depressive can just as easily be explained away by a momentary and/or soporific loss in rigidity. The artists herself has said that she 'finds eyes tricky because they soak up all the attention as the brain tries to read the face'. This given becomes clear that it is not the characters in her work that Bonnet wishes to blind but us the viewer, Bonnet is directly cutting off our ability to read these figures, stopping dead the possibility of knowing something about them and their psychological states.
Louise Bonnet has been included in several group shows including "New Works", at Max Hetzler Gallery, Berlin (2018), Nino Mier, Los Angeles (2017), König Galerie, Berlin (2016); The Mini Show, The Lodge, Los Angeles (2015); and New Works, Subliminal Projects, Los Angeles (2008).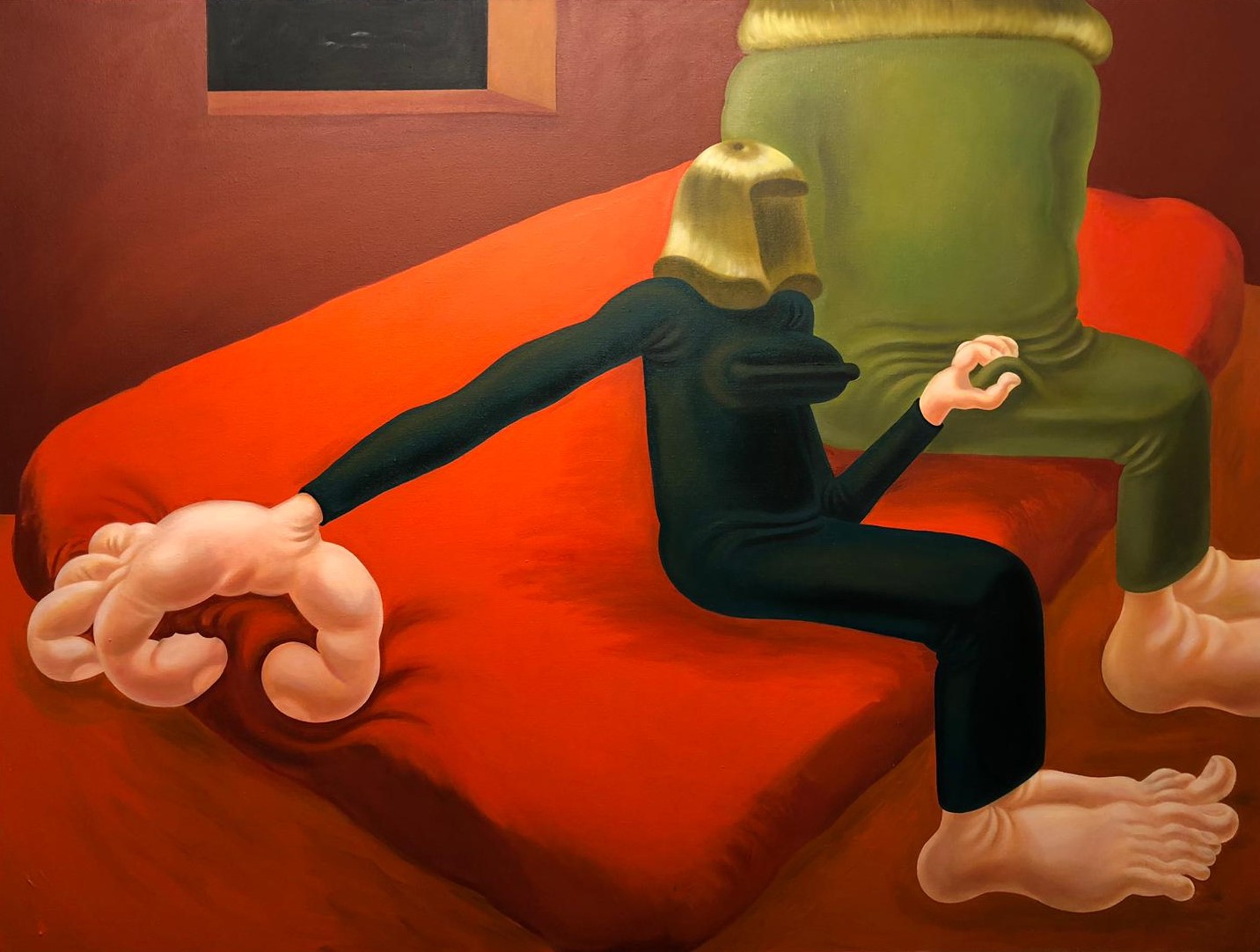 ARJAN MARTINS
A GENTIL CARIOCA (Rio de Janeiro)
Born in Rio de Janeiro in 1960. Lives ad Works in Rio de Janeiro
Arjan Martins began his artistic studies in the 1990s at the School of Visual Arts of Parque Lage where he developed the pictorial technique, through which he now addresses issues of the African diaspora and Afro-Atlantic migrations that occurred in the period colonial Brazilian. The work of Arjan Martins approaches the theme of the african diaspora and the afro-atlantic migrations that occurred during the time of the brazilian colonial period. At his works the artist elaborates cartographic paintings, in which the migratory routes takes the shape of big caravels, sextants and terrestrial globes, as if they we're carrying all the weight of the deported slaves. The images of the imigrants and the african descendents are fundamental part of the repertoire of the artist, displaying them at everyday actions, since their arrival at the continent until the actual days. In 2018 Arjan won the PIPA Prize, in the selection jury and popular vote categpries. In the same year participated at the exhibition 'Recortes da Arte Brasileira' at Art Berlin Fair and also this year, participated at the exhibition 'Fratura' of the Instituto Tomie Ohtake, with curated by Paulo Myiada; integrated the itinerant exhibition 'EX AFRICA', promoted by CCBB curated by Alfons Hug and has participated in the 11º Biennial of Mercosul. At 2017 the artist was contemplated with the prize of artistic residency at Africa, promoted by the Goethe Institut at the city of Lagos, in Nigeria. His works are amongst important collections such as: Pinacoteca de São Paulo, PIPA Foundation, Itaú Cultural , MAM (Museu de Arte Moderna) Rio de Janeiro and Perez Art Museum Miami (PAMM).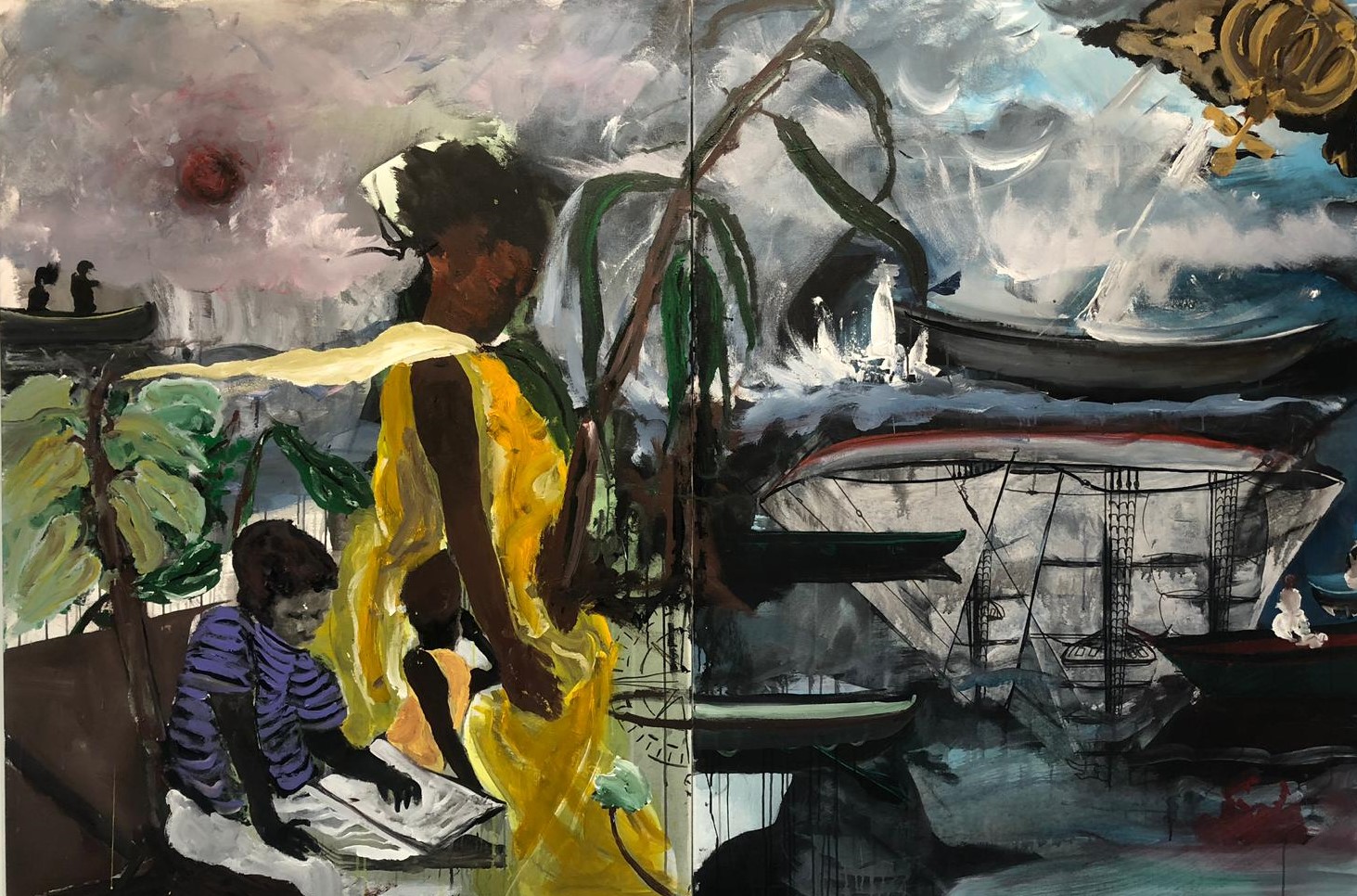 CONRAD EGYIR
JESSICA SILVERMAN GALLERY (San Francisco)
Born in Accra, Ghana in 1989
Egyir was born and raised in Ghana and is heavily influenced by a rich art form of storytelling in West Africa; his creative practice borrows from a pool of uniquely coded text and the visually based language systems of his roots. The artist explores the relationship between his past experiences in Africa and his present home in the United States, drawn to themes that define the then and now, disparities and similarities, and the image and the self. He analyzes the connections between the semiotics and historicity of these themes which lie within his African postcolonial upbringing and higher education in the West. Egyir creates narrative and portrait paintings that weave borrowed superstitions and symbolic aesthetics from West Africa, anachronisms from different cultures, and a deconstruction and redefining of color and identity as defined in Western academics. A crucial aspect of how he explores these themes is through the use of subjects that are out of place in the timelines or settings of the stories he replicates and creates; adults are interchangeable with children, men with women, nobles with commoners. He seeks to transcend the notions of each subject's perceived responsibility designated by age, sex, class, and race. He frequently uses his own likeness to tell these stories, and multiplies singular figures so that they are simultaneously victim and perpetrator, father and son, friend and foe.
His work has been shown in several exhibitions at key galleries and museums, including the Mindy Solomon Gallery and the Library Street Collective, Detroit.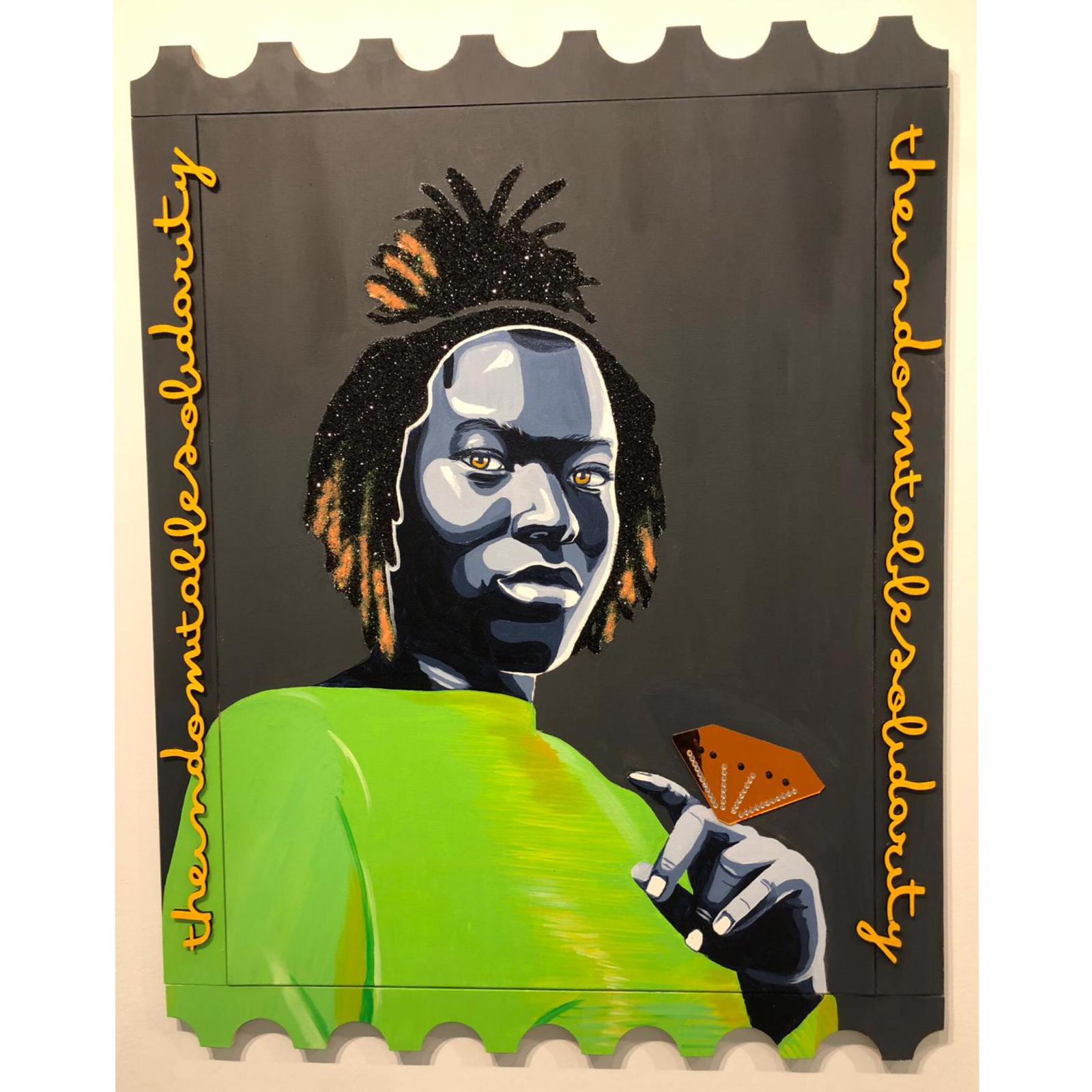 SAMARA SCOTT
THE SUNDAY PAINTER (London)
Born in London in 1985. Lives and works in London
Samara Scott approaches her work from a highly contemporary consumers perspective, devouring information, stimulation and references in a wanton manner and operating them with a liquidity and absent mindedness that recalls pop arts' emergence in 50's. Through employing painterly genre in a thematic way the work chooses juicy effects and bruised saturation over craft – absolutely embracing paintings' fear of becoming décor.  Surroundings curdle and Sculpture oozes onto and pollutes surface.
Slipping between infusions of nature and artificial imitation, antiquity and plasticity, synthetic import and organic craft class, the materiality mish mashes a trickled down Art History into an interior language of disposable nostalgia and melancholy. There's a certain slippiness. An uncomfortable eroticism and mastication between textures, products, fashion and style. An associative membrane, a dense scenery or mood board of shapes, smells, forms and materials.
Selected solo exhibitions include Belt and Road, Tramway, Glasgow, UK, 2018; Jacobs Creek, The Sunday Painter, Offsite / Four Six One Nine , Los Angeles, US, 2016; Developer, Pumphouse & Battersea Park, London, UK, 2016; Frieze London w/ The Sunday Painter, London, UK, 2015; Still Life, Jupiter Artland, Edinburgh, UK, 2015; Silks, Eastside Projects, Birmingham, UK, 2015; Aquarelle Gastebutch, Ermes at Granpalazzo Rome, IT, 2015; Harvest, The Sunday Painter, London, UK, 2014.

BENDT EYCKERMANS
CARLOS / ISHIKAWA (London)
Born in Belgium in 1994. Lives and works in Antwerp
According to Bendt Eyckermans, everything he paints is true; every subject is an event or a recent memory that he has to process through painting. Paint is the perfect medium to express emotions and the impermanence of both the canvas and the memory," he says. The subjects of Eyckermans' paintings are meaningful people or places in his life. In these paintings, he explores the boundaries between realism and expressionism, which leads to subtle deformations of his models and an expressive portrayal of color and light. His grandfather, Lode Eyckermans, was a famous sculptor. He has the privilege to work in the former studio of his grandfather, surrounded by the memories of his predecessor. Eyckermans' mutated recollections, a copy of a copy of a memory, are constructed on a rough, grainy canvas like a photo that has become blurred. The photo is adapted to the canvas. Aspects are changed, removed or added. With a pointillist finish here and there, the painting leans even more towards its photographic origins. The technique introduces movement into the image, making it dynamic. The spots of paint create the illusion of light. And light enables us to look. He studied at the Royal Academy of Fine arts in Antwerp where he earned his 'Master of Fine Arts, Painting' in 2016. His work has been featured in exhibitions at the Sofie Van de Velde, Nieuw Zuid and the Kusseneers Gallery.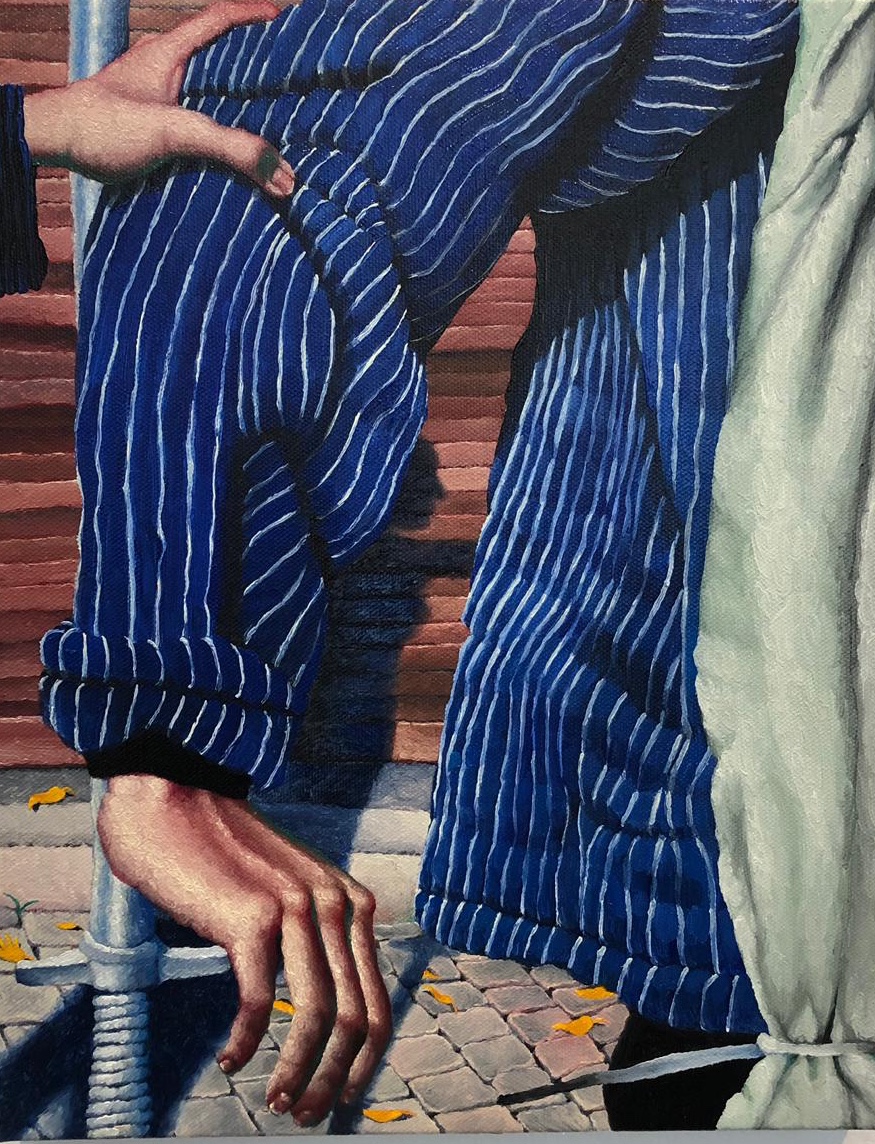 ADAM GORDON
CHAPTER NY (New York City)
Born in Minneapolis in 1986. Lives and works in Detroit
Gordon's multi-disciplinary practice focuses on the construction of experience. Through methodically manipulating the senses and relying on lived experience, he sets an enigmatic tone, one that peels back the layers of the banal while setting the stage for the re-examination of the physical and emotional self. All the while challenging an inherent need for a defined narrative by pushing the boundaries between reality and fiction. Through the disruption of the mechanisms that customarily govern the art viewing process, he creates works that envelop and are all consuming. Taking the form of hyper-realistic paintings, uncanny installations, bizarre photographs, or uncategorizable situations, Gordon's art is one of uncomfortable intimacies, and it's among the most interesting, unusual, and sometimes discomfiting work being created right now.
He is more interested in "particular atmospheric conditions" than narrative, he said, and is an "obsessive list maker," writing out "exactly what needs to happens" in order to create the effects he imagines. Adam Gordon received his MFA from Yale University in 2011. His work has recently been exhibited at Andrew Kreps, NY; National Exemplar, NY; Night Gallery, LA; , Know More Games, NY and Derek Eller Gallery, NY.