BeAdvisors Art Department has been touring miart with a view to carefully selecting the most remarkable artists from the fair.
miart 2019, the international modern and contemporary art fair organised by Fiera Milano, directed by Alessandro Rabottini, hosts 185 international art galleries from 18 countries, in addition to Italy (70 art galleries from Austria, Belgium, Denmark, France, Germany, Greece, England, Mexico, Peru, Portugal, Czech Republic, Romania, Slovakia, United States, South Africa, Switzerland, Turkey and Hungary).
The fair is divided into seven sections: Established Masters, Established Contemporary, Generations, Decades, Emergent, On Demand and Object.
Evgeny Antufiev
z2o Sara Zanin (Rome)
Born in 1986 in Kyzyl, Russia, where he currently lives and works
Antufiev makes constant use of a variety of objects and materials that come to be involved in a process that's reminiscent of alchemy. The artist is deliberately committed to the use of his own two hands for the realization of everything he does. He sews, embroiders, carves, boils bones and skulls: in the process with which he concerns himself, the realization of the work takes on the value of a rite. Antufiev maintains a close relationship with the culture of the region in which he was born—Siberia—inclusive of the shamanic traditions which still today remain vital there.  Antufiev graduated from the Institute of Contemporary Art, Moscow in 2009, winning the Kandinsky Prize for the Young Artist: Project of the Year' during his studies. Evgeny Antufiev graduated from the Institute of Contemporary Art, Moscow in 2009, winning the Kandinsky Prize for the Young Artist. Project of the Year' during his studies. Evgeny has a major presentation coming up at Foundation Cartier in Paris and his work is now included in the permanent collection of Collezione Maramotti in Reggio Emilia and Tate Collection. Selected exhibitions include When art becomes part of the landscape: part 1, Archaeological Museum Antonio Salinas (Palermo, IT, 2018); With a copper mask in one hand and a vase full of secrets in the other, my body will rest in a sarcophagus, guarded by twelve specially trained monsters, Emalin (London, 2017); Immortality Forever, M HKA – Museum of Contemporary Art Antwerp (Antwerp, Belgium. 2017); Garage Triennial of Russian Contemporary Art, Garage (Moscow, Russia. 2017); Cabaret Kultura, with V-A-C Live, Whitechapel Gallery (London, UK. 2017); Eternal Garden, Manifesta 11 (Zurich, Switzerland. 2016).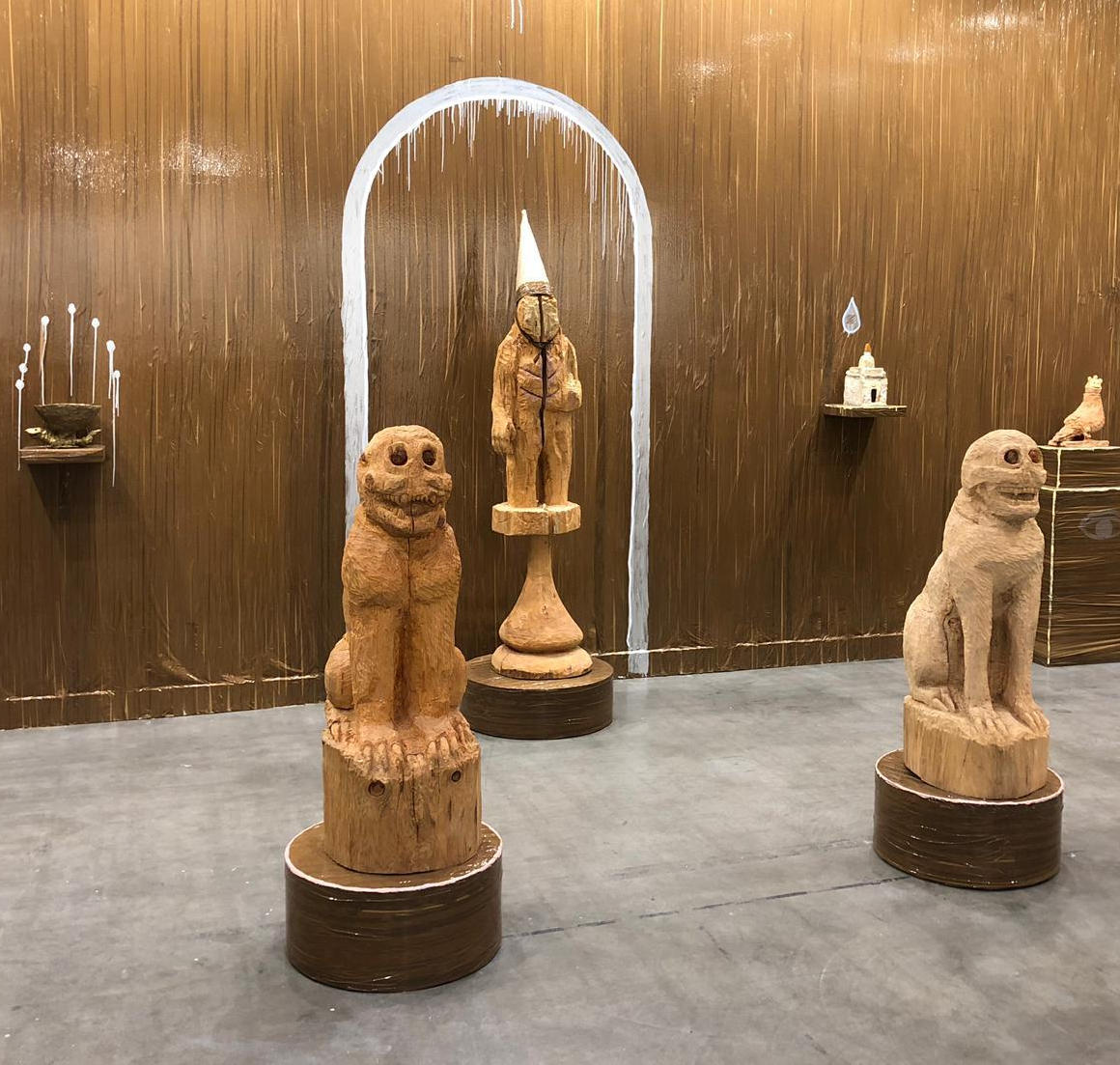 Yves Scherer
Gallleriapiù (Bologna)
Born in 1987 in Solothurn (CH), lives and works in New York City
Yves Scherer, born in 1987 in Solothurn (CH) and based in New York City, is a visual artist whose work deals with questions of gender, celebrity and mediated realities. Mainly working with sculpture and installation, he creates immersive environments that combine personal narratives with fan fiction in order to offer the viewer an often romantic lens or perspective on the self, relationships and the everyday. His work has been shown internationally in galleries and institutions like the ICA London, Kunsthalle Basel and the Swiss Institute in New York and will be subject to a survey at Kunstverein Wiesen in 2018. He's the recipient of a Förderpreis Bildende Kunst des Kanton Solothurn 2012, Swiss Art Award in 2015 and was listed on Forbes 30 under 30 "Art & Design" in the class of 2016.
He's the recipient of a Förderpreis Bildende Kunst des Kanton Solothurn 2012, Swiss Art Award in 2015 and was listed on Forbes 30 under 30 "Art & Design" in the class of 2016. The hyper-realistic sculpture Boy is inspired by the dimension of childhood. With this work Scherer shows his constant interest in the male figure representation and the related gender ideas: the artist has a very personal approach to this topic that is really relevant to him. In this way, Scherer continues his investigation on the representation of traces of intimate and interpersonal relationships.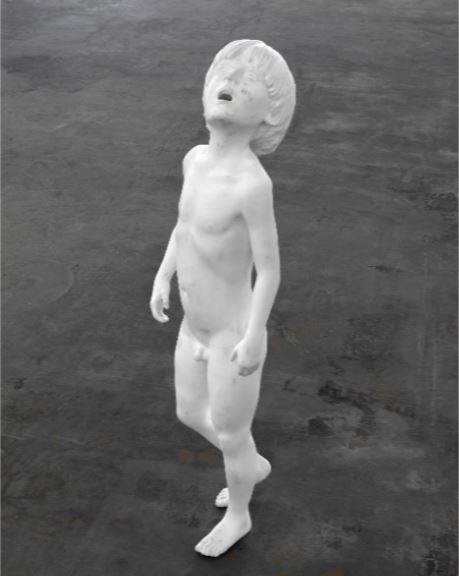 Kasia Fudakowski
Chert Lüdde (Berlin)
Born in London, 1985, lives and works in Berlin
Fudakowski's practice, which includes sculpture, performance, writing and film-making, explores social riddles through material encounters, surreal logic and comic theory. Her work often addresses the absurdity of certain accepted logic. The process begins with an observation, which she sees as humorous or strange and follows through its gradual deconstruction. In a previously performed work at 1646 Kasia managed to merge an experience of struggle, directness, laughter and lightness with a full mastering of the tragicomic. She uses joke structure and comic theory as a tool to manipulate expectations and critique accepted social structures. Kasia Fudakowski studied at The Ruskin School of Drawing and Fine Art, Oxford University and has exhibited internationally at venues such as; The Museum of Contemporary Art, San Diego; Kunstverein für die Rheinlande und Westfalen, Düsseldorf; Kunstverein Braunschweig; Arnolfini, Bristol; GAK, Bremen; FUTURA, Prague; Harburger Bahnhof Kunstverein, Hamburg; Sprengel Museum, Hanover; and Museum Ludwig, Cologne.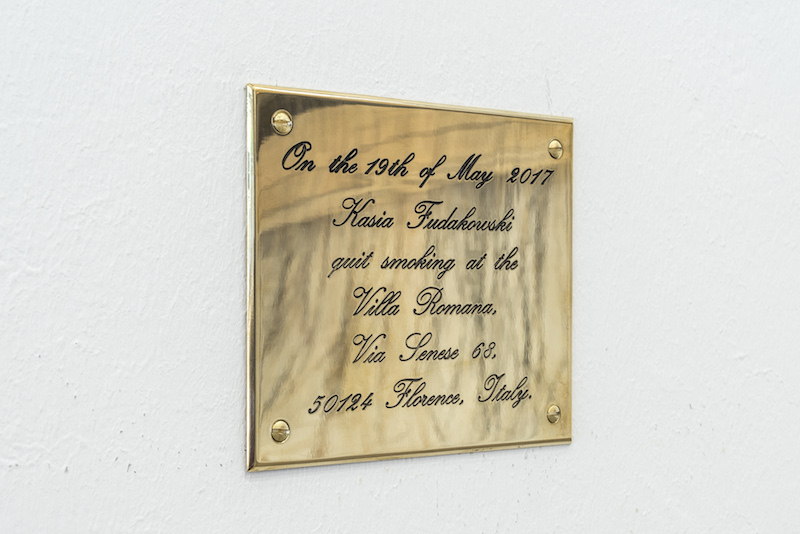 Frances Goodman
Smac (Cape Town, Johannesburg, Stellenbosch)
Born 1975, Johannesburg, South Africa, lives and works in Johannesburg, South Africa.
Frances Goodman is today considered one of the country's leading artists. Her working practice, which includes installation, photography, sculpture and sound installations, focuses primarily on women and contemporary notions of beauty and desire. Her interests lie in female identity and the anxieties that manifest and are cultivated from the bombardment of the media as well as societal expectations and pressures (both self -imposed and external). Desire and morality are underlying themes and talk to the push-pull of our contemporary society. Goodman's work is currentlly included in Material Insanity, which opened at the end of February at the Museum of African Contemporary Art Al Maaden (MACAAL) in Marrakech, Morocco. Her work was also recently included in the group exhibition, Pop Stars! Popular Culture and Contemporary Art at 21c in Oklahoma City, USA.
Frances Goodman's work forms part of numerous significant public and private collections, including the PérezArt Museum, Miami, USA; the National Museum of African Art at the Smithsonian Institution, in Washington DC, USA; Zeitz Museum of Contemporary Art Africa (MOCAA), in Cape Town, South Africa; Foundation Sindika Dokolo, in Luanda, Angola; and the Matthais & Gervanne Leridon Collection, in Paris, France.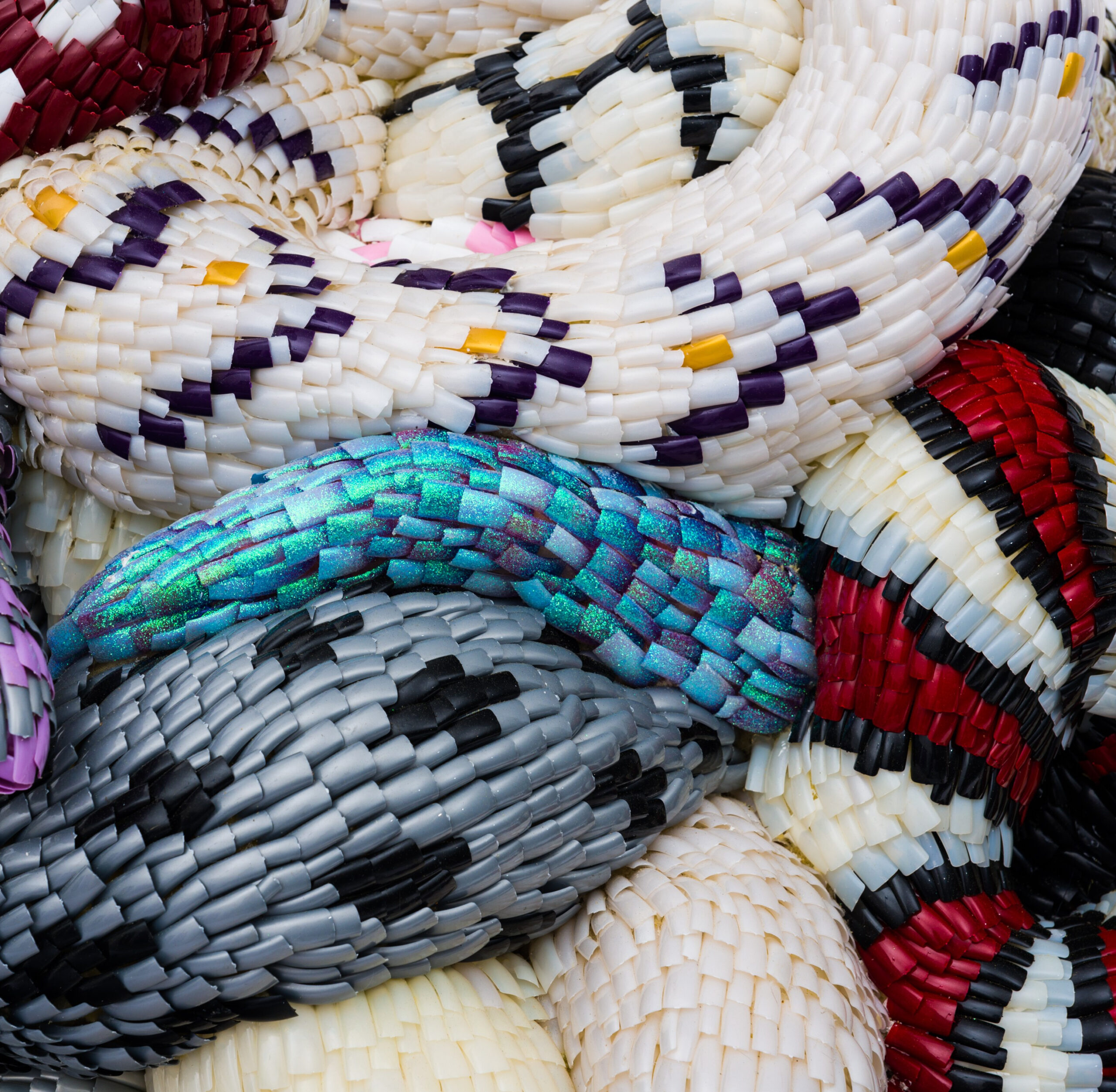 Terence Koh
Office Baroque (Brussels)
Born 1977, Beijing, China, lives and work in California, USA.
Terence Koh (born 1977 in Beijing, China ) is a Canadian artist who has also worked under the alias "asianpunkboy". He received his Bachelor degree from the Emily Carr Institute of Art and Design in Vancouver. The artist's work spans a range of media, including drawing, sculpture, video, performance, and the internet. Originally working under the alias asianpunkboy, Koh designed zines and custom-made books. His recent work has expanded to include durational performances, complex installations, and the exploration of natural ecosystems. Much of his diverse work involves queer, punk, and pornographic sensibilities. In 2008, he was listed in Out magazine's "Out 100 People of the Year".
He has exhibited widely around the United States and extensively abroad. In his installations,objects, wall pieces, and performances, Terence Koh creates a space in which memory and imagination mix with art history and subculture. He explores such diverse subjects as mythology, religion, identity, power, fashion and sexuality, in an often provocative manner, charged with possible symbolic readings. He is most well-known for his monochromatic installations, and ritualistic performances.. Recent exhibitions by Terence Koh include Andrew Edlin Gallery, New York, Galeria Horrach Moya, Palma de Mallorca, Moran Bondaroff, Los Angeles, and Koh Island at the Plaza Hotel in NY.