BeAdvisors Art Department has been touring ZONAMACO and MATERIAL during one of the most exciting art market appointments in Latin America.
The established Zona Maco, now in its 16h edition, boasts more than 180 galleries divided into the following sections: Main section, ZONAMACO SUR, NUEVAS PROPUESTAS, Diseño and Modern Art.
On the other side, MATERIAL, now in its 6th edition, has a fresher and younger focus. Directed by Brett W. Schultz, Isa Natalia Castilla and Rodrigo Feliz, it features 72 galleries divided between Principal and Project Section.
Discover our selection of some of the most interesting emerging artist here, in our Collectors Guide to Mexico City Art Week 2019!
ZONAMACO 2019
ANDREA GALVANI
EDUARDO SECCI CONTEMPORARY (FLORENCE)
Born in Verona, Italy, in 1973. Lives and works between New York and Mexico City
Adopting a cross-disciplinary approach that often draws upon scientific methodology, Galvani's conceptual research informs his use of photography, video, drawing, sculpture, sound, architectural installation, and performance. His work has been reflecting on the status of the images from a conceptual perspective. His work is either an investigation on violent actions or fragile and temporary installations, experiments, enigmatic drawings that seem to dig deeply into the field of experience. Modifying and distorting natural surroundings, Galvani transforms the environment into a laboratory for physical experiments, cerebral observation, and collective action.
Andrea Galvani has exhibited internationally, including at the Whitney Museum, New York; the 4th Moscow Biennial for Contemporary Art; the Mediations Biennial, Poznań, Poland; 9th Biennial of Contemporary Art of Nicaragua; Art in General, New York; Aperture Foundation, New York; The Calder Foundation, New York; Pavilion – Center for Contemporary Art and Culture, Bucharest. In 2016, the Mart Museum of Modern and Contemporary Art of Trento and Rovereto presented Galvani's first mid-career retrospective in Europe. In 2017, his work was selected to represent the Deutsche Bank Collection at Frieze New York. Andrea Galvani (Mousse Publishing), a comprehensive monograph of over 10 years of work and research, was published September 2018 and is distributed worldwide. In 2018, he was awarded the prestigious Audemars Piguet Prize for ARCOmadrid 2019.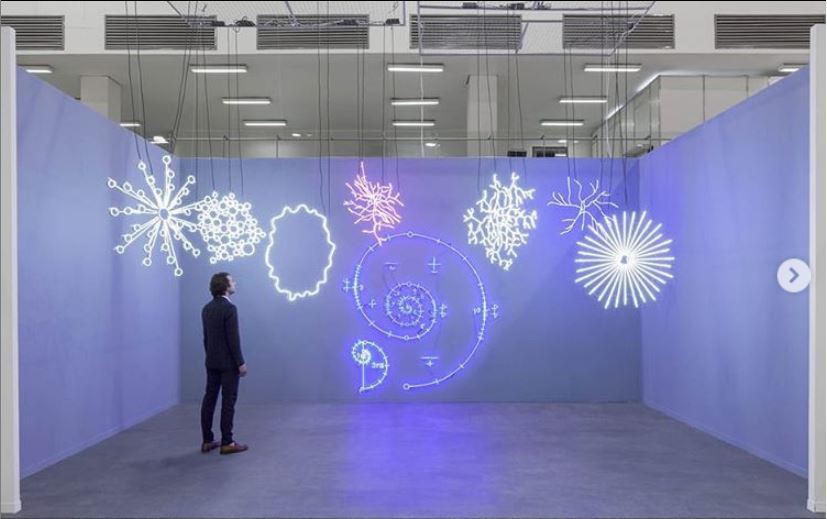 MORGAN BLAIR
THE HOLE NYC (NEW YORK CITY)
Born in Worcester, MA, in 1986. Lives and works in Queens, NY
Morgan Blair creates vibrantly colorful airbrush, gradient, and texture-filled paintings that reflect the absurdity and bastardization that reality of the internet in known for. Gathering random imagery from online, Blair draws and paints forms extracted from these stills into a pattern without adhering to the original reference's proportion or composition. Free from the constraints of self-expectation, Morgan's paintings have become more complex, demonstrating an ease in combining unexpected textures with gloopy patterns and a heavy dose of gradient. That graphic sensibility echoes louder than ever and click of a computer mouse is never far away: Morgan's titles taken URL into IRL by seizing the mind-numbing hyperbole of internet clickbait and re-purposing it to comic affect. Above all, Morgan's work is fun.
For Zona Maco in Mexico City, Blair's hangs five new paintings in a solo booth designed to recreate her tape filled Ridgewood studio. Like conceptual masterpiece "Box with the Sound of Its Own Making" (1961) by Robert Morris, the paintings are shown with all of the tape used to create them, stuck to the wall or balled up on the floor. Highlighting the beautiful garbage she leaves in her wake allows viewers to see that he slick, precise paintings are only possible through all this mayhem and debris.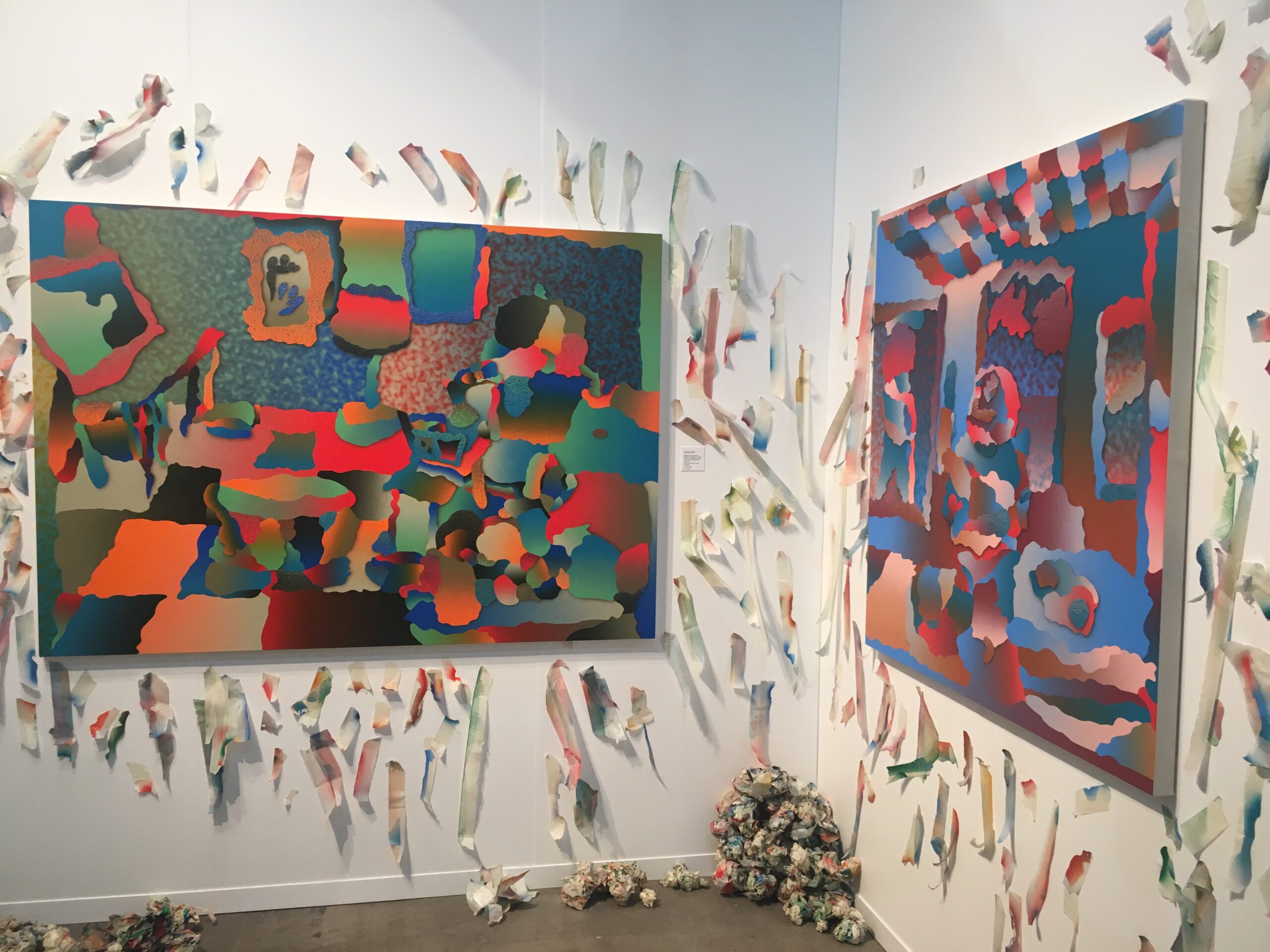 MARCOS CASTRO
MACHETE (MEXICO CITY)
Born in Mexico City in 1981. Lives and works in Mexico City
Castro appropriates and reinterprets elements with symbolic significance that are part of Mexican cultural and national identity, using them to create anecdotes in a landscape of national history. They represent the possibility of multiple national identities, complementing a personal universe with concrete references to pre-Columbian cultures and elements linked to science fiction and to a romantic aesthetic of anthropology. For Zona Maco 2019, the artist created a mural made of hand-made ceramic tiles, depicting a hybrid being arising. This piece is part of El Color del Sur [The Color of the South] collection, made of vases, mosaics and drawings where the blue color is the main protagonist, as it was associated by the Aztecs to Huitzilopochtli, the god of war, and to the South as a cardinal point.
Castro has presented various solo exhibitions, both in Mexico and internationally, such as: El Color del Sur [The Color of South], Machete Galería, Mexico City (2017), Necessary Objects at Dot Fiftyone Gallery in Miami (2014), Futuras Ruinas [Future Ruins] at Galería Luis Adelantado in Mexico City (2013), Negras Tormentas [Black Storms] at the Clauselito in the Museum of Mexico City (2012), Número Bestial [Bestial number] at the Ex Teresa Current Art Museum (2012), among others.His works can be found in several collections in Mexico: JUMEX Foundation Collection, Museum of Modern Art, University Museum of Contemporary Art, 47 Students Foundation and Amparo Museum. In USA, his works are held in the collections of the Perez Art Museum and Patricia Phelps de Cisneros.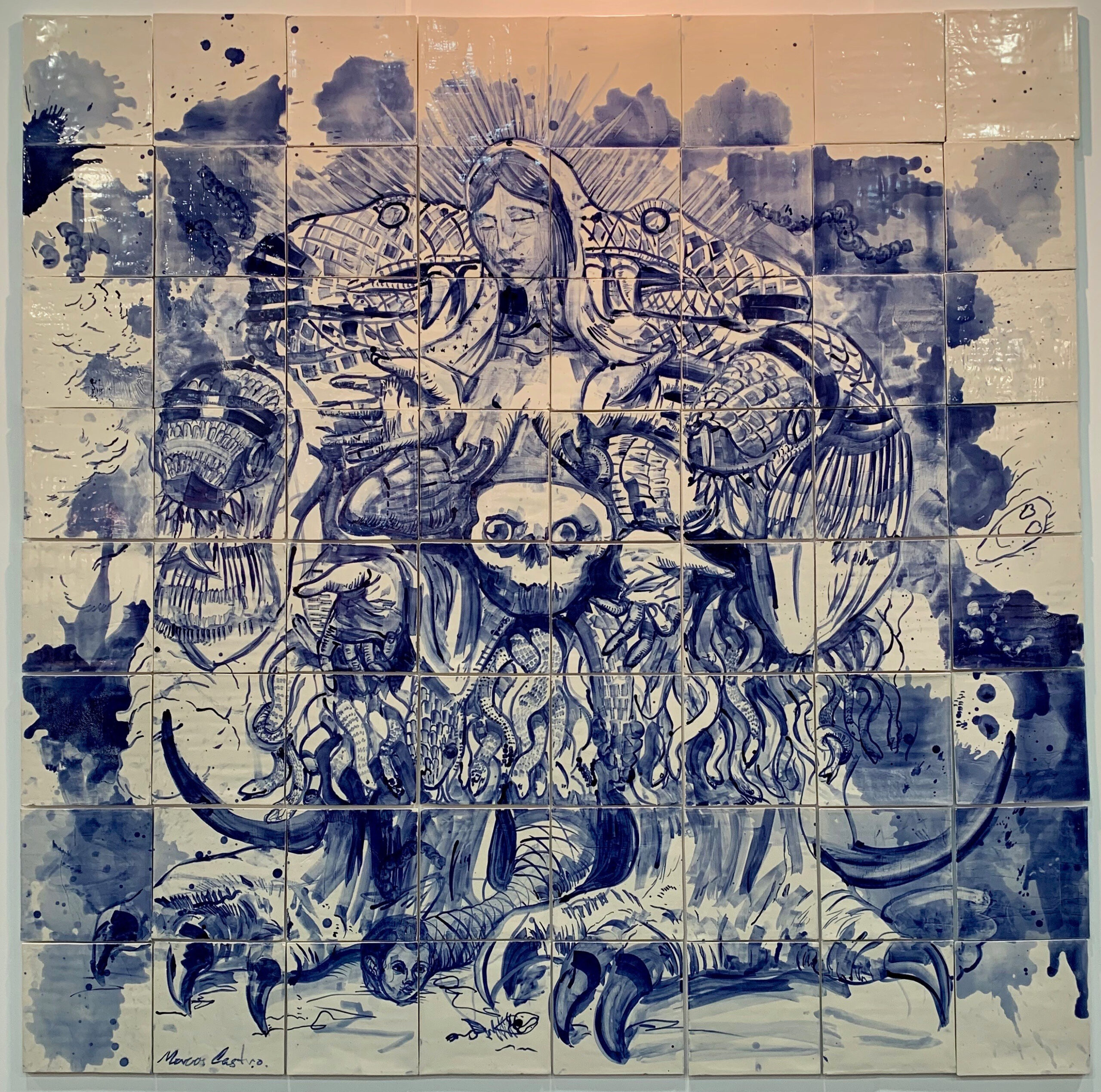 CLAIRE  MILBRATH
STEVE TURNER (LOS ANGELES)
Born in Victoria, British Columbia, in 1989. Lives and works in Montréal
Claire Milbrath is an artist and editor-in-chief of The Editorial Magazine, a print journal on contemporary art. Milbrath earned her BA in History from Concordia University. Claire Milbrath's recent series of narrative paintings are populated with figures that appear to interact while remaining oddly disconnected. Milbrath's signature style is contradictorily and refreshingly naïve, while psychologically insightful at the same time.
The Montreal-based artist takes a largely two-dimensional approach. The scale in most of these paintings is just large enough to give the viewer a sense of mise en scène. In these various vignettes, as in the novel, points of view shift from one character, or group, to another, focusing primarily on a central figure, Poor Gray, an androgynous gay character cultivated from the artist's imagination. Emphasizing the figures, outlines define and add contour to forms and features. While casually posed, the figures convey an air of self-conscious discomfort. Through Milbrath's adroit portrayal, the subtlest details—the direction of a gaze, the position of a figure, the clothing—suggest much about the inner workings of each: pomposity, frustration, wistfulness, lust and boredom are somehow implied with spare hints and a witty flair.
The works take cues from 18th-century fête champêtre paintings, portraying as they do a gathering of aristocratic subjects indulging in leisurely pursuits in pastoral settings, all cleverly infused with a contemporary ironic twist.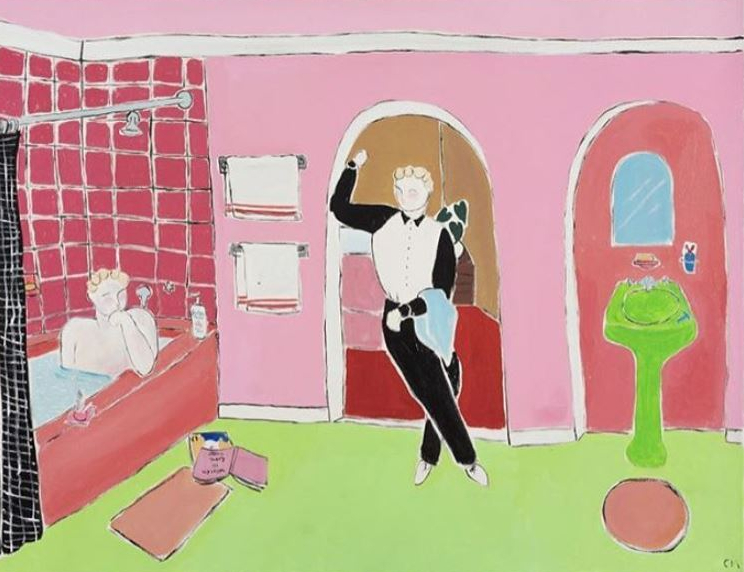 LUIS HAMPSHIRE
GALERÍA KAREN HUBER (MEXICO CITY)
Born in Oaxaca, Mexico, in 1975. Lives and works in Oaxaca
Luis Hampshire's artistic production includes drawings, collages, found objects and assemblies, is a visual investigation into the different ways of conceiving the painting practice. His works' composition, always thought from a pictorial starting point of view, is halfway between the abstract and the figurative, because it's the result of his own apprehension of the world. He studied the Bachelor of Arts at the University of the Cloister of Sor Juana (USCJ) in Mexico City. Visual artist, exhibition maker and co-founder of the non-profit art space Ediciones Plan B together with Jessica Wozny. Winner of the XVIII Rufino Tamayo Painting Biennial (2018). His work has been exhibited individually and collectively in Mexico and abroad. Among his most recent exhibitions stand out El cordón umbilical retiniano, cured by Willy Kautz in ESPAC (CDMX, 2018); Pintura Reactiva, curated by Carlos Palacios at the Carrillo Gil Art Museum (CDMX, 2018) and Color Mundo y Carne at Galería Karen Huber (CDMX, 2017).
He has been credited with various incentives and awards such as the National System of Creators 2012 and 2016 (FONCA); Honorable Mention at the 15th Rufino Tamayo Painting Biennial, Honorable Mention by State at the VII Monterrey-Femsa Biennial, the Young Creators Grant, 2005-2006 and 2000-2001 (FONCA), Honorable Mention at the XXIV National Youth Art Meeting, State Fund for Culture and the Arts (FOESCA), Honorable Mention, III Pacific Biennial of Painting and Engraving, Honorable Mention in the II Biennial of Painting of the Southeast Joaquín Clausell.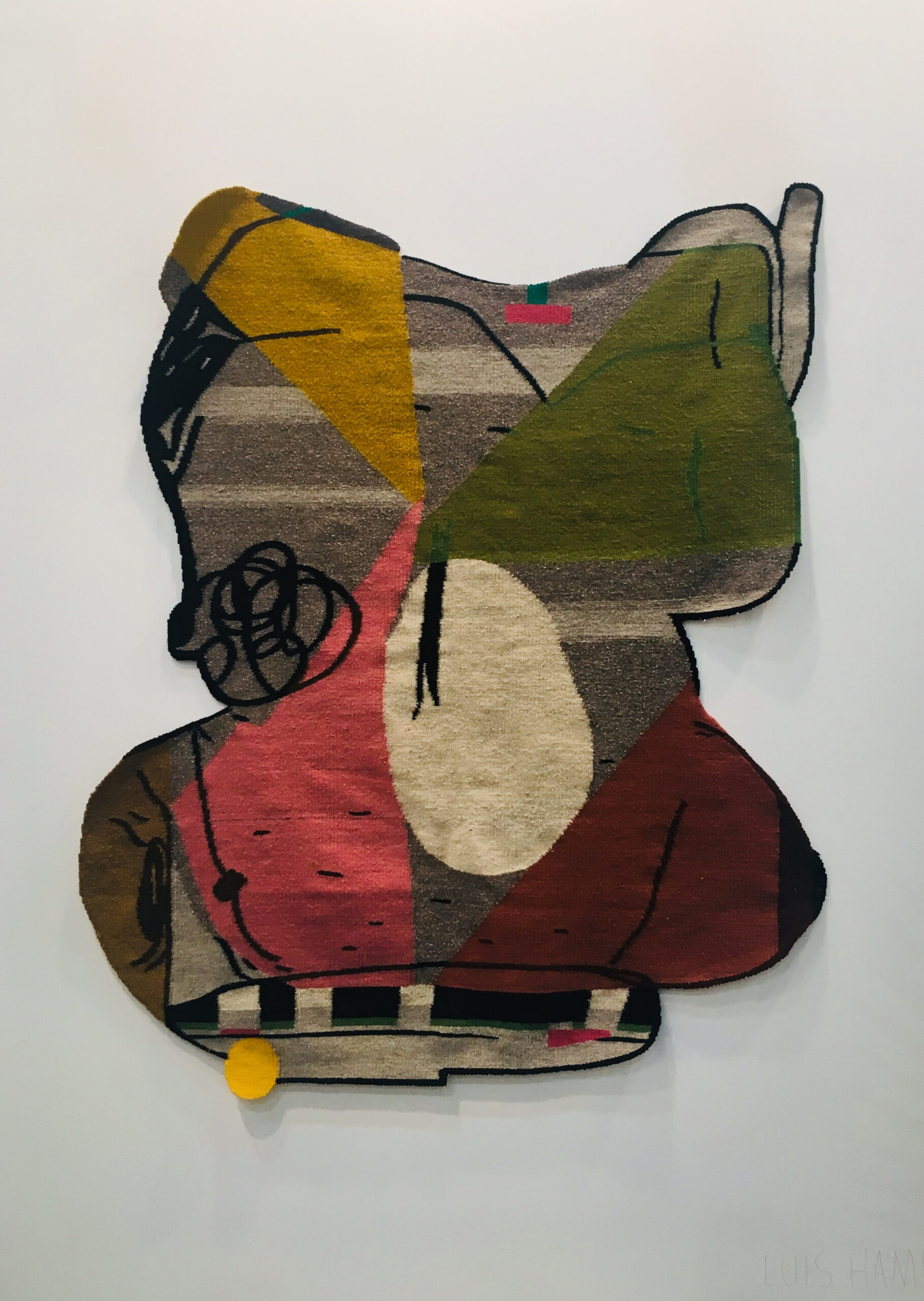 MATERIAL 2019
ELSA-LOUISE MANCEAUX
LODOS GALLERY (MEXICO CITY)
Born in Paris in 1985. Lives and works in Mexico City
Though multidisciplinary in her projects and collaborations, Elsa-Louise Manceaux (1985, Paris, FR) works primarily in drawing and painting. The formal concerns present in her work evolved from Manceaux's personal interest in and research into the history of satire, comics and illustrative humor – tracing dichotomous relations between the concepts of progress and synthesis,  information and deformation, drawing and subversiveness, as the underlining scope for the way she treats the subjects present in her pictures.
The titles often suggest a lead to Manceaux' intentions: inner worlds, locations, landscapes or situations, the intangible, mental images and visions which inhabit the spirit of many of her works, mixing imaginaries whether them being historical, personal, or cybernetic. Her artistic practice is also punctuated with collaborations, editorial projects, artist books, and lectures. Every year she edits CANICHE, a magazine of illustrations from artists around the world.
In 2012 and 2013 she received a stipend from The Mondriaan Fund for emerging artists. Elsa-Louise Manceaux completed her studies at Gerrit Rietveld Academie in Amsterdam in 2009 and later attended the SOMA artist-run program for the years 2015-2016 in Mexico City where she lives and works. Manceaux is a fellow of the BBVA-MACG Bancomer grant program 2018-2020 (MX). She has exhibited and had her work published in France, Mexico, Chile, Panama, Bolivia, Guatemala, Belgium, Netherlands, Portugal, India, Britain, the United States, and Iceland.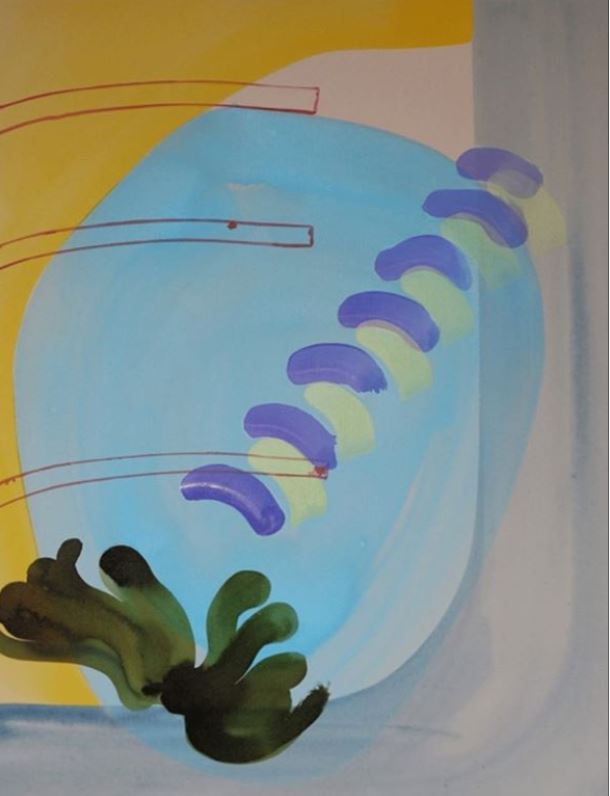 SOSHIRO MATSUBARA
CROY NIELSEN (WIEN)
Born in Hokkaido, Japan, in 1980. Lives and works in Wien
Matsubara's paintings and sculptures make use of overly romanticized moments in art history as a means to examine the potential of art as a romantic pursuit or obsession. Matsubara was born in Japan in 1980.  He is a member of XYZ collective and currently works and resides in Vienna. Recent exhibitions include "there's hell in hello but more in goodbye."
LambdaLambdaLambda at Galeria Dawid Radziszewski, Warsaw, Paramount Ranch 3 with XYZ Collective, Los Angeles, "COOL INVITATIONS3 : curated by Misako & Jeffrey Rosen'" at XYZ collective, Tokyo, and "Commodus Operandi" at Andrew Rafacz Gallery, Chicago. This is the gallery's first solo exhibition with the artist.
Other recent solo exhibitions include Lovesick at Schiefe Zähne, Berlin, Haus der Matsubara, Bel Ami, Los Angeles (both 2018); Sleeves of Desire I, Brennan & Griffin, NY (2017) and Sleeves of Desire II, XYZcollective, Tokyo (2016). His work has been part of group shows at Misako & Rosen, Tokyo; Friedman Fitzpatrick, Los Angeles (both 2018); Dawid Radziszewski, Warsaw; Andrew Rafacz Gallery, Chicago (both 2016); and Karma International, Zürich (2014). He is co-director of XYZcollective, Toyko. In 2017 Matsubara founded the antique shop Haus der Matsubara.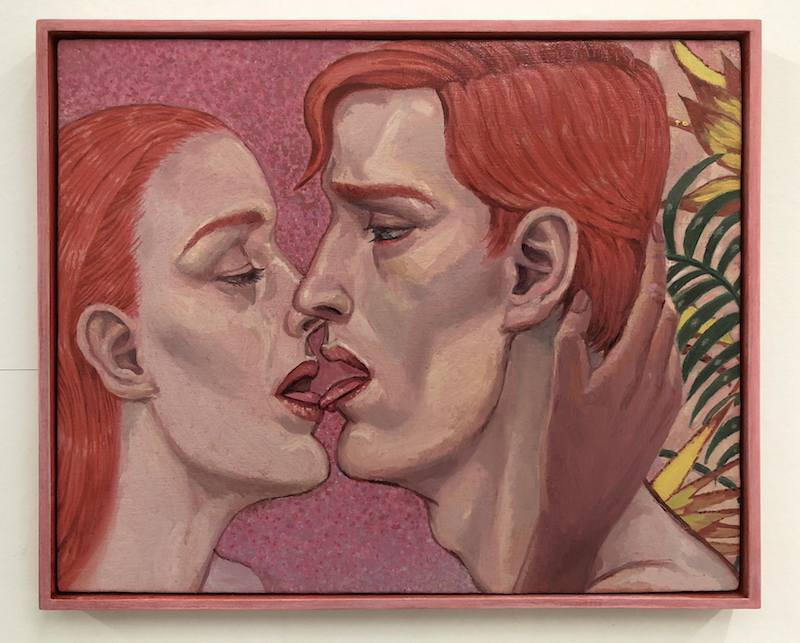 PIA CAMIL
SULTANA (PARIS)
Born in Mexico City im 1980. Lives and works in Mexico City
Pia Camil has a BFA from the Rhode Island School of Design and an MFA from the Slade School of Fine Art, London. Her work has been exhibited internationally with recent solo-exhibitions including : forthcoming at Tramway art space, Glasgow (2019), Split Wall at Nottingham Contemporary (2018) ; They, at Galerie Sultana (2018); Bara, Bara, Bara at Dallas Contemporary (2017) ; Home Visit at Museum Ludwig, Cologne (2016) ; Slats, Skins & Shopfittings at Blum & Poe, New York (2016) ; A Pot for a Latch, New Museum, New York (2016); Skins, Contemporary Arts Center, Cincinnati (2015); The Little Dog Laughed, Blum & Poe, Los Angeles (2014); Espectacular Telón at Sultana Gallery, Paris (2013); Cuadrado Negro, Basque Museum Centre for Contemporary Art, Vitoria-Gasteiz, Spain (2013).
Recent group exhibitions include forthcoming Desert X Biennial, California (2019); Art Basel Cities, Buenos Aires, Argentina (2018); LISTE, with Galerie Sultana, Basel, Switzerland (2018); Descheas at Instituto de Vision, Bogota (2017); «Womenhouse », Monnnaie de Paris (2017); « Performance ! », Le Tripostal, Lille (2017).
Camil's work is in the permanent collection of Centre Georges Pompidou, Paris, La Colección Jumex, Mexico, Blanton Museum of Art, Austin (USA), and at the Kadist collection amongst others. Camil's work is usually associated with the Mexican urban landscape, the aesthetic language of modernism and its relationship to retail and advertising.