BeAdvisors Art Advisory team has been touring London throughout the Condo Preview Weekend with a group of 30 people, including collectors, art lovers and people from the art industry to browse some of the most exciting galleries and artists of the contemporary art scene worldwide.
ADRIANO AMARAL

Galeria Jaqueline Martins (São Paulo)
hosted by Rodeo
For his solo show in London on the occasion of Condo, Amaral brings to life an immersive installation where distinct laters and diverse approaches build together to create a complex and ambiguous space. Works produced in the studio are merged with architectural changes and ephemeral interventions generated live. The result is a fragmented ecosystem in which memory, materiality and personal experiences are explored. At the center of the exhibition, the film Rurais follows the night-time flight of a drone through the warehouse of the artist's grandfather. Moving around his holding pen, the drone flies seamlessly from item to item as the materials lay dormant. While around the film, a network of tubes carry a light mist that fuels the living works inside the space. Just as the warehouse of Amaral's youth holds both raw and developed materials, his exhibition opens itself up to the past, as well as encourages the growth of the future.
Born in Ribeirão Preto, Brazil in 1982, Amaral lives and works between Lisbon and São Paulo. Adriano Amaral engages in an alchemic artistic process, employing synthetic and organic compounds as well as video, light and sound. The materials and objects in his work form rare combinations that deny a categorical logic or hierarchy and acts to decontextualize architectural spaces with a sensitivity to the viewer's physical presence. After finishing his Master's degree in London's Royal College of Art in 2014, Adriano took an art residency in De Atelier, Amsterdam in 2016 and was granted the Mondrian Fonds Work Contribution Proven Talent in 2017.
His recent exhibitions include solo projects at Vleeshal Zusterstraat, Netherlands, Bielefelder Kunstverein, Germany, and Galeria Jaqueline Martins in São Paulo, Brazil. Group shows include projects in Sixty Eight Art Institute, Copenhagen, Modern Art Museum, Moscow and Beelden Aan Zee, The Hague – Netherlands.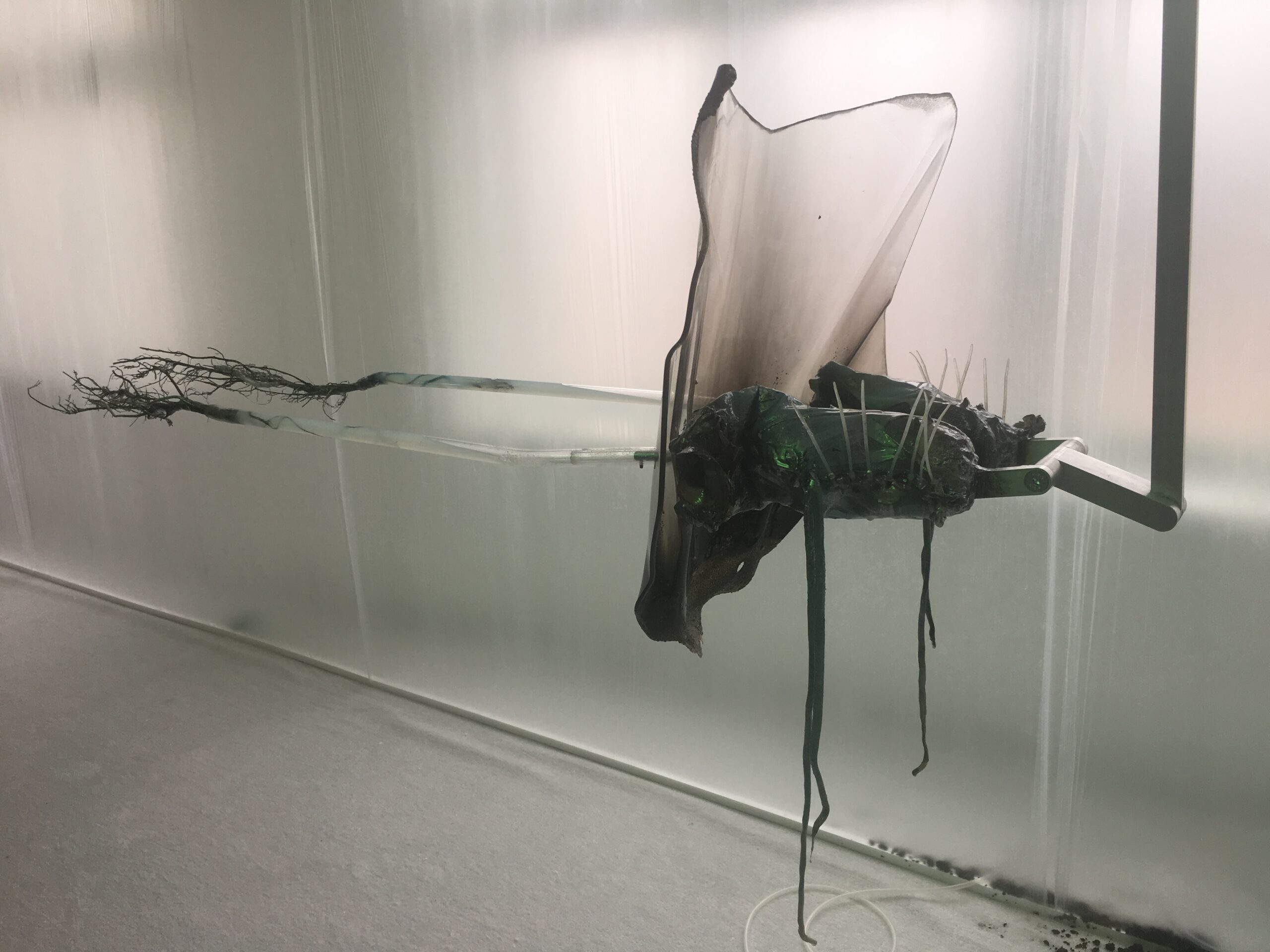 FELIX BERNSTEIN & GABE RUBIN
David Lewis (New York)
hosted by Pilar Corrias
Folie à Deux explores the melodramatic partnership of madness & queerness in drag & transgender performance.
In their cinema of regression, Felix Bernstein and Gabe Rubin re-vamp the Marquis de Sade as "Madame de Void" the vanity of the void in waiting. Trapped between de Sade's 120 Days of Sodom & de Void's 101 Dogs of Gomorrah and unable to endure waiting on the stage long enough to convert waiting into weight they hang off the ledge of compulsory ridiculousness/hysteria/critique.
Theater precedes essence but the essence is always in transit. Genre, genus, and gender transition from the monodrama/duodrama (one/two speakers) of Jean Jacques Rousseau's 1770 scène lyrique "Pygmalion" (recitative dialogue with music as intermittent illustration) to the 19thcentury form of melodrama (continuous music and sentiment in synchronous motion), which brought pantomime, dialogue, but also action-music, and spectacle to fruition.  "Pygmalion" oft named the first melodrama marks a point of contention and confusion for the genre. Postwar indeterminate, skilled, and distruptive approaches to Theater slashed spectacle to bits.  Our impossible folly is an ode to incongruent forms—monodrama, duodrama, melodrama, soap opera, and poetic anti-theater.
Felix Bernstein and Gabe Rubin have presented film, music, and theater at MOCA Los Angeles, Issue Project Room, Anthology Film Archives, and the Whitney Museum of American Art. At the Whitney, they staged and exhibited Bernstein's libretto Bieber Bathos Elegy (2016). They directed and performed in Victorine by Mayo Thompson and Art & Language for the 2012 Whitney Biennial. Also at the Whitney, Rubin performed in Jill Kroesen's Collecting Injustices and Bernstein in Andrew Lampert's Synonym for Untitled. Bernstein is the author of the poetry collection, Burn Book (Nightboat), and a book of essays, Notes on Post-Conceptual Poetry (Insert Blanc Press). His writing has been featured in Flash Art, Spike Arts Quarterly, Poetry Magazine,  Hyperallergic, and Texte Zur Kunst. Rubin's films have shown at the Brooklyn Film Festival, MIX Queer Experimental Film Festival, and he was recently featured in the transmasculine photo series, American Boys by Soraya Zaman.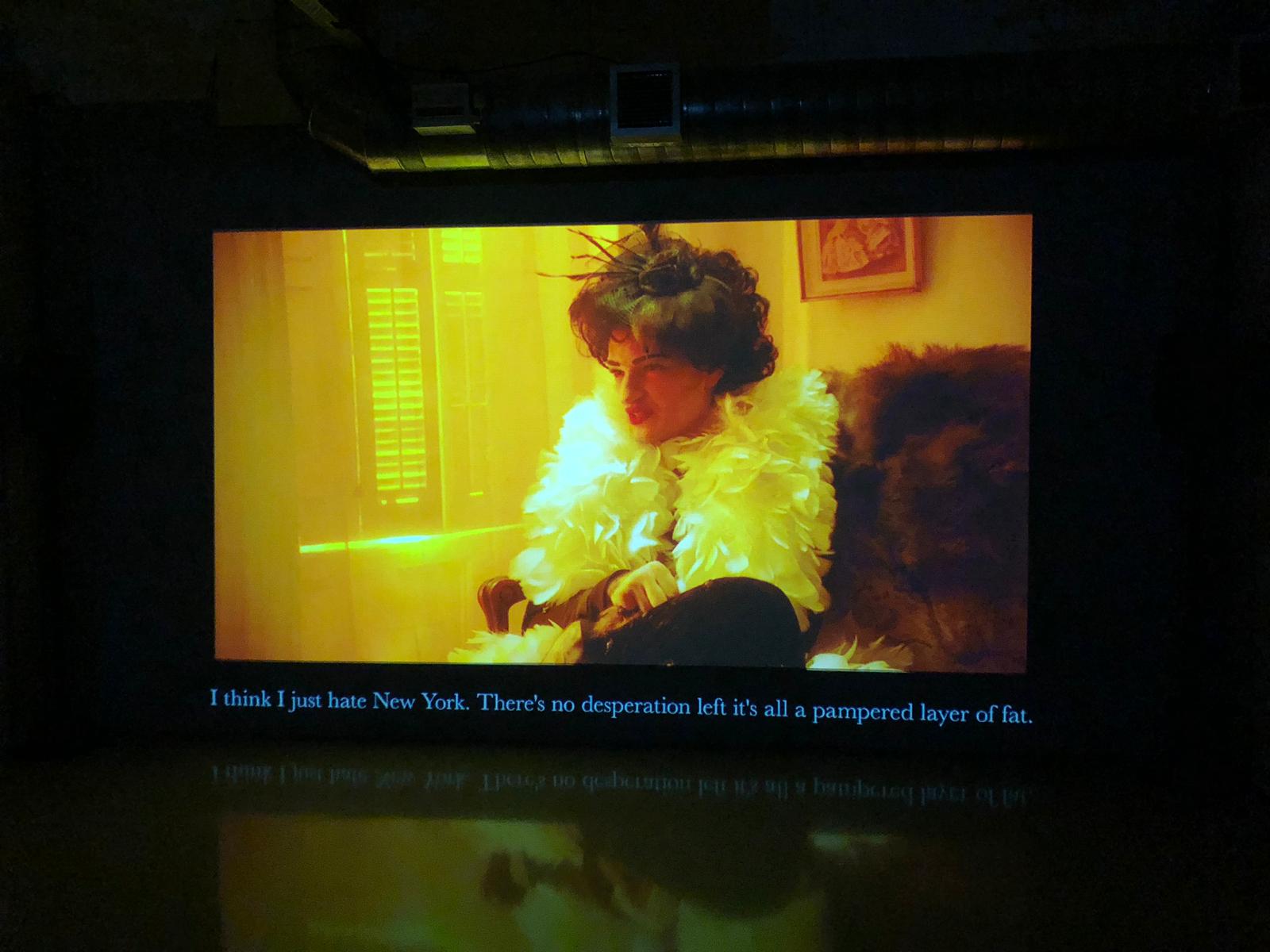 JAN KIEFER
presented by Union Pacific
Jan Kiefer is a Swiss artist, born in 1979. Jan Kiefer's works have a socio-political fundamental tone which naturally expresses itself just like the underlying humour. Their humorous way of dealing with serious issues and knowledge allows the recipient to find an easy entry, which however wants to be found. Jan Kiefer's 'Pinot Noir' & 'Riesling' paintings, the first two in a series, Jan Kiefer, for this series, has painted "portraits" of the most common European grapes; Riesling, Pinot Blanc, Elbling, Gamais, Gutedel, Merlot, Pinot Noir, Müller Thurgau, Sylvaner, Veltliner, etc. As with previous Kiefer works, he is mainly focusing on the history of Western or occidental cultural society. It's symbols, myths and its social political aspects are combined with references to contemporary art and recent design history. More specifically here, he is analysing behavior patterns resulting from a consumer society or the people's interaction with an indoctrinated belief system. He is collecting visual codes of culture.
In turn, these visual codes become the very commodities that define a generation. Wine is one of the oldest cultural heritages with a lot of references and of course strong religious imagery. He's mirroring these images and the related social patterns and  decostructing everyday objects and codes and their associated mannerisms. He sees the paintings of grape varieties as portraits of a Western, European society with a romantic and at the same time, anachronistic, reactionary timbre.
Kiefer has had several gallery and museum exhibitions, including at the White Columns and at the Gagosian Gallery, Athens. There have been many articles about Kiefer, including "Swiss Art Awards 2016" and "Swiss Design Award 2016" at Messe Basel written for MOUSSE Magazine in 2016.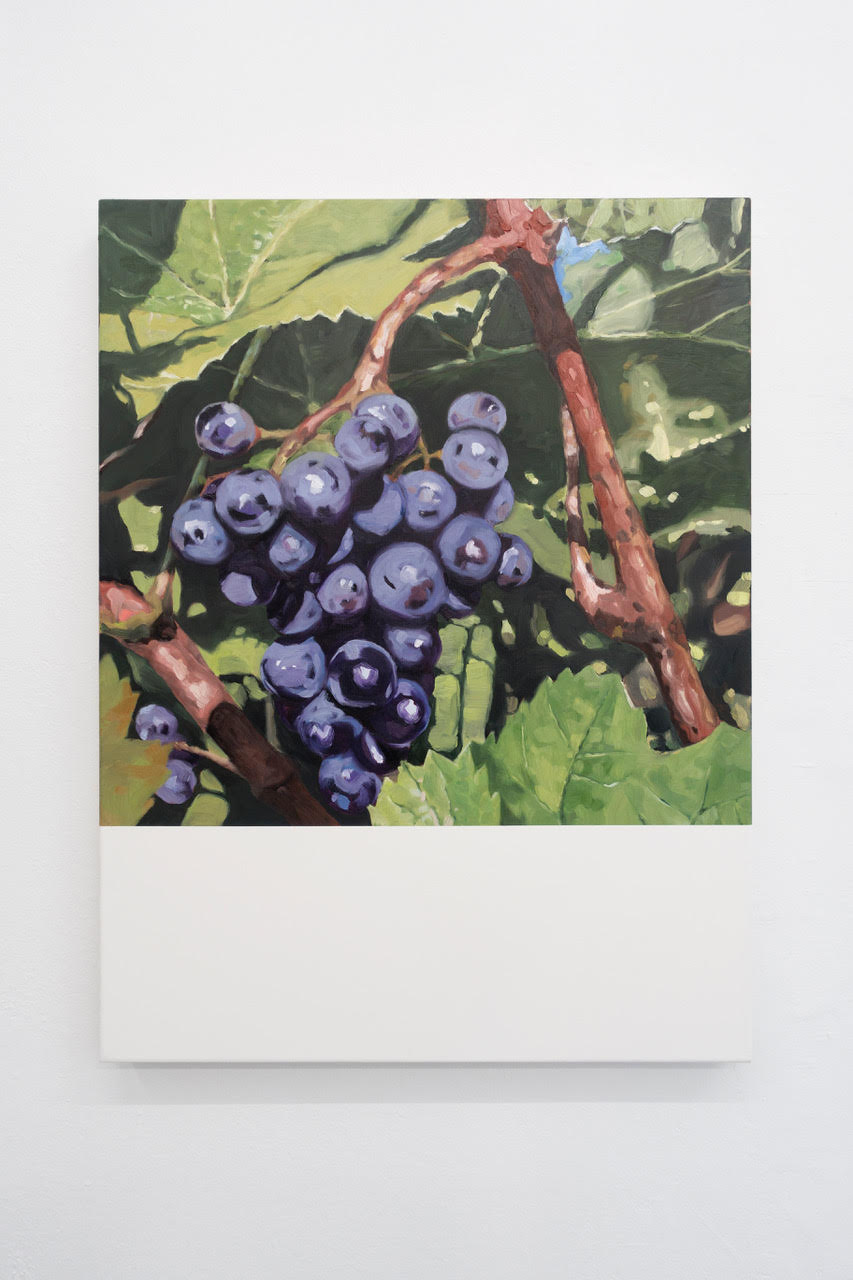 SAMUEL HINDOLO
Chapter NY (New York)
hosted by Carlos/Ishikawa
Hindolo paints fictive scenes constructed from his own imaginings, the history of painting, and most characteristically from screenshots which the artist has cataloged in an ever-expanding personal archive. Though the archive borrows from various technologies, the artist has aken particular interest in uncanny moments from popular West African cinema, the oeuvre of the LA rebellion filmmakers, and classic Hollywood. Hindolo's scenes often played out by a cast of miscreants – demons, law enforcement, lovers – are imbued with an unsettling balance of intimacy and unease.
In the painting series presented ad Condo London 2019, Hindolo individuates the title characters in Alfred Hitchcock's 1963 film, The Birds. The paintings grant an interiority to the creatures otherwise portrayed as a unified and unflinching menace, whose motive for violence Hitchcock never articulates. Throughout the exhibition, the work is largely concerned with the emotional lives of figures unusually seen as peripheral or villainous, questioning notions of desire.
Samuel Hindolo was born in Prince George's County, Maryland. He lives and works in New York, NY. Hindolo is pursuing an MFA in painting at Bard College. Recent exhibitions include Deli Gallery, Brooklyn; Wysing Arts Centre, Cambridge; BasinPhiladelphia; FORM, Arcosanti, AZ; Rosenwald Wolf Gallery, Philadelphia; Magic 175, New York.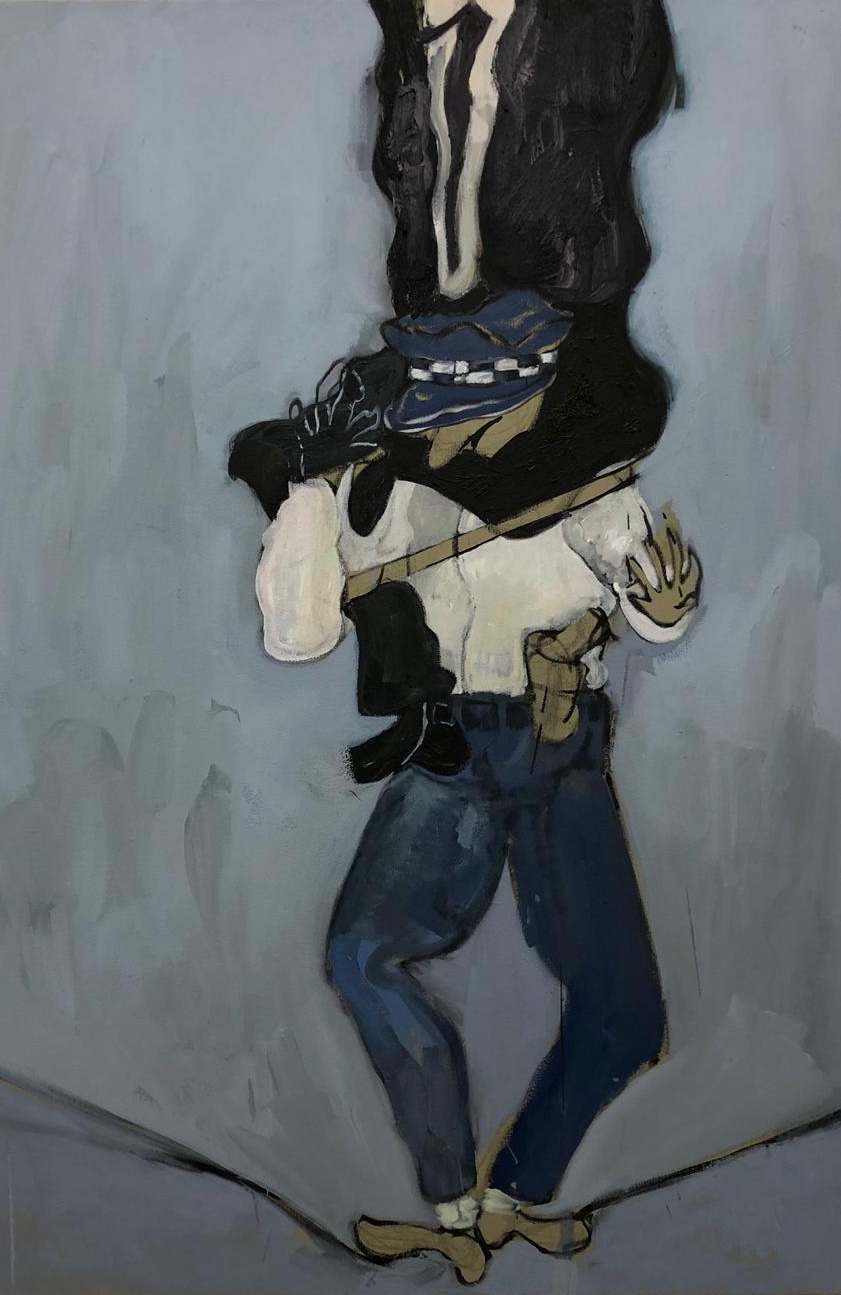 MEGAN PLUNKETT
presented by Emalin
Plunkett is working on an ongoing series of images pulled from Craigslist over the past year. Browsing the site listings of various items for sale, she began noticing and collecting photos where dogs enter the image frame. As a domain, Craigslist represents a space in which photography functions subjectively and casually.
Objects put up for sale are frequently documented in the settings in which they have lived – in this way, life muddies its way into a market of DIY commerce. For Plunkett, these images continue her investigation into the material conditions of the image, its appropriation and circulation in public space as well as their complicated behaviour within the space of value, exchange and utility.
Megan Plunkett completed her MFA at the Milton Avery Graduate School of the Arts, Bard College, in 2017. Selected exhibitions include Plus One, with John Miller, Shoot the Lobster (New York, NY, USA. 2018): Me as a dog, Who Hit John Bar (Vilnius, Lithuania, 2018), Caisson, Diver, Charmer, Commercial Street at Jenny's (Los Angeles, CA, USA. 2018) Live Rust, Not Right, Long As I Can See, Bad Reputation (Los Angeles, CA, USA. 2017): I Bet You Wish You Did And I Know I Do, Emalin (London, UK. 2017), New Human Agenda, And Now, (Dallas, TX, USA. 2017): Tar Pits, Redling Fine Art (Los Angeles, CA, USA. 2017); The Garden of Forking Paths, curated by Adam Marnie at Magenta Plains (New York, NY, USA. 2017).