BeAdvisors Art Department has been touring Art Basel Miami Beach and Untitled Art with a view to carefully selecting the most remarkable galleries and artists from both fairs.
The topic of race is one of the most remarkable trends within the art world nowadays. Miami art week is no exception, with relevant presence of artistic reflections on the theme. For this we decided to build our Collectors Guide around this subject.
The thematic of race is developed using different artistic media and it is analysed by artists with very various cultural backgrounds. Africa, United States, Latin America and Europe are the zone of the world these artists come from.
Discover their visions and deepen the new market trend in our Collectors Guide to Miami Art Week 2018!
DEREK FORDJOUR

Josh Lilley (London)
Born in 1974 in Memphis, lives and works in New York
Derek Fordjour was born in Memphis, Tennessee to parents of Ghanaian heritage.
He states that he "uses the economic, political and psychosocial implications of games to discuss the power structure that exists around rewards and sanctions, merit and punishment, for both the player within the game and as an allegory for the broader human experience. Team dynamics that evoke the tension of an individual situated within a collective effort, convey the seductive sense of the risks and rewards that are inherent in the drama of both games and life."
Fordjour has been one of the participating artists in the Whitney Museum's series of public art installations. His predecessors include Christine Sun Kim (2018), Do Ho Suh (2017–2018), and Njideka Akunyili Crosby (2015–2016).
In his artist statement, Fordjour explains the confluence of ideas.His work has been exhibited in numerous venues including Sotheby's S2 Gallery, New York; Josh Lilley Gallery, London; BAM, Brooklyn; Nina Johnson Gallery, Miami; Roberts & Tilton Gallery, Los Angeles; and Galleria Monica DeCardenas, Switzerland. In September 2018, the Whitney Museum presented a public billboard installation by the artist as part of the museum's Out of the Box programming.  He has also been featured in several publications such as Forbes Magazine, ESPN's The Undefeated and VICE Creators. He frequently serves as a Visiting Critic and Lecturer, most recently at Yale University School of Art and The Cooper Union. His work also appears in several collections throughout the US and Europe including JP Morgan Chase collection and Dallas Museum of Art.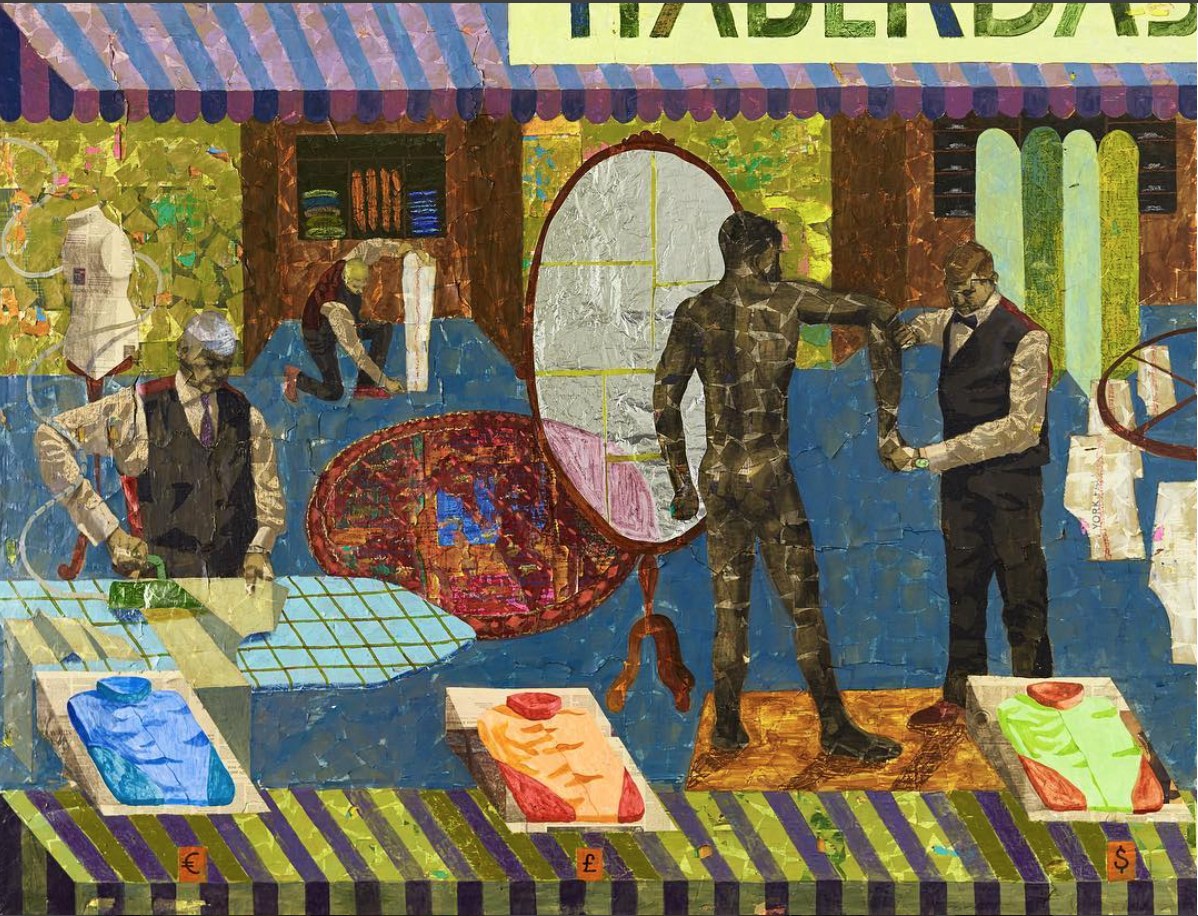 BILLIE ZANGEWA
Blank Projects (Cape Town)
Born in 1973 in Malawi, lives and works between London and Johannesbourg
Billie Zangewa works primarily with raw silk offcuts in intricate hand-stitched collages, creating figurative compositions that explore her intersectional identity in the contemporary context and challenge the historical stereotyping, objectification and exploitation of the black female body. Working in a flat, colourful style, she depicts narratives concerned with experience: both personal and universal. These narratives do not make grand gestures or even overt political statements, but rather focus on mundane domestic preoccupations; universal themes connecting us to each other. Almost always the protagonist in her works, Zangewa becomes a heroine whose daily life is revealed through the scenes she illustrates.
Zangewa has exhibited extensively at institutions both locally and internationally, including at the Norval Foundation (2018), MASS MoCA (2017), Stedelijk Museum (2017), Studio Museum Harlem (2016), Iziko South African National Gallery (2016), Johannesburg Art Gallery (2016), Guggenheim Bilbao (2015), WIELS (2015), La Maison Rouge (2013) and the Menil Collection (2012). Her work is represented in several notable private and public collections, including the Tate Modern, Stedelijk Museum and the Smithsonian National Museum of African Art collections. In 2018, Zangewa was selected as the Featured Artist for the FNB Joburg Art Fair.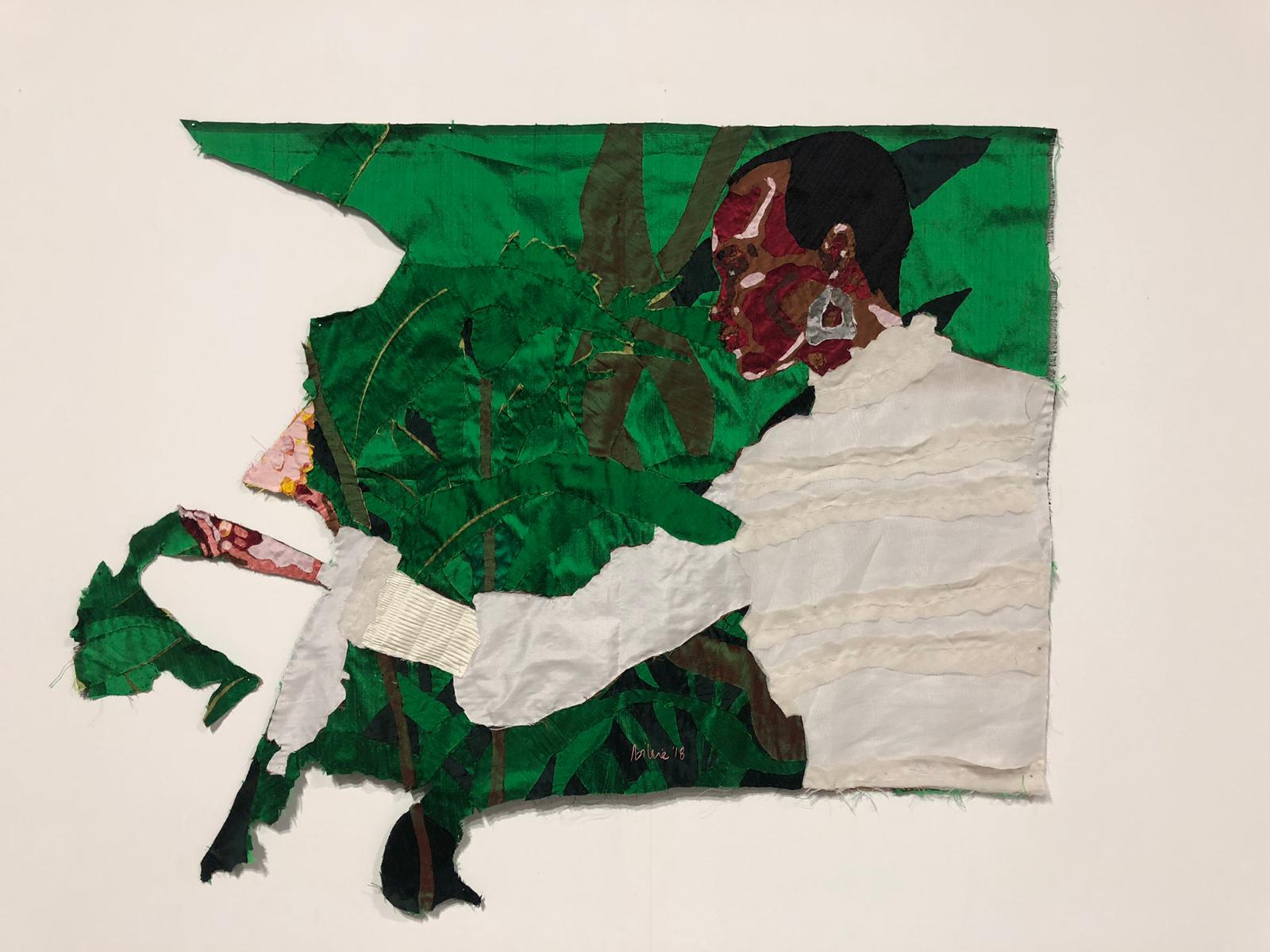 ZINA SARO-WIWA

Tiwani Contemporary (London)
Born in 1976 in Nigeria, lives and works in Brooklyn
Zina Saro-Wiwa is a British-Nigerian artist working in video, photography and installation. In 2017, Saro-Wiwa was awarded a Guggenheim Foundation Fellowship for Fine Arts. In 2018, she launched Mangrove Arts, a new foundation which uses contemporary art and indigenous crafts to foster creative engagement with environmentalism in the Niger Delta. Zina Saro-Wiwa is the founder of Boys' Quarters Project Space, a contemporary art gallery that opened in 2014 in Port Harcourt, Nigeria where she curates and programmes exhibitions that explore the relationship between the self and environment. Her current show, which she curated Black Box: Video Poetry and Environment features video works by artists John Akomfrah, Kader Attiah and Allora & Calzadilla and is on display till October 2018.
The video presented at Art Basel Miami Beach is from an ongoing series, which began in 2014, that shows people from the Niger Delta while they are eating. Just eating.
The titles of the works are taken from the name of the performer and the food: "Felix Eats Garri and Egusi Soup," for instance.
As it has gone on, the series has taken a somewhat darker turn, with the subjects eating snake and other animals that appear in local folk tales.
Ms. Saro-Wiwa has a longstanding interest in the metaphorical idea of nourishment, and the condition of the places that grow the things we eat. "Food is huge for me," she said, after putting out a plate of vegetables, sausage and crackers for a visitor.
But for the artist Zina Saro-Wiwa, the wellspring of her art is brutally straightforward: Her father, the Nigerian writer and anti-oil activist Ken Saro-Wiwa, was executed in 1995 by Nigeria's military dictatorship for his work fighting environmental degradation and corruption in Ogoniland, the home of the country's Ogoni people.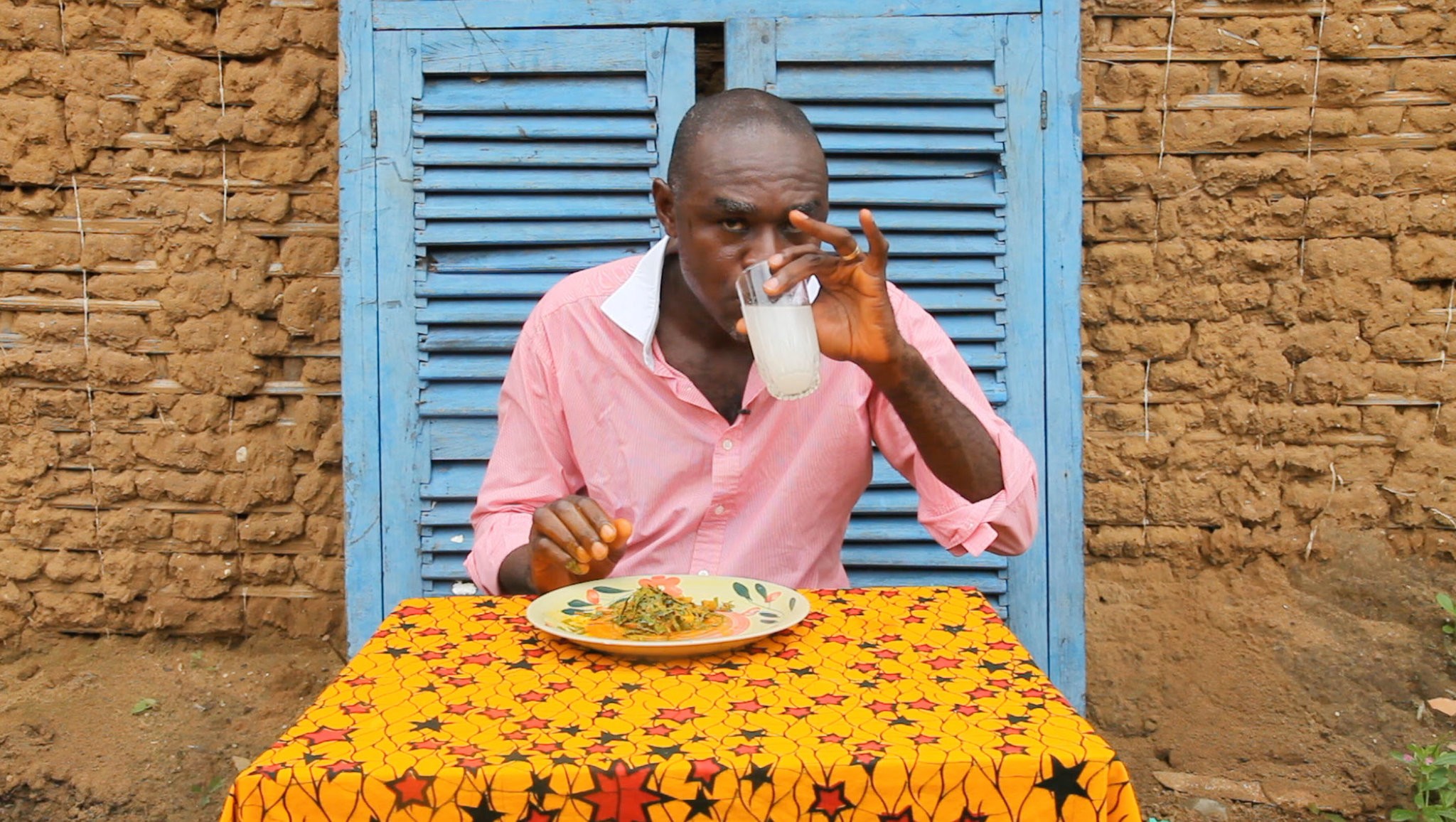 MAXWELL ALEXANDRE

A Gentil Carioca (Rio de Janeiro)
Born in 1990 in Rio de Janeiro, lives and works in Rio de Janeiro
Maxwell Alexandre graduated in Design from PUC-RJ (Pontifical Catholic University of Rio de Janeiro) in 2016 and participated in 2009 in the Photography Course for works registration of PAC (Growth Acceleration Program) in the favelas of Rio de Janeiro. The artist's urban poetics consists of the construction of narratives and scenes structured from his daily experiences in the city and in Rocinha, where he lives and works. On different supports like canvases of Capri pools, doors and iron frames emerge anonymous personages in situations recurrent in the favela. They are large-format paintings in which the black bodies are presented in an empowered way, but also in moments of confrontation with the police, portraying a radically contemporary community routine.
In september 2018 Maxwell will be part at the exhibition Recortes da Arte Brasileira at Art Berlin Faire. Also in 2018 Maxwell held his first solo exhibition, 'The Baptism of Maxwell Alexandre' and participated in the collective 'Abre Alas 14', both at the gallery A Gentil Carioca; in the same year he participated in the group exhibition 'Histórias Afro-Atlânticas' at MASP (Museum of Art of São Paulo). In 2017 he was part of the group exhibition 'Carpintaria para todos', at the Fortes D'Aloia & Gabriel gallery and in the same year he held the solo exhibition 'Laje só existe com gente' at Escola Surfe – Complexo Esportivo da Rocinha – RJ. One of his works integrates the collection of the Pinacoteca of São Paulo.
TSCHABALALA SELF

Thierry Goldberg Gallery (New York)
Born in 1990 in Harlem (USA), lives and works in New York and New Haven
Tschabalala Self builds a singular style from the syncretic use of both painting and printmaking to explore ideas about the black female body. The artist constructs exaggerated depictions of female bodies using a combination of sewn, printed, and painted materials, traversing different artistic and craft traditions. The exaggerated biological characteristics of her figures reflect Self's own experiences and cultural attitudes toward race and gender. "The fantasies and attitudes surrounding the Black female body are both accepted and rejected within my practice, and through this disorientation, new possibilities arise," Self has said. "I am attempting to provide alternative, and perhaps fictional, explanations for the voyeuristic tendencies towards the gendered and racialized body; a body which is both exalted and abject."
Tschabalala Self lives and works in New York and New Haven. Forthcoming exhibitions include: Bodega Run, Pilar Corrias Gallery, London (2017); Trigger: Gender as a Tool and a Weapon, New Museum, New York (2017). Selected current and recent exhibitions include: Tschabalala Self, Tramway, Glasgow (2017); Tschabalala Self, Parasol Unit Foundation for Contemporary Art, London (2017); Desire, Moore Building, Miami (2016); The Function, T293, Naples (2016); A Constellation, Studio Museum Harlem, Harlem (2015); Tropicana, The Cabin, Los Angeles (2015).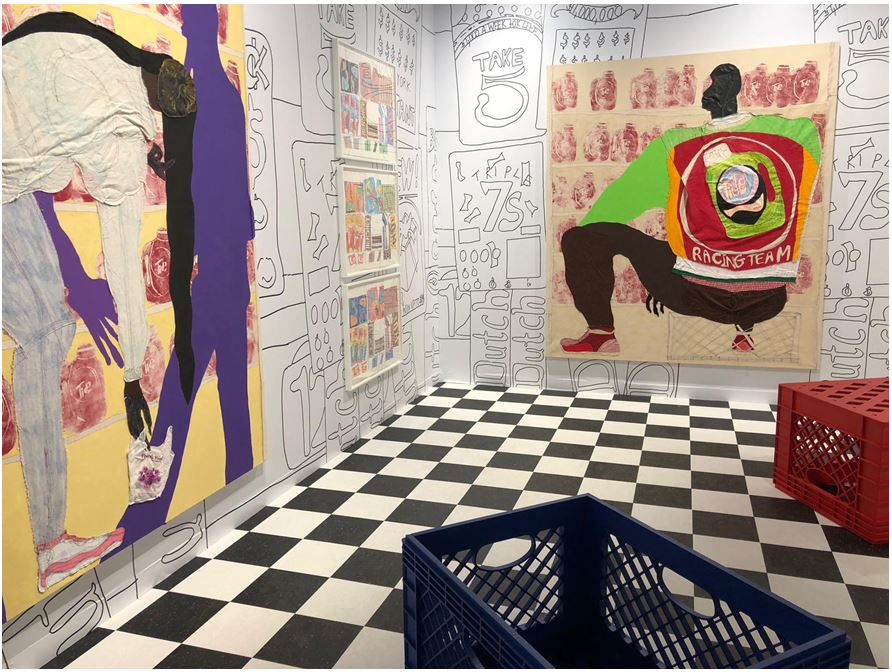 NDIDI EMEFIELE

Rosenfeld Porcini (London)
Born in 1987 in Abuja, Nigeria. Lives and works between London and Abuja
Drawing on cultural, gendered and personal references, Ndidi Emefiele creates layered gurative compositions that, dynamic in brush stroke and in juxtaposition of colour, conjure the complexity of contemporary experience and female identity. Emerging out of the Nigerian panorama, the strength of her narrative becomes even more pronounced as she encompasses collage, textiles and traditional materials conveying a strong sense of cultural heritage and aesthetics inspired by her homeland.
Ndidi Emefiele's incredibly vivid canvases embrace a vision of women as strong, vibrant, self-confident characters who exist in relation to each other in a universe where the male is only noticed by his total absence. Her assertive figures make no attempt to fulfill male expectations. The depiction of enlarged heads which are traditionally said to control and predict one's destiny, and the use of extravagant glasses or CD's, become a recurring element objectifying the need for a shield against the world.
Emefiele has exhibited widely both internationally and in the UK including solo/group presentations in Miami, New York, London, Chicago, Los Angeles, Lagos, Johannesburg and Abuja. Earlier this year she had a solo exhibition at the 1:54 African Art Fair in New York. Emefiele forms part of private collections such as The Deighton Collection and The Jimenez – Colon Collection. Public collections include; The Nigerian Stock Exchange, Lagos, Nigeria and The University Of South Africa, Cape Town. Importantly, she was awarded with the prestigious 'The Olive Prize 2016' (Excellence In Painting, The Slade School Of Fine Art). Emefiele was among the nominees of The Future Awards Africa 2016 for Arts & Culture. Emefiele presented his works at the Taubman Museum of Art, Roanoke, Virginia in February 2018 as part of the exhibition "Reclamation! Pan-African Works" from the Beth Rudin DeWoody collection.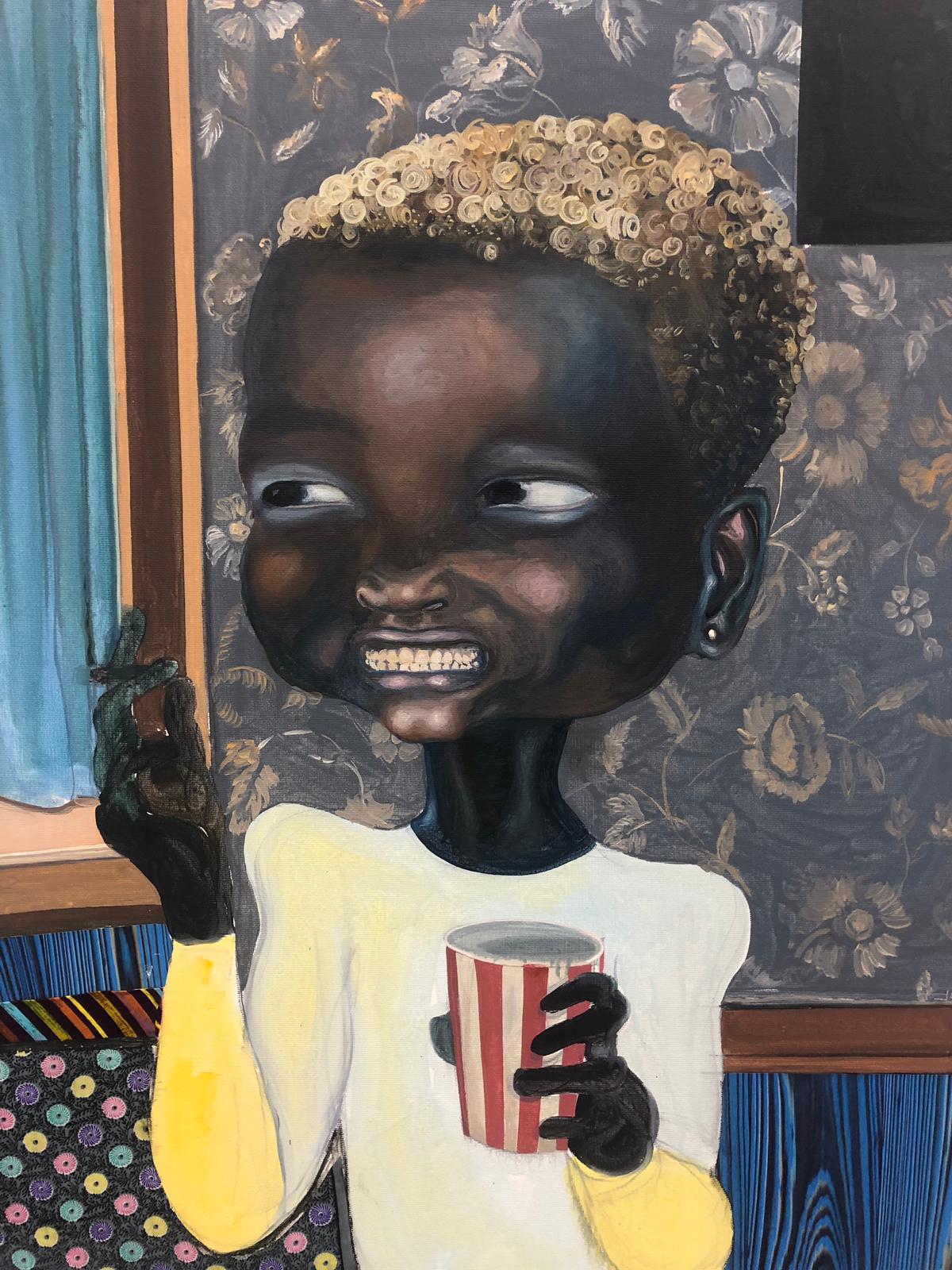 WURA-NATASHA OGUNJI
50 Golborne (London)
Born in 1970 in St. Louis, lives and works between Lagos and Austin
Wura-Natasha Ogunji b.1970 is a visual artist and performer based between Lagos, Nigeria and Austin, Texas. Her works include drawings, videos and public performances.  Her hand-stitched drawings, made on architectural trace paper, are inspired by the daily interactions and frequencies that occur in the city of Lagos, from the epic to the intimate. Ogunji's performances explore the presence of women in public space; these often include investigations of labour, leisure, freedom and frivolity.
A selection of her large-scale drawings was most recently exhibited at the Kochi-Muziris Biennale.
The drawings -delicate stitched works on paper- speak about moments of beauty that arise from the constant motion and sound of the city. Within the charged density of
the megalopolis Ogunji takes note of the human capacity to connect in both tender and magical ways. Ife heads, Gelede masks and Olmec-faced figures suggest the ways in which the sacred and profane, the traditional and futuristic exist simultaneously in all moments.
Ogunji is a recipient of the prestigious Guggenheim Foundation Fellowship and has received grants from The Pollock-Krasner Foundation; The Dallas Museum of Art; and the Idea Fund.  She has a BA from Stanford University [1992, Anthropology] and an MFA from San Jose State University [1998, Photography].  Wura-Natasha Ogunji is a visual artist and performer. She was born in St. Louis in 1970 and lives and works in Austin, Texas and Lagos, Nigeria.
Her works include drawings, videos and public performances. Her most recent creative investigations focus on the presence of women in public space in Lagos, Nigeria.