BeAdvisors Art Department has been touring Fiac and Paris Internationale 2019 with a view to carefully select the most promising artists from each fair.
FIAC
Founded in Paris in 1974, the International Contemporary Art Fair FIAC brings together modern and contemporary art galleries. All media are represented: painting, sculpture, photography, installations, videos, performances, and digital arts. The fair brings together around 200 exhibitors in the Grand Palais, including many of the most influential specialists worldwide in the fields of modern art, contemporary art and design. It presents the finest examples of artistic creation since the turn of the twentieth century.
PARIS INTERNATIONALE
Paris Internationale was established in 2015 as an innovative alternative to traditional art fairs to support a young generation of galleries. In only four editions, it has developed into a pivotal initiative to promote the work of emerging artists and rediscover more established figures. Dedicated to raising the level of the art discourse in the context of fairs, Paris Internationale keeps its participation costs reasonable to encourage risk taking and present its audience with a selection of artworks at the forefront of the contemporary practices.
Discover our selection of emerging artists here!
SRIJON CHOWDHURY
Antoine Levi (Paris)
Born in 1987 in Dhaka (Bangladesh), lives and works between Los Angeles and Portland
Working in oil on canvas and linen, Srijon Chowdhury explores memory and the transmission of history through his saturated, immersive paintings. He sums up his approach in a single sentence: "These paintings present, as a feeling, an idea of a version of a history." His works range from small to large scale and have featured various motifs: blurred, minimalistic landscapes; patterned fields of seemingly countless flowers; isolated bouquets; and images of a classically carved, fragmented male torso. He often paints variations on a single theme, repeating and altering the imagery, creating a visual analogy for the inevitable evolution of historical narratives as they are told and retold across generations. Chowdhury's feather-edged forms seem to bleed into each other, evoking a sense of distance and places and times buried deep within one's memory.
Srijon received his MFA from Otis College of Art and Design (2013). Intended to act in the space between knowledge and emotion, his dream-like oil paintings consider the present moment as part of a larger, intuited (perhaps mythic) history. Chowdhury frequently uses repetition to examine the changes and removal that occur with each remembering or re-telling of history, a concept rooted in the experience of overlap and disjunction. Recent exhibitions include The Coldest Night, Upfor, Portland, 2018 (solo); Memory Theater, Upfor, Portland, 2016 (solo); Since The Garden, Klowden Mann, Los Angeles, 2016 (solo); February, cur. by Jenni Crain and Lydia Glenn Murray, Roberta Pelan, Toronto, 2017 (group); Ours is a City of Writers, LAMAG, Los Angeles, 2017 (group); Sincerely Yours, Torrance Art Museum, Torrance, 2015 (group).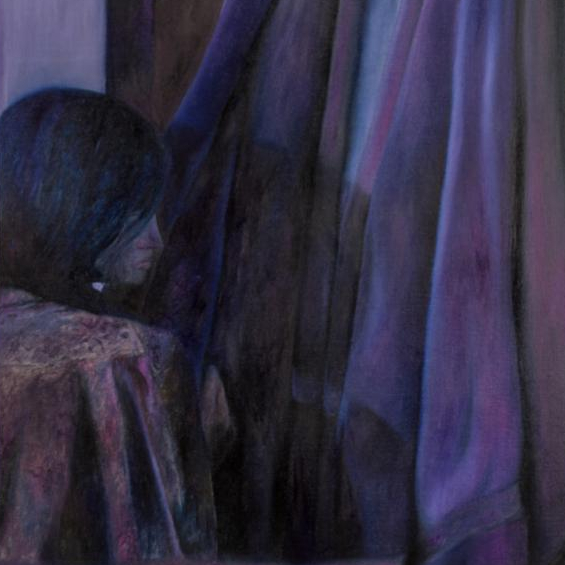 AVIVA SILVERMAN
Spazio Veda (Florence)
Born in 1986, lives and works in New York
Aviva Silverman is an artist working in sculpture, performance, photography, and theater. She is broadly concerned with the technologies and artifacts of moral and political surveillance, the aural and spatial materiality of borders, and the embodiments and custodians of narrative and belief. In recent years, Silverman dealt with many questions relating to celestial imagery such as angels, chiefly in the earliestversions as tracking, monitoring and supervisory systems. Many of the characteristics associated with supernaturalbeings: intangible, all-knowing and having limitless knowledge of their wards, an amorphous presence, endless andall-embracing. Silverman's sculptures often take the form of intricate dioramas and tableaux, some suggesting votive shrines common to historically Catholic regions. Silverman angels, surveillant presences moving into and across a border world, found their corporality through thin bodies and blown glass marionettes helded together by copper wire.Here, Silverman angels and entities stands hanged from the ceiling as mute observer and recorders of the Whites' sculptures process of revealing and grasping their own dimension. Solo exhibitions and performances include Twister at MoMA P.S.1 (2016). Group exhibitions include Greater New York, MoMA P.S.1 New York (2015); It Can Howl, Atlanta Contemporary, Atlanta, Georgia (2016); and I Surrender Dear, Salzburger Kunstverein, Salzburg, Austria (2016). Her work has appeared in Artforum, the New Yorker, BBC Radio, Art in America, Flash Art, and Art Papers, among others and her book "Is It Soup Yet?" can be found at Printed Matter / St Marks.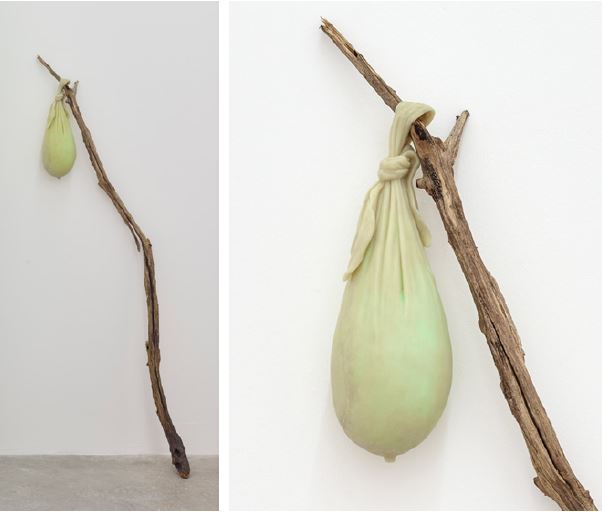 ADAM GORDON
Chapter NY (New York City)
Born in 1986 in Minneapolis, lives and works in New York
Gordon's multi-disciplinary practice focuses on the construction of experience. Through methodically manipulating the senses and relying on lived experience, he sets an enigmatic tone, one that peels back the layers of the banal while setting the stage for the re-examination of the physical and emotional self. All the while challenging an inherent need for a defined narrative by pushing the boundaries between reality and fiction. Through the disruption of the mechanisms that customarily govern the art viewing process, he creates works that envelop and are all consuming. Shifting between totalizing installations, constructed encounters, video, and painting, his work trains our attention toward everyday existence. While the form is fluid, the effect remains uncanny: a dimly lit room clouded with crippled debris, painted snapshots of persons and places with specious identities. Latent with the residue of the familiar, these deadened surroundings become charged with a haunting density, as reality itself reads as palpably opaque.
Adam Gordon lives and works in New York and received his MFA from Yale University in 2011. He has had solo exhibitions at Chapter NY, Night Gallery, LA and Hunter/Whitfield, London. Gordon's work has been included in group exhibitions at Andrew Kreps, NY; National Exemplar, NY; Boates Fine Arts, São Paulo; and Galleria Zero, Milan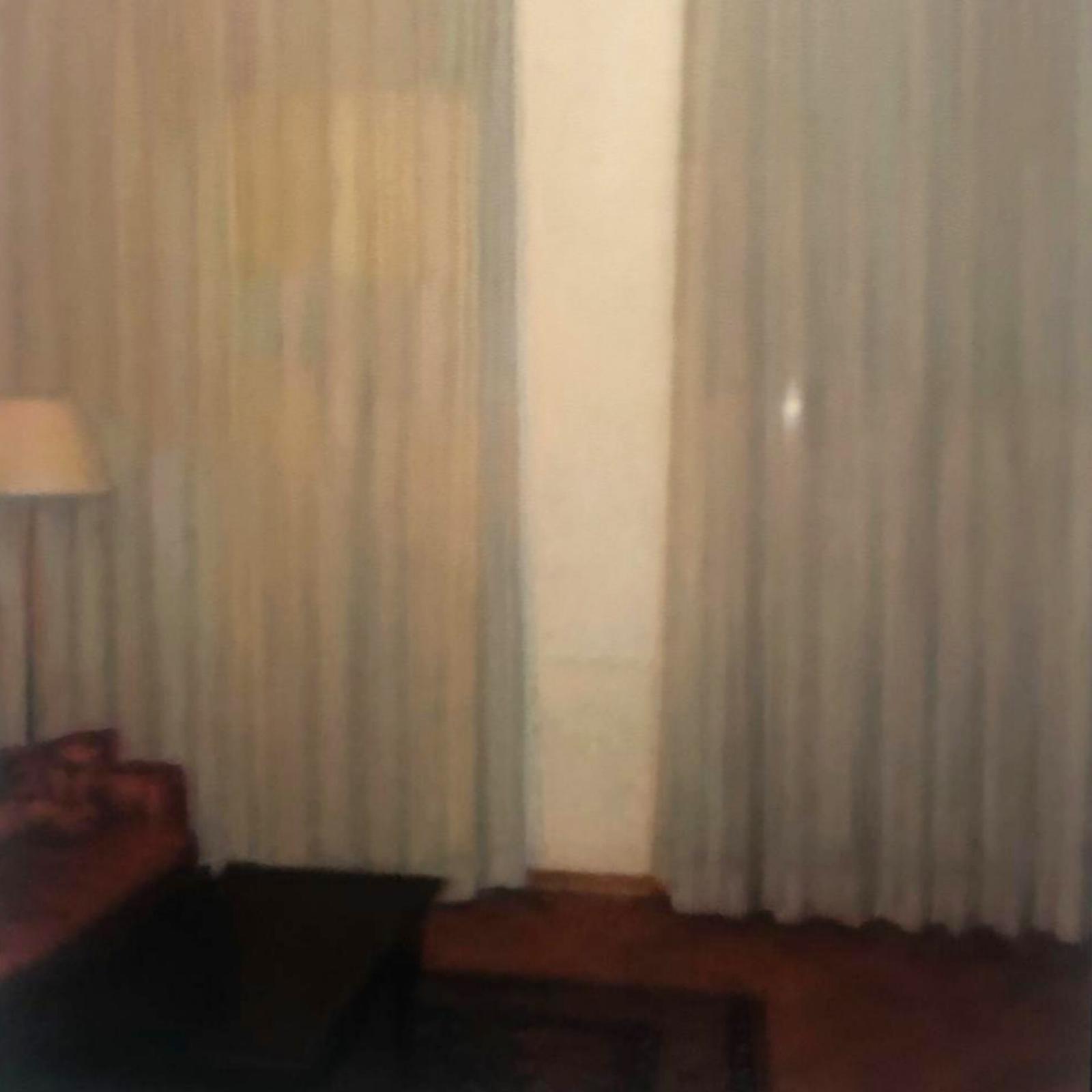 MORAG KEIL
Jenny's (Los Angeles)
Born in Edinburgh in 1985, lives and works in London
Keil works across installation, film, painting and drawing, and often collaborates with fellow artists. Her work frequently adopts a lo-fi, pared-back aesthetic, incorporating everyday objects and found materials alongside digital innovations that affect domestic life, such as home automation. Keil appropriates and re-presents aspects of branding strategies from advertisements and social media platforms to investigate and expose pervasive techniques for influencing consumerist desire. She also foregrounds and subverts visual and aural strategies exploited in computer gaming or commercial environments in order to manipulate behaviour in ways premised on cliched notions of how gender is performed.
Morag Keil studied at the Glasgow School of Art and in London. Keil's solo exhibitions include Here We Go Again, Project Native Informant, London (2018); Controllers, Jenny's, Los Angeles (2018); passive aggressive 2, Real Fine Arts, New York (2017); A Solo Show, New Bretagne Belle Aire, Essen (2016); passive aggressive, Isabella Bortolozzi, Berlin (2016); L.I.B.E.R.T.Y, Project Native Informant, London (2014); Would you eat your friends?, Real Fine Arts, New York (2014); Potpourri, Cubitt, London (2013; Palais de Token, Neue Alte Bruecke, Frankfurt (2013); Civil War, Outpost, Norwich (2012); Virginia Ham, Neuer Aachener Kunstverein, Aachen; Moarg Kiel, Palais de Tokyo, Paris; and Public Hanging, Focal Point Gallery, Southend-on- Sea (all 2011). In 2010, Keil received the Prix Lafayette at FIAC in Paris. She has also presented collaborative exhibitions including with Georgie Nettell, Questionnaire, Yale Union, Portland (2017); with Ed Lehan and Georgie Nettell, Telephone, Jenny's, Los Angeles (2015) and more.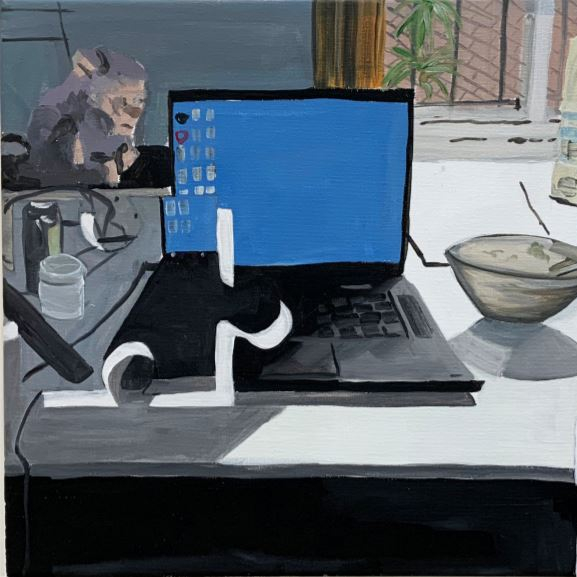 MERCEDES AZPILICUETA
Nogueras Blanchard (Barcelona)
Born in La Plata (Argentina) in 1981, lives and works in Rotterdam
Mercedes Azpilicueta is a visual and performance artist from Argentina based in The Netherlands. Her artistic practice brings together various characters from the past and the present, who manifest as voices, shapes, texts, traces and memories into her multi-layered works. Calling herself a "dishonest researcher", Azpilicueta navigates through multiple references and fields of knowledge, from art history to popular music, literature to street culture, falling in love with dissident figures and trajectories — feminist, queer, migrant, exiled individuals — who haunt her scripts, performances and videos. Yet, her work never indulges into cold reverence or archival fascination. By engaging the body with all its flaws and potentials — her own body, that of her models and collaborators, that of the spectators, but also fantasized ones — Azpilicueta embraces its fragility as well as its capacity for resistance and care.
In 2018 she presented her first major solo exhibition, curated by Laura Hakel, at Museo de Arte Moderno de Buenos Aires. She received the Pernod Ricard Fellowship, Paris in 2017 and was artist-in-residence at the Rijksakademie van beeldende kunsten in Amsterdam in 2015-16. She has an MFA from the Dutch Art Institute/ArtEZ, Arnhem (2013), and a BFA from Universidad Nacional de las Artes, Buenos Aires (2007); where she also did the Artists´ Program 2009-10 at Universidad Torcuato Di Tella. Exhibitions and performances include, among others, REDCAT Gallery (Los Angeles, 2018), Villa Vassilieff (Paris, 2018), MACBA (Barcelona, 2018), MUSEION (Bozen, 2018), Centro de Arte 2 de Mayo (Móstoles, 2017), Onomatopee (Eindhoven, 2016), TENT (Rotterdam, 2015), and more.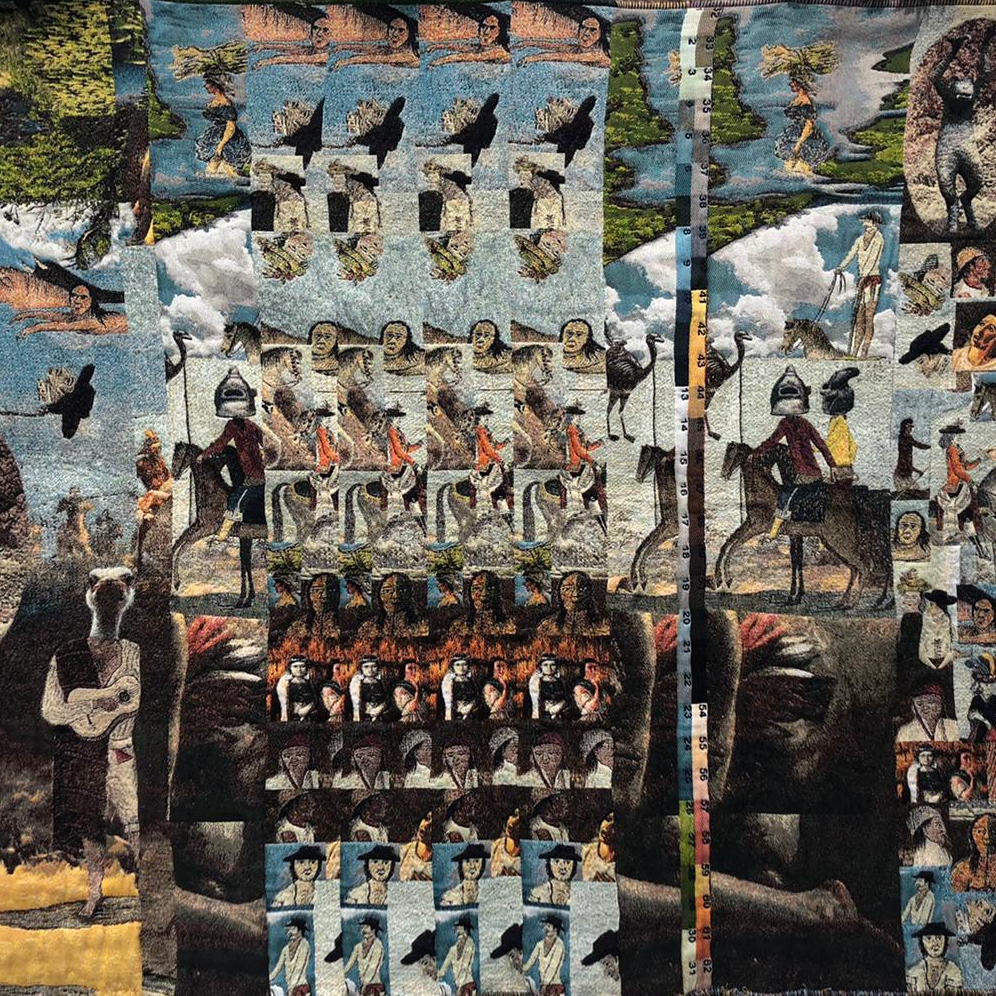 PEPPI BOTTROP
Gerhardsen Gerner (Berlin and Oslo)
Born in 1986 in Bottrop, lives and works in Mexico City and Cologne.
Peppi Bottrop is an abstract artist. He completed his Akademiebrief and Meisterschuler at the Kunstakademie and lives and works in Düssledorf.Bottrop explores painting as a teleological process, with a distinct narrative. His works, evocative of geometric abstraction, are a labyrinth of skeletal outlines; vaporous shapes imbued with an intrinsic musicality, in which each line represents an action: its beginning, its end and its belonging to a larger entity. This lends the work a diagrammatic element, which transcends the physical and tends towards the symphonic as opposed to the architectural or cartographic.Peppi Bottrop's works are not necessarily about the physical space, which lines demarcate; instead, those in his work explore perception of both the creator and the beholder. They confront the human consciousness and define its limits, encouraging one's focus to shift between the compositional lines and the whole composition.His works, often stapled straight to the wall of the gallery highlight a system of connections from atom to earth. Conversely, Bottrop claims, "sometimes [it's] better to frame pictures to have them communicate with the viewer more easily" a frame can seemingly demarcate the part; contrasting the larger, the physical, the wholeness. Peppi Bottrop's works are not necessarily about the physical space, which lines demarcate; instead, those in his work explore perception of both the creator and the beholder.They confront the human consciousness and define its limits, encouraging one's focus to shift between the compositional lines and the whole composition.His works, often stapled straight to the wall of the gallery highlight a system of connections from atom to earth.