Art Basel show brings the international artworld together, with the world's leading galleries showing the works of over 4,000 artists. A full program of artworld talks takes place each day. Exhibitions and events are also offered by cultural institutions in Basel and the surrounding area, creating an exciting, region-wide art week. This year, 290 leading international galleries from 34 countries will present works ranging from the Modern period of the early 20th century to the most contemporary artists. While galleries from Europe continue to be strongly represented, the show also features returning and new exhibitors from across the globe, including Asia, Europe, North and South America, the Middle East and Africa. 19 galleries are participating for the first time.
LISTE Art Fair Basel is the international leading fair for new discoveries in contemporary art. Every year since 1996, a younger generation of galleries exhibits artists who are outstanding representatives of the latest developments and tendencies in contemporary art. Under the premise of promoting young art, the LISTE committee selects annually around 75–80 galleries from over 30 countries. Providing galleries from developing regions a significant presence is just as important as introducing 15-20 galleries for the first time each year. Many of the most important contemporary art gallerists in the world today have laid a foundation for their current success at LISTE.
BeAdvisors Art Department has been touring Art Basel and Liste with a view to carefully select the most remarkable artists from each fair.
Discover our Collectors Guide to the Basel art week 2019 here!
FARAH AL QASIMI
The Third Line (Dubai)
Born in 1991 in UAE, lives and works between New York and Dubai
Working primarily with photography, video and performance, Farah Al Qasimi examines post-colonial structures of power, gender and taste in the Gulf Arab states. Farah studied photography and music at Yale University in 2012 and received her MFA from the Yale School of Art in 2017.
Farah's latest body of work looks at domestic traditions of hospitality and interior decor witnessed across public and private spaces in the Gulf states. A ubiquitous mark of Britain's presence in the region between 1820 and 1971, the local sense of style transpires through Rococo furniture, hand-carved fruits, curtains matching upholstery fabrics and an overall profusion of various gilded elements adorning local homes.
The stuff of homes did more than borrow from its Western influencers. It re-appropriated status signifierd and overflowed them with ostentation in an arresto momentum dating back to the British departure from the Gulf four decades ago. In addition to evidencing the regional perpetuation of such decor penchants, Farah's photographs map out its gendered social uses: perfumes in their opulent containers are often placed in guest bathrooms, tissue boxes with froufrou covers appear as part of tea-time spreads, colorful birds blend within their exotic majlis backgrounds. Pre-oil tribal life of the late 19th century has given way to a cultural need to embellish both spaces, bodies and things through an aesthetic formerly popular in the West yet still considered as bearer of cachet in the Gulf—a denotation of both assimilation and autonomy.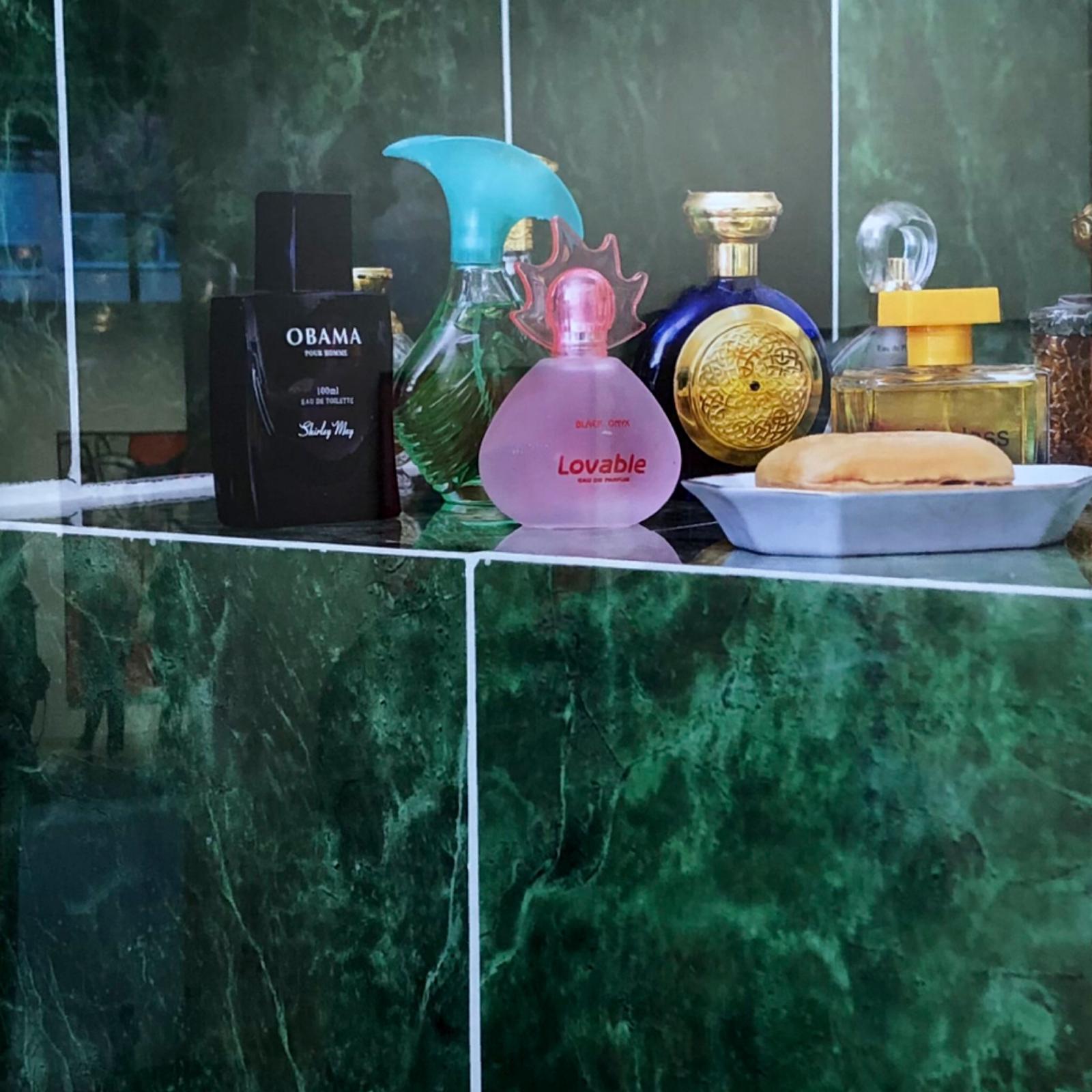 GIULIA CENCI
SpazioA (Pistoia)
Born 1988, Cortona (IT), lives and works in Amsterdam
"Territory" introduces the spectators to a radical installation where sculptures, objects, modified materials and fragments of a man-made reality create a habitat guided by its own rules and dynamics: repetition and reproduction, fragmentation, aggregation of leftovers, hybridization of sophisticated material with their original sources are the references to make intrusive, disproportionate sculptures that produce a dense and chaotic environment taking up the entire space. In this saturated habitat,the presence of a person becomes a part of the total view. Vital component of the work, partially obscured by the sculptures that surround them, the visitors are destined to become fragmented views embodied by this landscape themselves, additional matter reacting with "the rest".
Giulia Cenci graduated at the Academy of Fine Arts in Bologna (2007-2012), received a Master of Fine Arts at St.Joost Academy, Den Bosch-Breda, NL (2013-2015) and she took part in deAteliers residency (2015-2017). Selected solo shows: Carreras Mugica (Hall), Bilbao ES; Deep State, Offspring, deAteliers, curated by Lara Almarcegui and Martijn Hendriks, Amsterdam NL; Mai, Tile projectspace, Milano IT; La Terra Bassa, SpazioA, Pistoia, IT. Group exhibitions include: Hybrids, curated by Chris Driessen & David Jablonowski, Lustwarande, Platform for Contemporary Sculpture, park De Oude Warande, Tilburg NL; Deposito d'Arte Italiana Presente, curated by Ilaria Bonacossa and Vittoria Martini, Artissima 2017, Torino, IT; Public Hybrids, curated by David Jablonoski, Markus Luttgen at Art Cologne.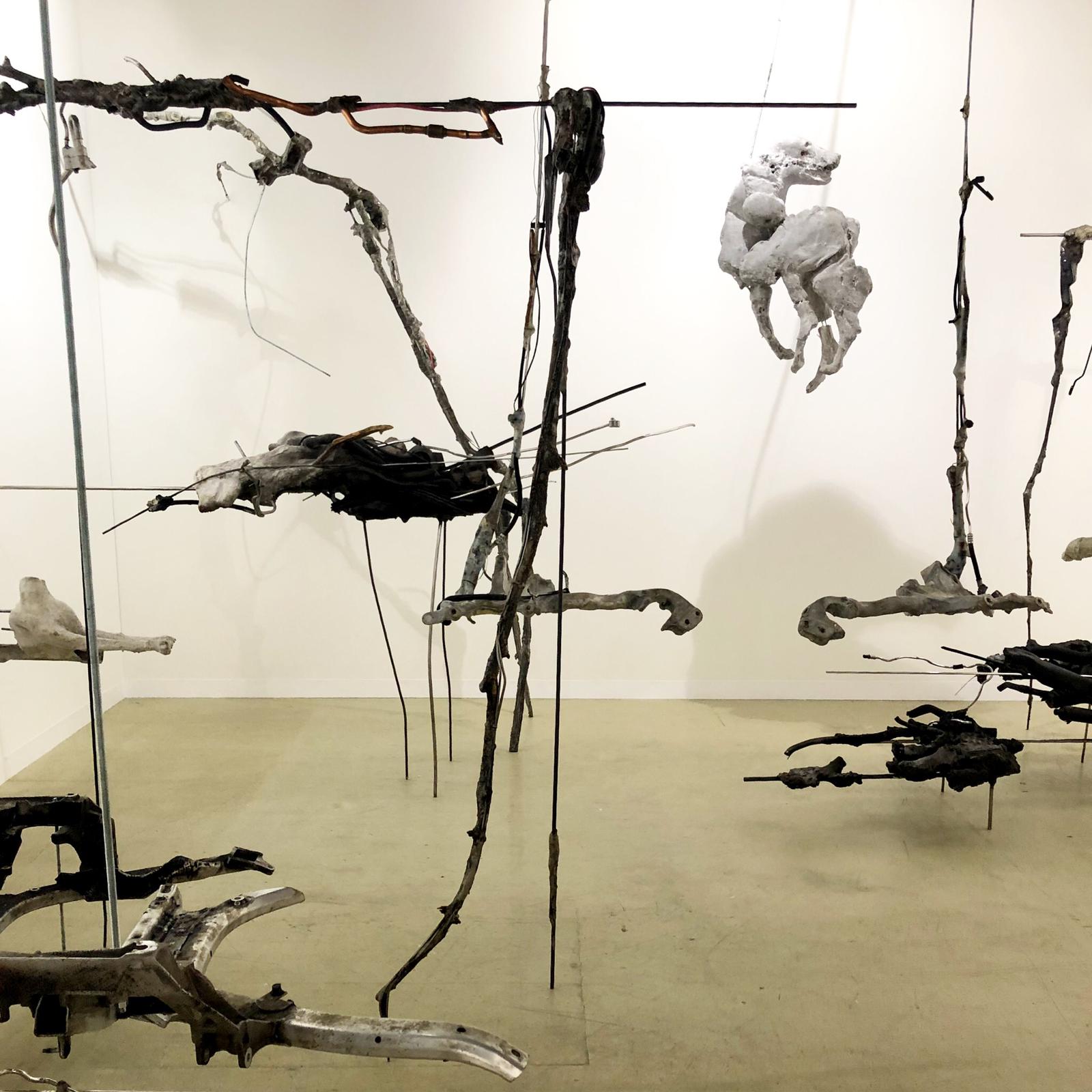 HANNAH LEVY
Mother's Tankstation (Dublin)
Born New York in 1991, lives and works in New York
Hannah Levy's surrealistic sculptures revisualise the formal language of classic, modernist design office and home furnishings into extraordinary and alluring anthropomorphic forms. Handrails, gym equipment, medical devices, and other mundane, mass-produced, functional items are mined for their forms and likenesses (commonalities), then mutated into unnameable singular things that embody human characteristics and emulate personality. Casts of natural produce and consumables are also subsumed into draped or stretched silicone skins that preserve an implied synthetic sustenance. The highly polished nickel-plated tubular frames of Levy's sculptures are reminiscent of the flawless minimalism of Mies van der Rohe's "skin and bone" architecture, while the flesh-like silicone and latex appendages of her sculptures are more analogous to fetishistic objects. It is through this striking discordance that Levy's works emerge, equally super-normal and sensuously repulsive.
Her recent exhibitions include Being There, Louisiana Museum of Modern Art (2017), Past Skin, MoMA PS1 (2017), Things I Think I Want, Frankfurter Kunstverein (2017), White Flag Projects Library, St. Louis (solo, 2016), Soft Costs_Money Over World. Wiesen, Kunstverein Wiesen (2016), Parked Like Serious Oysters, Museum für Moderne Kunst, Frankfurt (2015), and Pretty Eyes, Electric Bills, Fordham University, New York (2015). Levy completed her MA at the Städelschule, Frankfurt in 2015. Hannah Levy held her first solo exhibition, Panic Hardware, with Mother's Tankstation in May 2018.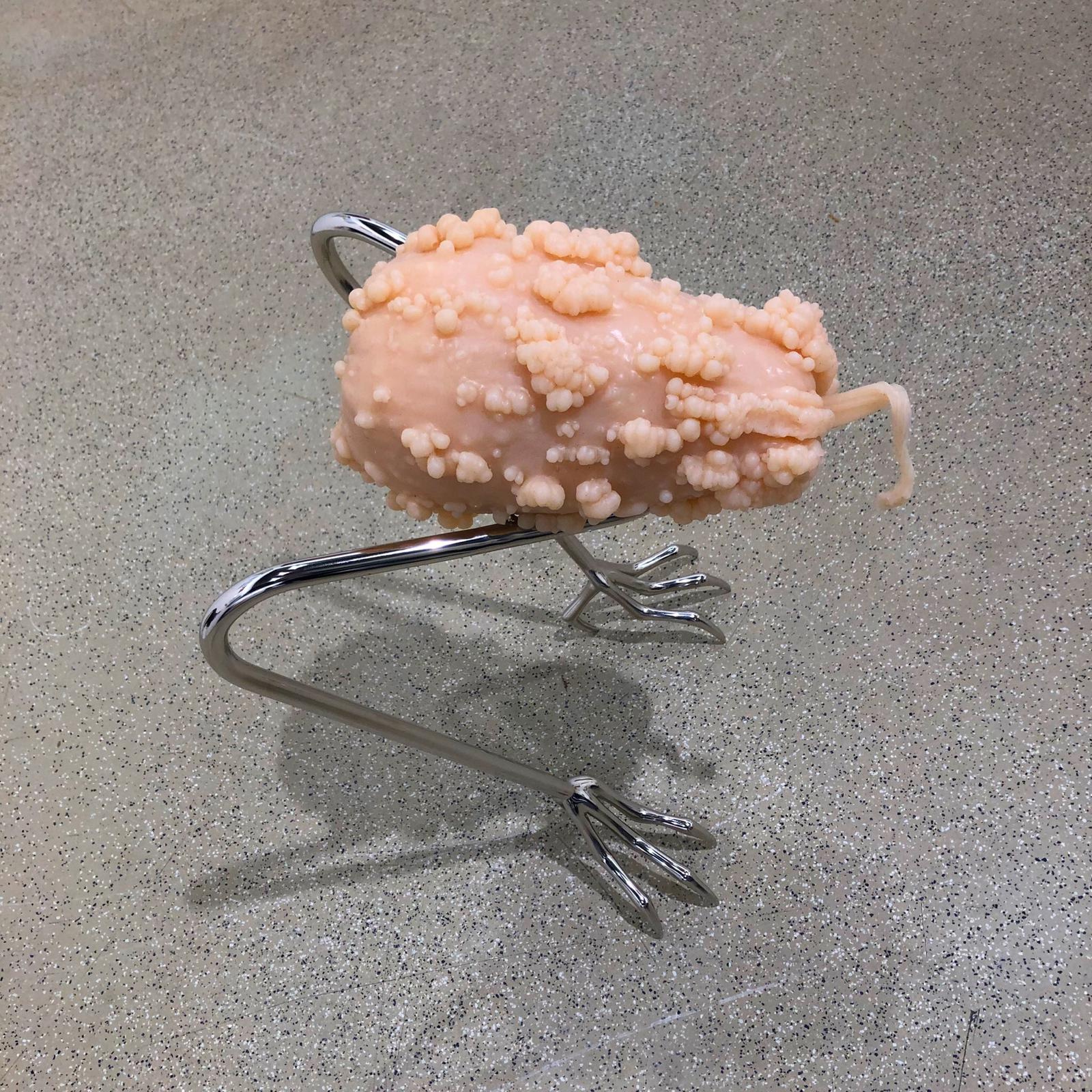 ERIN JANE NELSON
Chapter NY (New York City)
Born in 1989, lives and works in Atlanta, GA
Erin Jane Nelson's practice is grounded in photography sourced from her personal archive of found and original images. For Art Basel, Nelson's newest body of work addresses a uniquely personal subject: her fraught relationship with her mother. Although traces of her mother's creative influence have seeped into the artist's practice in varying forms, this body of work is Nelson's first attempt to contend with her mother's struggle with alcoholism and mental health and how their dynamic has challenged Nelson's own gender identity and relationship to substance. Set within a yellow painted booth, a reference to Charlotte Perkins Gilman's "The Yellow Wallpaper (1892)", Nelson presents a series of ceramic vessels and fabric-wrapped panel works that build upon themes of personal memory, documentation, and the nuances of intergenerational relationships. Erin Jane Nelson (b. 1989, Neenah, WI; lives in Atlanta, GA) received her BFA from the Cooper Union School of Art in 2011. In May 2019, she opened her first institutional solo exhibition at Atlanta Contemporary. Her work has recently been exhibited in "Between the Waters" at the Whitney Museum of American Art in New York and "Photography Today: Public Private Relations" at Pinakothek der Moderne in Munich. She has had solo shows at DOCUMENT, Chicago (2015, 2017) and Hester, New York (2015) and was included in The Atlanta Biennial at the Atlanta Contemporary Art Center (2016), and group exhibitions at Downs & Ross, New York (2017), Honor Fraser, Los Angeles (2016), Galerie Division, Montreal (2016), and Ellis King, Dublin (2015). She has contributed to publications including BURNAWAY, The Creative Independent, T: The New York Times Style Magazine, and Art Papers, and has curated exhibitions at the High Museum of Art and Atlanta Contemporary.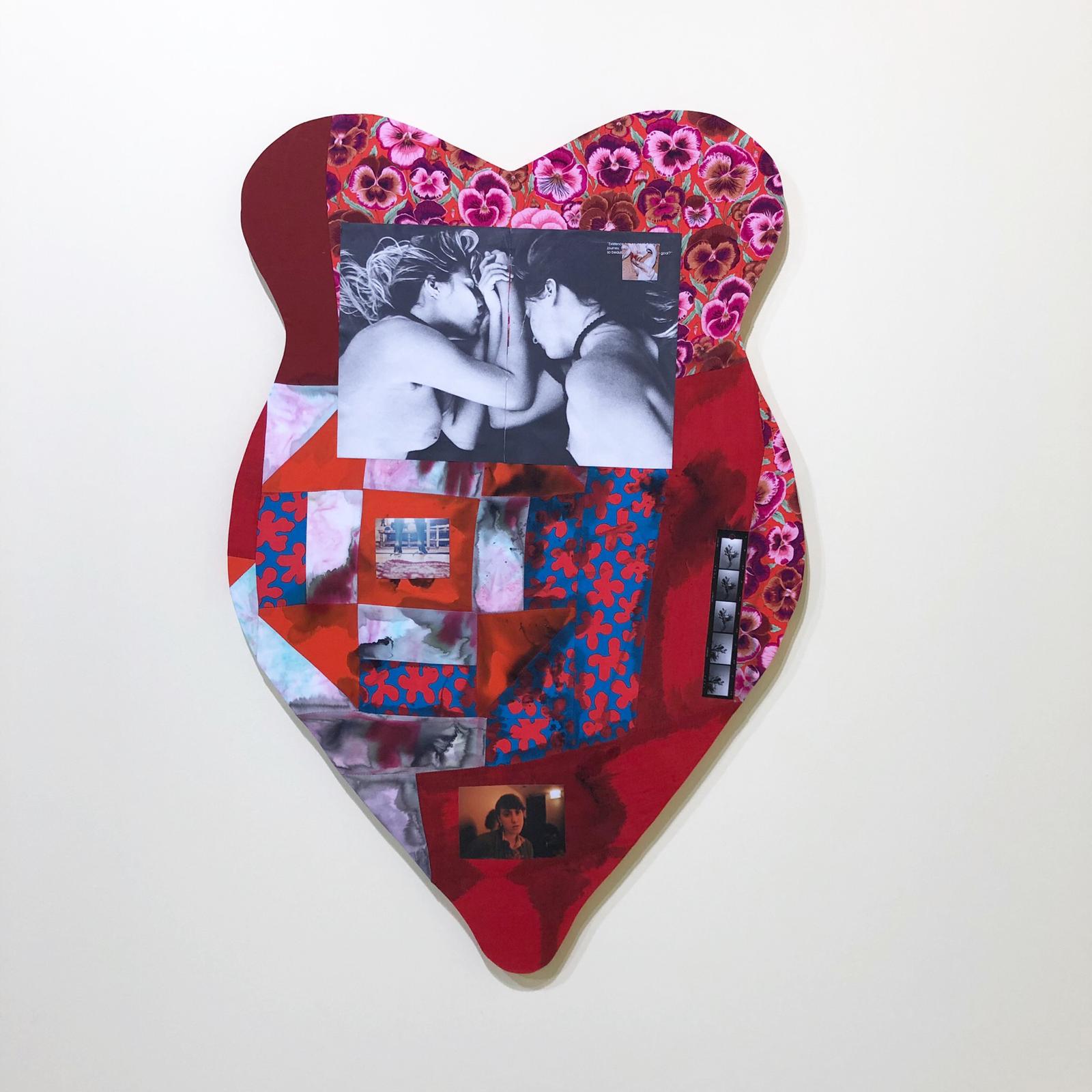 SEBASTIAN JEFFORD
Gianni Manhattan (Wien)
Born in 1991 in Swansea, Wales, lives and works in London
Sebastian Jefford's practice encompasses sculpture, video and writing. The activity of reconstruction or reenactment is a precarious escape vehicle from the present – while conventionally used as a means to glean knowledge and intimacy with the past, Jefford is more concerned with the potential for fiction, misinterpretation and red herrings. Activity is fictionalised, desire is literalised, and physicality plasticised until the seduction of a mouldy veneer encompasses the whole of the 'world'. For Liste 2019, Jefford is presenting bulbous tablets, whose surfaces are engraved with representations of randomly assembled depictions of an impending ecological collapse.
Jefford's work deals with notions of clutter and debris, physical, political and psychological, and what humanity will leave behind and how it will be interpreted in the future. These swollen tableaux are snapshots of anachronistic protagonists, a flawed hero, isolated from a logical notion of narrative and time. Progress in archaeology means constantly fragmenting and reassembling artefacts from different stretches of time. Jefford's mute objects become co-opted into a confusion of individual and collective identities and narratives. Histories are built into time, and events are stretched, compressed, and snubbed to fit the needs of the day, in a world that composes and recomposes itself constantly in an endless process of dissatisfaction.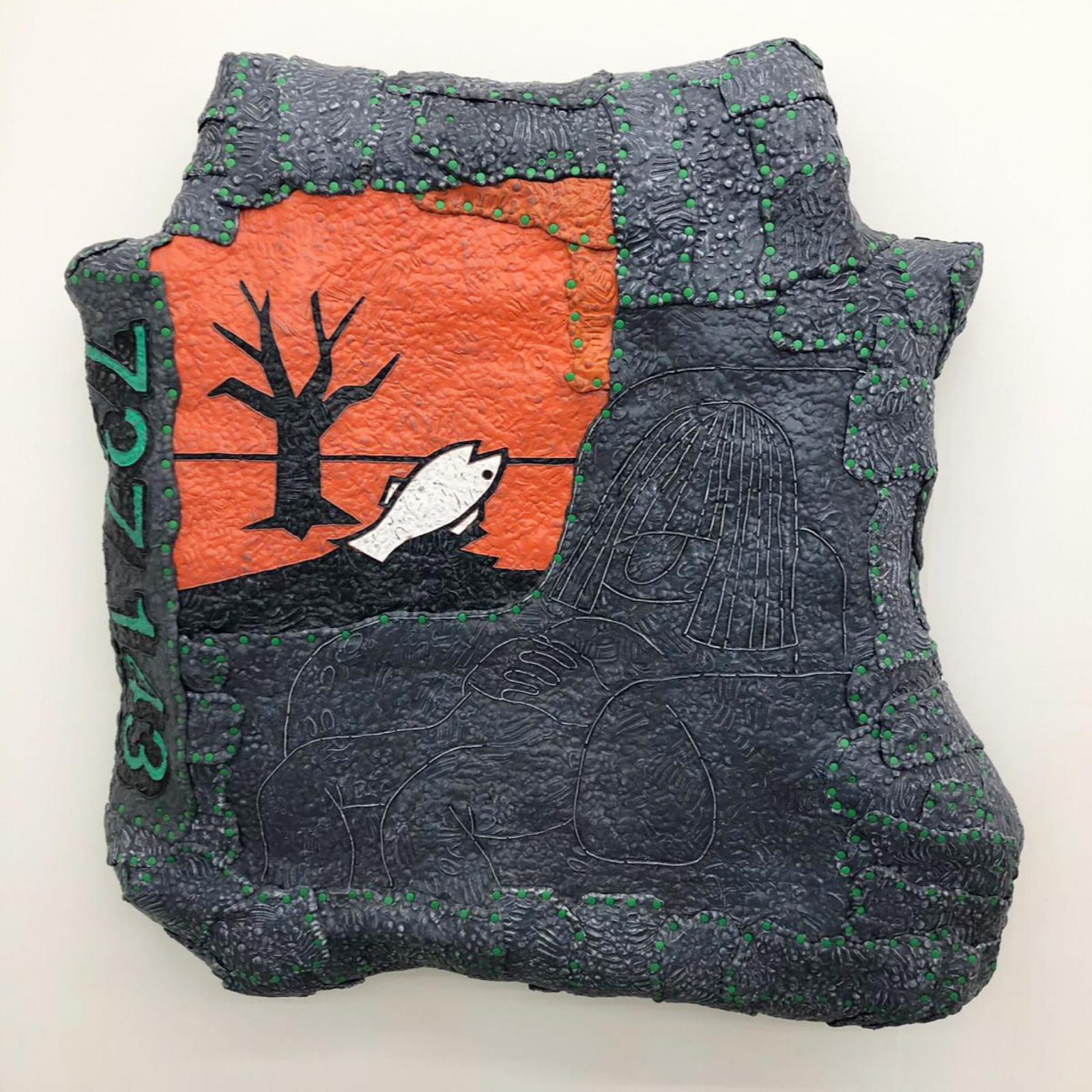 HODA KASHIHA
Dastan's Basement (Teheran)
In "Bird Sings from Orange which is About Majesty", Hoda Kashiha decided to use digital illustration first and then use classic painting material to paint the same image on canvas. She soon found out that there were differences huge and small between the digital image and the actual painting. She explains: "Sense and texture of colors and little movements of my hand and my brushes made this huge difference. I paint different layers of small moments that convey different feelings and oppositional meanings. These layers can be affected or changed by interaction with each other." In her recent paintings, Hoda Kashiha seeks to depict time as a force that does not move forward, and in that path, she constantly goes back to work on previous layers in the painting. On this effort, she writes: "This layering technique links me to abstract illusionism and quantum physics. —that an object can be moved, changed, or affected without being physically touched. I found the footstep of this idea in traditional eastern miniature and I try to extend it to my paintings."
Hoda Kashiha is a graduate of painting from the Faculty of Fine Arts at the University of Tehran (BA, 2009), and Boston University (MFA, 2014). She has received awards such as the Esther B. and Albert S. Kahn Award, Howard Gotlieb Archival Research Center, Rare Book Prize, Iranian Association Of Boston Scholarship, and Boston University Women's Council Scholarship. She was a fellow at MacDowell Colony, Virginia Center for creative art and she received the John Mitchel Foundation Grant at Vermont Studio Center.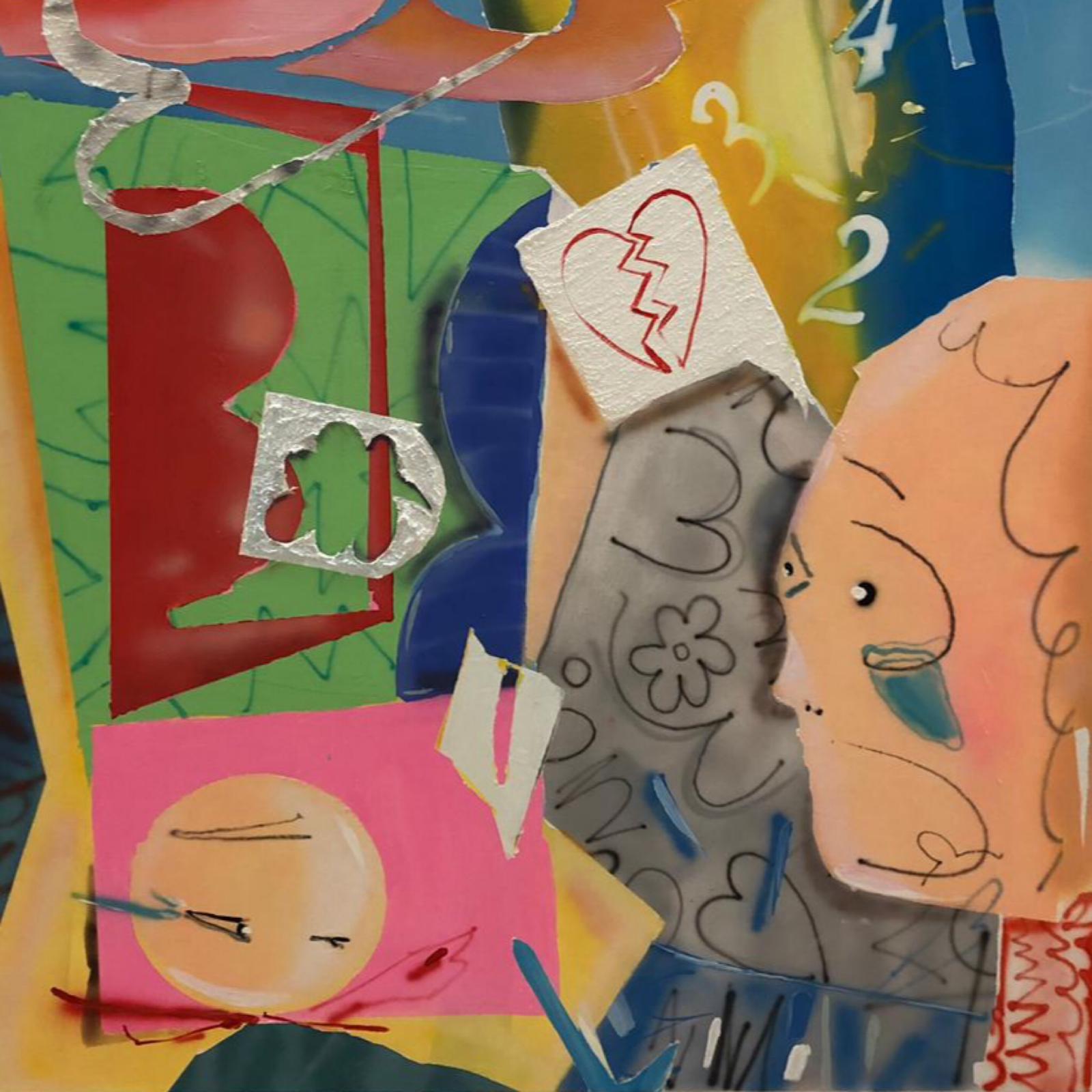 HAYDEN DUNHAM
Company (New York City)
Born in 1988 in Austin (USA), lives and works in Los Angeles and New York
Creating complex visible and invisible systems, as well as discrete objects Hayden Dunham investigates the exchange of information between the hard and soft architectures of building and body. Her works embody ideas of transformation and processes of facilitation, where objects are conditioned by and act on their own individual and autonomous agencies.For LISTE, Dunham has designed an experiential installation of new kinetic sculptures and wall works comprised of malleable and ethereal materials – silicon, chlorophyll, glass, steam, sound, performance, vapor, light, porcelain, metal, silk and DD, a substance created by the artist that appears in liquid and breathing forms. When activated charcoal enters a body it absorbs toxic materials; when bentonite clay comes into contact with skin, it leaches heavy metals through pores. These processes are not visible but they are present. Likewise, Dunham's work involves a sensitive formula that is both concealed and alive, as it ruptures and opens in on itself.
Recent presentations of her work include the solo show inside darkness, there are no lines, Times Square Space, New York and the performance 7 Sisters at MoMA PS1, New York (both 2019). She has participated in exhibitions and performances at: New Museum, New York; Andrea Rosen Gallery, New York; Artist Curated Project, Los Angeles; SIGNAL Gallery, Brooklyn; Company Gallery, New York, Fondation Louis Vuitton, Paris; and the Irish Museum of Modern Art, Dublin.
SONIA ALMEIDA
Simone Subal (New York)
Born in 1978 in Lisbon, lives and works in Boston
The art of Sonia Almeida makes palpable the concatenation of meaning on the gendered body. Almeida's nuanced painting practice has investigated through the years the deceptive powers of vision and the various manners in which communicative systems break down. Her most recent paintings situate these urgent observations on the female body.
Sonia Almeida's paintings make rich associations to the history of painting and question the nature of visual perception. Her abstract paintings, while complex arrangements of form and color, are guided by an underlying inquiry into the nature of the art form itself. Solo exhibitions include: Simone Subal Gallery, New York, NY (2019); Simone Subal Gallery, New York, NY (2016); MIT List Visual Arts Center, Cambridge, MA (2014); Simone Subal Gallery, New York, NY (2012) (2014); T293, Rome, Italy (2011); Chiado 8, Culturgest, Lisbon, Portugal (2009); Croxhapox, Gent, Belgium (2009). Group shows include: Tufts University Art Galleries, Boston (forthcoming, 2019); Carpenter Center for the Visual Arts at Harvard University, Cambridge (2018); ICA, Boston (2017); The Serralves Museum of Contemporary Art, Porto, Portugal (2016); Simone Subal Gallery, New York, NY (2016); Serralves Museum, Oporto, Portugal (2014); DeCordova Biennial, deCordova Sculpture Park and Museum, Boston, MA (2013); Plentitude, Carl Freedman Gallery, London, UK (2012); a project by Lucie Fontaine, Marianne Boesky Gallery, New York, NY; Modern Talking, Muzeul National de Arta Cluj-Napoca, Romania (2012).