The 2023 art fair season in Paris is officially open, and here we are with a new exciting Collectors Guide. In this guide, you will discover the most promising emerging artists from this year's edition of Paris Internationale, Paris + par Art Basel and Asia Now. 
PARIS INTERNATIONALE
SOFÍA SALAZAR ROSALES
(CHERTLÜDDE, BERLIN)
b. 1999 in Ecuador. Lives and works between Paris and Quito (Ecuador).
Salazar Rosales' work develops from a sentence she wrote: "Hay cuerpos cansados por el viaje que buscan enraizarse" (tr. "There are bodies tired from the journey that seek to root"). Her works focus on how objects have the potential to show social, political, and economic contexts linked explicitly to the displacement of humans, goods and other objects.
Salazar Rosales conceives her pieces as spaces for reconciliation and negotiation with the object, materials and their histories. Reconciling is a constructive gesture in her work: continuously transforming the objects, the artist focuses mainly on their emotional effect. Salazar Rozales and her sculptures claim a special relationship of affection, described by herself as "contextual, but also sentimental."
Sofía Salazar Rosales is currently studying towards a master's degree at the School of Fine Arts (ENSBA Paris) in the ateliers of Tatiana Trouvé, Petrit Halilaj and Alvaro Urbano. She holds a Bachelor of Fine Arts degree with distinction from School of Fine Arts of Lyon (ENSBA Lyon) where she worked in the studios of Pauline Bastard and Niek Van de Steeg.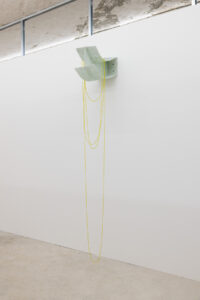 Sofia Salazar Rosales, When the axial skeleton decides to speak, 2023, glass aggregate, polyglots, resin, fiberglass, vinyl glue, metal, seed bread, 271 x 196 x 25,5 cm
SEVINA TZANOU
(KENDALL KOPPE, GLASGOW)
b. in Athens (Greece). Lives and works in Bonn (Germany).
Sevina Tzanou's grotesque, expressive paintings of celebrating and dancing expressive females are often seen as feminist reminiscences of the twenties, but the soundtrack to these paintings would be psycho-billy, punk, post-punk, and goth. Tzanou is a painter, artist and Burlesque performer analysing femininity, the female body, and the question of what can be female or feminine at all.
Tzanou's large-scale paintings depict ecstatic bodies on the edge of abstraction that refuse to be categorised, appropriated, or controlled. They emerge from the affective abstractions from which Tzanou creates her paintings. First, she grounds the canvas in a colourful monochrome, then she implements informal, expressive gestures, also working with a mop or so-called "octopus brushes", reminiscent of whips and BDSM tools. The bodies then emerge from the abstract forms to which Tzanou reacts painterly, trying to leave as many abstract elements as possible. Everything about her painting is performative: this applies to the painterly process as well as the construction of bodies, gender, and sexual identity.  Her female figures reflect the vintage looks and libertarian, feminist culture of contemporary burlesque as well as the hedonism of the early 1980s.
Tzanou transcends this age-old chasm between traditional and queer feminism in her paintings, which are equally archaic and utopian. Tzanou draws as much from ancient myths and motifs of painting history as she does from current debates. For her, sexual dissidence is a pleasurable, powerful and political air; burlesque and drag are like magical rituals that give rise to new notions of femininity. Her aim is about is the detach from binary gender roles and to create new possible concepts of femininity and female painting.
Sevina Tzanou studied at the HFBK of Hamburg, Kunstakademie of Düsseldorf and graduated in 2021 at Meisterschüler Yesim Akdeniz. Sevina Tzanou recently opened her first solo show, The great Disastress, with Kendall Koppe in Glasgow. Selected group show: Anonyme Zeichner at Galerie im Körnerpark, Berlin; Pilé at PoleLand, Düsseldorf (2018); Klasse Katharina Grosse at Kunsthaus Lemgo, Lemgo; Goldenshower at Reinraum, Düsseldorf; Akademie [Arbeitstitel] at Kunsthalle Düsseldorf (2017); Kunst in der Schmiede at Rösrath; TRASH/HSART at Frappant Gallery Hamburg; Dampfboot-Wartezimmer at Lombardsbrücke, Hamburg (2014).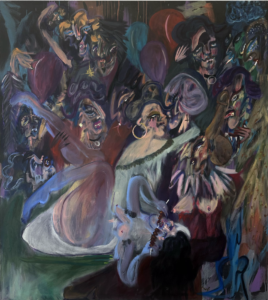 Sevina Tzanou, Sexbeat!, 2023, oil, acrylic and glitter on canvas, 190 x 170 cm
PARIS + PAR ART BASEL
LU YANG
(BANK, SHANGHAI & SOCIÉTÉ, BERLIN)
b. 1984 in Shanghai. Lives and works between Shanghai and Tokyo.
Lu Yang's 3D animations and installations explore fundamental questions about the relationships between the body and consciousness, spirituality and science, technology and the limits of being human. Yang introduces his own body into many of his works, subjecting this proxy to experiments that perpetually stage his own multiplication, disintegration, or dissection.
The artist's recent works revolve around the character DOKU, who Yang conceives as a digital shell or virtual human. DOKU is named after the phrase "Dokusho Dokushi," meaning "We are born alone, and we will die alone." For over two years, Yang has been working on the digital assets for this non-binary avatar and considers the character a reincarnation of himself into a digital parallel universe.
Lu Yang was selected Artist of the Year 2022 by Deutsche Bank. His work is currently exhibited in a solo shows at MUDEC in Milan. His work is a part of WORLDBUILDING curated by Hans Ulrich Obrist at the Julia Stoschek Collection, Düsseldorf. Lu Yang has been the subject of solo exhibitions at international institutions such as Palais Populaire, Berlin; ARoS Museum, Aarhus; M Woods, Beijing; MOCA Cleveland; Ullens Center for Contemporary Art, Beijing; Zabludowicz Collection, London; Mori Art Museum, Tokyo and Kunstpalais Erlangen. He has participated in group exhibitions at The Milk of Dreams at La Biennale di Venezia; Rockbund Art Museum, Shanghai; CCA Tel Aviv; ICA, London; Muzeum Sztuki, Poland; Centre Pompidou, Paris; Hamburger Bahnhof, Berlin; and Fridericianum, Kassel among others.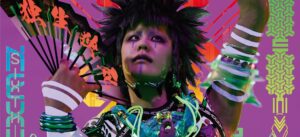 DOKU-Hungry Ghost, 2022, Video, 00:04:37 Edition 1 of 6, Single channel HD digital video
SEQUOIA SCAVULLO
(SANS TITRE, PARIS)
b. 1995 in Baltimore. Lives and works in Paris.
Sequoia Scavullo realises figurative paintings on the edge of abstraction. Elements from fantastic creatures, body parts, or flying insects blur in a superimposition of layers representing textures such as water, hair, or transparent fabric. Scavullo also experiments with video and sculpture, developing similar formal processes and blurring the frontiers between these mediums.
The artist's works repeatedly refer to her personal history and dreams: in the Taino culture, from which her family originated, dream and waking states are not distinguished. In Scavullo's practice, the traditional techniques of dream analysis and the culture's holistic approach to the world meet. Contrary to Western medicine's perspective that separates the health status of mind and body, Taino healing practices consider the constitution of the human being as a whole. Central to Scavullo's work is the reflection on non-verbal communication and water as a symbol for fluidity between reality and dream, life and death, past and present, and non-human and human worlds. By creating her symbolical alphabet and language, the artist can convey emotions more complexly, moving between images.
Sequoia Scavullo studied at the École Nationale Supérieure des Beaux-Arts de Paris with Mimosa Echard. Sequoia Scavullo has been the subject of solo exhibitions at Sans titre, Paris (2023); Kunstverein Bielefeld (2022); Pigment Sauvage, Baltimore (2019). In October 2023, she will have a solo presentation at Paris+ by Art Basel with Sans titre. Her work has been shown in group exhibitions at FRAC Corsica (2023); After Hours, Paris (2023); Palais des Beaux-Arts, Paris (2022); Exo Exo, Paris (2022); POUSH – Manifesto, Paris (2021); Haimney Gallery, Barcelona (2020); La Volonté, Paris (2020); Dorchester Art Gallery, Boston (2019); Piano Craft Gallery, Boston (2019); High Zero Foundation, Baltimore (2019); Barbara and Steve Grossman Gallery, Boston (2019); Yale Norfolk Galleries (2019). Upcoming group exhibition include 'Nos corps anarchiques', curated by Georgia René-Worms at Mécènes du Sud, Montpellier. The artist received the Diptyque price for contemporary art, curated by Jérôme Sans (2022); the Elizabeth Greenshields Foundation Prize (2021); the Dean's Research Award (2019); the Dona Pond Painting Award (2019) and the Will and Elena Barnet Painting Award (2017). She has participated in the KHIAL NKHEL residency program, Morocco (2018) and the Yale Norfolk program, Ellen Battell Stoeckel (2017). Sequoia Scavullo's works are featured in the permanent collection of FRAC Corsica.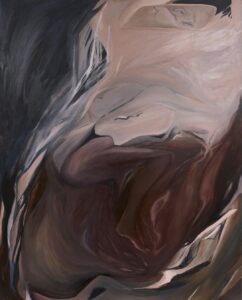 COOPER JACOBY
(FITZPATRICK GALLERY, PARIS)
b. 1989 in Princeton, New Jersey. Lives and works between Miami and Los Angeles
Cooper Jacoby present for Paris + par Art Basel the work Ruminator (play dead). The work is part of a series of painted steel lockers inset with electronically-controlled locks that use letters on the dials of the locks to spell out short texts. Each lock has a distinct personality that ruminates about being used and instrumentalised. A custom machine learning program uses the combination of 4 letters to play out different forms of emotional manipulation: sulking, flirting, guilting, etc. The works are both bots that wield affect and Frankenstein assemblies, with cast silicone cow stomachs embedded into their sides and bones that have become door latches. To ruminate psychologically entails spiralling around the same emotion, to literally "chew the cud" like cows which return partially digested food to their mouths.
Cooper Jacoby holds a BFA from Bard College, New York. He has had solo exhibitions at such galleries and institutions as: Central Fine, Miami (2020); High Art, Paris (2018); Swiss Institute, Luma Westbau, Zurich (2017); Freedman Fitzpatrick (2017); Staatliche Kunsthalle Baden-Baden, Baden-Baden (2016); Mathew, Berlin (2016), et. al. His work has been shown in group exhibitions in galleries and institutions such as: FRAC Ile-de-France, Paris (2019); Villa Datris, l'Isle-Sur-La-Sorgue (2019); Room East, New York (2016); KW Institute for Contemporary Art, Berlin (2015); Neuer Aachener Kunstverein (2015); White Flag Projects, St. Louis (2015), et. al. He is the recipient of the Kunststiftung Northern Rhine-Westfalia Art Prize in 2014 and a Bard College Sol Lewitt Studio Art Award in June 2011. He will take part in a group exhibition, Lifes, at the Hammer Museum, Los Angeles, curated by Aram Moshayedi, opening on February 13th, 2022.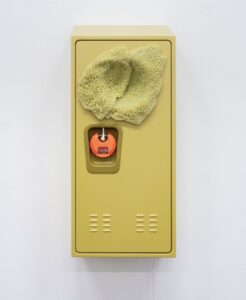 Cooper Jacoby, Ruminator (play dead), 2023, polyurethane paint, galvanised steel, stainless steel, silicone, bone, photopolymer, electronics, 31 x 74 x 22,5 cm
TROMARAMA
(DOCUMENTS SPACE, CHICAGO, LISBON)
Founded in 2006. They live and work between Jakarta and Bandung (Indonesia)
Tromarama is an artists collective founded by Febie Babyrose, Herbert Hans and Ruddy Hatumena. Their works combine video, installation, computer programming, and public participation. Underpinning their artmaking is their collective interest in the influence of digital media on society's perception of its surroundings. Channelling language, text, wit, and interaction, Tromarama reflects on the cornerstones of Indonesia's political and cultural environment, and on a form of perceptive engagement in our hyperreality that applies globally.
Tromarama has participated in major exhibitions at various notable institutions worldwide. Selected solo exhibitions namely Contraflow at Kiang Malingue, Tin Wan, Hong Kong (2023); PERSONALIA at ROH, Jakarta, Indonesia (2022); Beta (2021 and 2019) respectively at DOCUMENT Space, Chicago, USA, and at Paris Internationale with ROH Projects, Paris, France; LLIMIIINALL (2019) at Edouard Malingue Gallery, Wan Chai, Hong Kong; Amphibia at Centre A, Vancouver, Canada (2017); Tromarama (2015) at Stedelijk Museum Amsterdam, Netherlands. Notable special projects include Tromarama: The Lost Jungle at the Children's Art Space at Museum MACAN, Jakarta, Indonesia (2021-2022); Madakaripura (2020), at Edouard Malingue Gallery, London, UK; and Private Riots at Encounters, Art Basel Hong Kong presented by Edouard Malingue Gallery, Hong Kong (2016). Tromarama's selected group exhibitions include 84 Steps at Kunstinstituut Melly, Rotterdam, the Netherlands (2023); CLOUD WALKERS at Leeum Art Museum, Seoul, South Korea (2022); Distrik Seni X Sarinah: Berdikari! at Sarinah, Jakarta, Indonesia (2022); NOT IN MY NAME at CCA Tel Aviv-Yafo, Israel (2022); 1 at ROH, Jakarta, Indonesia (2022); Last Words at ROH, Jakarta, Indonesia (2021); Interdependencies: Tropical Lab, Lasalle College of The Arts, Singapore (2021); The Turn of the Fifth Age at Selasar Sunaryo Art Space, Bandung, Indonesia (2021); NGV Triennial at National Gallery of Victoria, Melbourne, Australia (2020); Contemporary Worlds: Indonesia at National Gallery of Australia, Canberra, Australia (2019); The Extra Extra Ordinary at Museum of Contemporary Art and Design (MCAD), Manila, Philippines (2018); Cinerama at Singapore Art Museum, Singapore (2017); Jakarta Biennale 2015: Neither Back nor Forward: Acting in the Present at Gudang Sarinah Ekosistem, Jakarta, Indonesia (2015); and the 11th Gwangju Biennale: The Eight Climate (What Does Art Do?) in Gwangju, South Korea (2016); and more. For the last quarter of 2023, Tromarama is the commissioned artist for the moving image work at M+ Facade, M+ Museum, Hong Kong.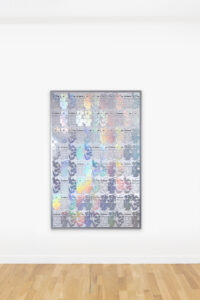 Dear Oh Dear # 7, 2023: In these three large prints, images of orchids are screen printed with silver holographic pigment on now-obsolete vintage attendance punch cards. The punch cards reference a pre-digital era when labor productivity was measured via analog means, while the orchid motif points to Jakarta's largest corporations' use of orchids in office spaces. The orchids are replaced once they start withering and are no longer productive, just like human labor.
ASIA NOW
TANG SHUO
(HdM GALLERY, LONDON, BEIJING)
b. 1987 in Guangxi, China. Lives and works in Liverpool, UK.
Tang Shuo works from memory, depicting his childhood experience of living in the countryside, using his own image to play the different people who lived in that place and their lives.
Tang explores the relationship between the individual and society: his practice features a recurrent single or small group of dark-skinned Chinese persons, probably labourers or farmers, who seem to be depicted in or just after moments of labour, duty, or action. These everyday country persons exalted into magnified poses.
Tang's technique is realistic and stylised, perhaps re-establishing and negating the varied sets of new and old values he is questioning. Issues of politics, human rights, religion and identity rest just beneath his refined surface, where memories of Tang's childhood upbringing in the village of Boulder Hill are hidden. Tang's deeply introspective work is bucolic, idyllic, and even slightly mysterious, as he re-tells the stories of local shepherds, loggers, hunters and farmers by painting himself and reiterations of himself as the central figure in these roles.
Tang Shuo graduated from Guangxi Arts University with a bachelor's degree in Mural Painting. After that he studied Experimental Art at Central Academy of Fine Arts (CAFA), Beijing.
Solo exhibitions include: Shadow of Boulder Hill, Fabienne Levy Gallery, Geneva (2023); Shadow of Boulder Hill, Fabienne Levy Gallery, Lasuanne (2023) and; Boulder Hill, Ojiri Gallery, London (2023).
Group exhibitions include: Patterns of Identity, Prior Art Space, Barcelona, Spain (2022); Wilderness of Being, HdM Gallery, London, UK (2022); Sync In Progress, Tang Contemporary Art, Beijing, China (2022); Null Protocol, Func Gallery, Shanghai, China (2022); Talking All Day, Badre El Jundi Gallery, Madrid, Spain (2022); Polychromy, Actual Gallery, Beirut, Lebanon (2022); Return To Flesh, The Room London Gallery, London, UK (2022); That Wilderness Within, PRIOR Art Space, Barcelona, Spain (2022); Identity, Artistellar Gallery, London, UK (2022) and; PAPER!, Beers Gallery, London, UK (2022). Art fairs include: Art Paris, HDM Gallery, Paris, France (2023); Artgeneve, Fabienne Levy Gallery, Geneva, Switzerland (2023) and; Asia Now, HDM Gallery, Paris, France (2022).