Frieze 2023 is officially open, and here we are with our new Collectors Guide, after having selected the most promising emerging artist of this year's edition.
TOMMY HARRISON
GRIMM GALLERY (AMSTERDAM | LONDON | NEW YORK)
1996 in Stockport, UK. Lives and works in Manchester, UK.
Tommy Harrison's work is preoccupied with the process of constructing and collapsing the painted image. With a highly sophisticated range of techniques and influences, Harrison's work draws on various painterly traditions from the High Renaissance to the present day. Through a complicated technical journey, each work resolved into anonymous landscapes or claustrophobic interiors, enlivened by cropped bodies deployed as pure form, stripped of narrative or didactic function.
Harrison begins by drawing directly onto the canvas using the tailor's chalk, establishing an initial framework for each composition that quickly disappears. Operating without preconceived logic, the process by which images emerge is circuitous until a direction begins to reveal itself. This tension provides a blueprint from which formal and figurative imagery emerges and upon which Harrison holds to build or dismantle with oil paint. Moved by spontaneity rather than a guided process and contrived planning, Harrison slowly develops various possible compositional outcomes, working on multiple canvases simultaneously over weeks and months. His paintings are often anchored by a motif or found subject derived from art history and broader visual culture.
Tommy Harrison (b. 1996, Stockport, UK) recently graduated with an MFA in painting at the Manchester School of Art (2021-23), for which he received in 2020 the Haworth Trust Painting Scholarship. In 2022 he had a solo exhibition titled Frozen Mid-Melt at Pipeline Contemporary, London (UK). Harrison's work has been included in group exhibitions at Chapelle de l'Humanité, Paris (FR); Islington Mill, Salford (UK); Elysium Gallery, Swansea (UK) where he was shortlisted for the Beep International Painting Prize; Bankley Gallery, Manchester (UK); and Holden Gallery, Manchester (UK).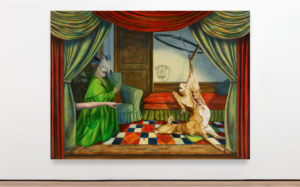 KARA CHIN
VITRINE (LONDON | BASEL)
b.1994 in Singapore. Lives and works in Newcastle, UK.

Kara Chin is a British-Singaporean artist working across animation, ceramics, and installation. Her work inquires into the implications of fast-evolving technologies, their ethical conundrums and the potential consequences of developing robotics and artificial intelligence.
Chin combines transhumanist and nonhuman perspectives into fictional narratives, to often humorously suggest ways new technologies are incorporated into everyday working and domestic environments.
Chin's chaotic installations combine kinetic and robotic components with sound and natural elements, connecting the organic and synthetic. By their Anthropomorphic features and movements, sculptures are transformed into creatures with which to empathise, examining how individual experiences relate to these imagined future scenarios.
Chin has recently been researching the relationship between technology and hauntology, being interested in 'digital manifestations' as "the most deceptively real 'non-real' things" and how technology can exacerbate and facilitate being haunted by the future. Her recent series tries to rationalise machines' behaviour and tell how technology could be paranormally haunting.
The work presented for Frieze explores 21st-century disaster movies and video games within a built environment. Throughout the presentation apocalyptic and disaster movie aesthetics and tropes are a constant reminder of an unnamed existential threat, placing the viewer somewhere between the cinema audience and character. With an odd yet intelligent humour, the work evokes a collective sense of dread and anxiety.
Kara Chin (b.1994, Singapore) holds a BA in Fine Art from The Slade School of Fine Art (2018). She has been awarded the Woon Foundation Painting and Sculpture Prize (2018); The Duveen Travel Scholarship, UCL (2018); The Alfred W Rich Prize, Slade (2017); Max Werner Drawing Prize, Slade (2015). Chin has exhibited internationally at galleries and museums including: Goldsmiths CCA, London, UK; Humber Street Gallery, Hull, UK; The 8th International Triennial of Art and Ecology, Maribor, SI; BALTIC39, Newcastle, UK; South London Gallery, London, UK; ADM Gallery, Singapore; DKUK, London, UK; Gallery North, Newcastle, UK; Hatch, Paris, FR; CBS Gallery, Liverpool, UK; Tuesday to Friday, Valencia, ES; Science Museum, London, UK; Galerie du Monde, Hong Kong, CN; APT Gallery, London, UK; Fieldworks, London, UK; Quench, Margate, UK; VITRINE, London, UK; VITRINE, Basel, UK; VITRINE, Digital; The Embassy Tea Gallery, London, UK; Subsidiary Projects, London, UK; Pineapple Black, Middlesbrough, UK; The Milton Gallery, London, UK; UCL Art Museum, London, UK; San Mei Gallery, London, UK; IMT Gallery, London, UK; Fold, London, UK; The Pallent House Gallery, London, UK; Off Site Project, Online; Huxley Parlour, London, UK; Linseed Projects, Shanghai, CN; The Art Station, Saxmundham, UK.
Her work was recently acquired by the Arts Council Collection, UK, and is included in private collections internationally.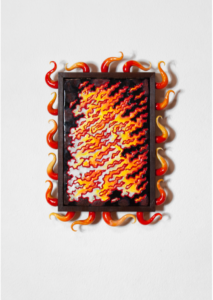 SOPHIA LOEB
PIPPY HOULDSWORTH GALLERY (LONDON)
 1997 in São Paulo, BR. Lives and works in London, UK
With her compositions, Sophia Loeb raises awareness of humankind's exceptionalism and our mistreatment of the natural world, questioning our anthropocentric attitudes and methods of earthly existence. Her works advocate for harmony within the universal system and the need for a place or a land unimpacted by manmade destruction. Informed by her early childhood in Brazil, her practice is based on a meditative study of the natural order and the interconnectedness of all universal systems. She affirms the inseparable connection between all beings as equals: 'creature as landscape, landscape as a creature'. Realising paintings of both monumental and intimate scales, Loeb draws inspiration from our internal biological forms and the epic natural formations we live alongside.
Through a heightened sensory experience, Loeb's paintings and sculptures materialise internal and external sensations and are characterised by suggestive organic and biomorphic forms unfurling through space. In ceramic tendrils, her sculptures address Brazilian tropical phenomena as they do the sensory processes of the human body. Loeb evokes streams and pools of colour in her painting through layered gestural brushstrokes driven by instinct. Between frenetic gesture and compositional restraint, Loeb's practice embraces the expansive freedom of organic movement alongside the measured awareness of meditation.
Sophia Loeb (b. 1997) is a Brazilian artist. She recently graduated from Royal College of Art and attended BAFA Goldsmiths University of London, until 2020. Her first solo show was hosted at Pippy Houldsworth Gallery in London. Her works has been recently exhibited at Galerie Marguo, Paris (France); Casanova Arte, São Paulo (Brazil); Vortic Art, London (UK); Lamb gallery and Galeria Cassia Bomeny (Brazil); eastcontemporary Gallery (Milan) and Spread Museum Entrevaux (France). The Rachofsky Collection, Dallas, and The Shah Garg Foundation recently acquired her work.
NINA DAVIES
SEVENTEEN (LONDON)
b. 1991, Vancouver, Canada
Nina Davies is a Canadian-British artist who considers the present moment through observing dance in popular culture and how it is disseminated, circulated, made, and consumed.
Nina Davies (b. 1991) recently graduated from Goldsmiths MFA Fine Art where she was awarded the Almacantar Studio Award and the Goldsmiths Junior Fellowship position. Her work has recently been exhibited at Matt's Gallery; Circa x Dazed Class of 2022, Piccadilly Lights in London, Limes in Berlin, K-Pop Square in Seoul, Fed Square, Melbourne; Overmorrow House, Battle.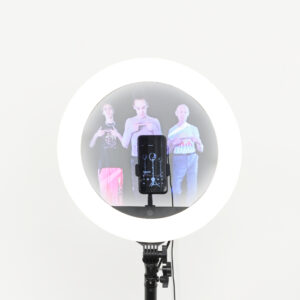 JACK O'BRIAN
GINNY ON FREDERICK (LONDON)
b.1993 London, UK
Across sculpture, drawing and painting, Jack O'Brien combines industrial, fashion-design and architectural techniques to consider the production of desire and histories of consumption. The artist has spoken of objects as "eloquent texts" that encode cultural and historical meaning. He materialises encounters between two ongoing infiltrations that destabilise the increasingly divided, public space: neoliberalism and queerness. Veering between delicacy and violence, his complex meta-constructions relay an architecture of competing desires showing how queerness moves alongside late-capitalism. As such, his works act as epistemic retainers revealing otherworldly and manipulated forms that evade and challenge the ready-made logic and linearities of the modern world.
Jack O'Brien (b.1993) lives and works in London. Recent solo and duo exhibitions include: The Answer, Sans Titre Invites, Paris, FR (2023); To More Time, Lock Up International, London, UK (2022); The Influence of Emotions On Associated Reactions, with Henryk Morel (1937-68), Polamagnetczne Gallery, Warsaw, PL (2022) and Waiting For The Sun To Kill Me, Ginny on Frederick, London, UK (2021). Recent group exhibitions include: Support Structures, Gathering, London, UK (2023); Memory of Rib, N/A Gallery, Seoul, KR (2022); Chômage Technique, Lovaas Projects, Munich, DE (2022); Something is Burning, Kunsthalle Bratislava, SK (2022); An Insular Rococo, Hollybush Gardens, London, UK (2022) and Strange Messengers, Peres Projects, Berlin, DE (2018).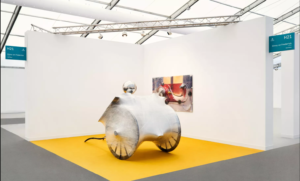 CECE PHILIPS
PERES PROJECT (BERLIN, SEOUL, MILAN)
b. 1996 in London, UK
Cece Philips is a London based painter whose luminous compositions explore the associations we hold towards certain actions, dress, even mannerisms in order to intervene in historical canons. Working from a combination of archival sources, fiction, and memory Philips' approach to postures and composition rewrites canonical imagery to imagine both a different subject and viewer. These subjects are depicted in a rich colour palette, with an attention to light and space that lends the work a psychological and narrative depth – details that lead us through and beyond the work and activate the viewer's own imagination. Philips recently obtained her MA in painting at the Royal College of Art in London.
Current Group Exhibition include:Solaire Culture – 250 Years of Veuve Clicquot, travelling exhibition, Tokyo, JP, Sydney, AU, Cape Town, ZA, Los Angeles, US and London, UK. Upcoming Group Exhibitions include: The Painted Room, curated by Caroline Walker, GRIMM, Amsterdam, NL. Solo Exhibitions include: 2023 Walking the In-Between, Peres Projects, Seoul, KR, 2022 The Night Has a Thousand Eyes, Peres Projects, Berlin, DE, Between The Dog And The Wolf, ADA Contemporary Art Gallery, Accra, GH, 2021 Memories of The Future, Post Gallery Zurich, Zurich, CH, I See in Colour, HOME, London, UK.
Group Exhibitions include: 2023 Poetics of Falsification, Harper's, East Hampton, US, RCA2023: MA Painting Graduate Show, Royal College of Art, London, UK, Night, Light, Cob Gallery, London, UK.