BeAdvisors Art Department's Collectors Guides are back! We have been touring Marseille to select the most promising emerging artists of ART-O-RAMA Marseille 2023.
Giuditta Branconi
(L.U.P.O., Milan)
b. 1998 in Sant'Omero (Italy). Lives and works between Milan and Teramo, IT.
The work of Giuditta Branconi (born in 1998) is presented to us as vivid, emblematic of delicate and flourishing beauty, with a distinctly feminine flavour, of a resolutely strong-willed and idyllic character, full of inner monologues, those typical of the so-called stream of consciousness. With the main objective of connecting with the surrounding globe, without excluding its dichotomous aspect, Branconi's vibrant research initially captures modern symbols, images and icons, and then creates new and astonishingly personal visions composed of elements that are both angelic and lascivious, as well as dreamy and disturbing. Branconi's swirling and strongly identifiable painting is a veritable mise en scène in which the characters, the undisputed protagonists, often surrounded by rare species and a rich fauna, whirl around and hover harmoniously, making themselves increasingly ineffably unstoppable. On the basis of these premises, the "Tarot de Marseille" series was born, freely inspired by the so-called Tarot de Marseille or Marseilles Tarot […]. Giuditta Branoni, going through the entire analysis of esoteric, philosophical and theological symbolism typical of the subject matter, has wisely developed, in a rigorously pictorial key, a new symbolic alphabet through which she can narrate the multiple life stories that concern us all. 
Giuditta Branconi holds a BA from the Brera Academy of Fine Arts of Milan. Her works are featured in several major collections, Collezione Maramotti amongst others. Her work has been exhibited widely in Italy and internationally. In 2022 she had her first solo exhibition at L.U.P.O in Milan (Les Filles Terribles, L.U.P.O., Milan). She lives and works betweehn Milan and Teramo.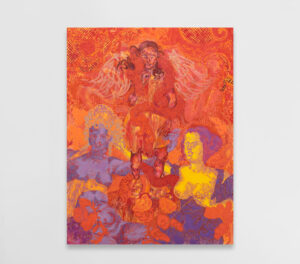 Giuditta Branconi, XV, 2023, oil on canvas, 130×100 cm
Léo Fourdrinier
(HATCH, Paris)
b. 1992, lives and works in Toulon, FR.
Drawing inspiration from mythology, antiquity and archaeology, Léo Fourdrinier creates sculptures and installations that combine archetypal iconography with found objects and more intimate elements. Neon light installations bathe his sculptural works in a synthetic amber hue reminiscent of an artificial sunset. The light creates a dreamlike atmosphere for his surreal combinations of classical forms and technological scraps with contrasting textures of metal, stone and synthetic plastic. By diverting altered universal symbols from the past, Fourdrinier shows how they can alter the perception of contemporary and future realities.
Léo Fourdrinier (b. 1992) lives and works in Toulon. Graduated and congratulated from the Ecole Supérieure d'Arts et Médias de Caen/Cherbourg in 2017, he has notably worked within different residency programs: Le Confort Moderne (2018, Poitiers), Fugitif (2018, Leipzig), 40mcube/GENERATOR (2019-2018, Rennes), Le Port Des Créateurs (2020- 2023, Toulon). He is currently guest curator at the axolotl gallery (Toulon) and has the status of associate artist for three years in the third place, Le Port Des Créateurs. His work has been presented in several monographic and group exhibitions, including at: Center d'Art Contemporain de Nîmes (CACN) (2021, Nîmes), Galerie l'axolotl (2020, Toulon), 72nd Festival Jeune Création, Fondation Fiminco (2022, Romainville), 14th Festival des Arts Ephémères (2022, Marseille), Spinnerei (2019, Leipzig), Palazzo San Giuseppe (2020, Polignano a mare), La Vallée (2019, Bruxelles), Le Confort Moderne (2018, Poitiers). He was selected for the 16th Lyon Biennial – MANIFESTO OF FRAGILITY, curated by Sam Bardaouil and Till Fellrath, Lyon, France and for Un Été au Havre 2023, curated by Gaël Charbau, Havre, France. He was a finalist in the 9th Prix Révélation Emerige 2022 in Paris, represented in Madrid in collaboration with Institut de Madrid. Upcoming exhibitions include a solo show at Art-o-rama 2023 with HATCH gallery, and participation in the Gist Zennevallei Triennal in Belgium.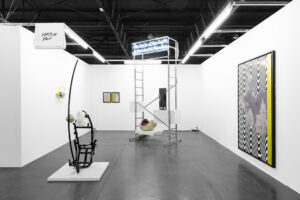 Léo Fourdrinier, Mās/seille: The limits of the, Earth, at the end of Paradise, solo booth
Alex Margo Arden
(Ginny on Frederick, London)
b. 1988 in Berwyn, PA. Lives and works in London, UK.
Alex Margo Arden is a multidisciplinary artist from London and her work excavates theatrical models of production and interpretation. Her practice considers questionable authority through performances, installation, odour and painting, with works often governed by the preset programming of lighting sequences, soundscapes, and aroma dispensers. Exploring the sensory potential of re-materialising digital content (viral videos, images and memes) and re-contextualising material which audiences may have previously witnessed (oversaturated popular figures and historicised iconography), the work arouses inconsistency, or a misinformation effect. These generative processes of reproduction and reinterpretation create trails of conflating and contradictory information, building a web of fabricated truths and false lies, and reinforcing an overarching fear of forgetting. In her work, subtle transformations occur through recreation – a photograph may be remade as a painting, a location may be re-staged with a backcloth, or a collection of objects may be reassembled – these performances of making are reenactments to interrogate identification, ownership and the processes of their own creation. Disappearances and reappearances become key strategies to challenge perception and presence – failure to appear is invoked and there are often missing performers present: objects and people ghost through the leftovers (pieces of popcorn, strands of hair, particles of smell). Arden has been researching moments of accidental inconsistency, scandal and bleeding between the fictional and the real within the production, rehearsal and presentation of Hollywood films.
Alex Margo Arden is an artist based in London. Her work considers questionable authority through multi layered performance, installation, and odour. Her previous projects have been presented at Cell Project Space, London; La Casa Encendida, Madrid; World Pride 2022, Malmö; The Royal Standard, Liverpool; Mathew Gallery, New York; AND/OR, London; and Serf, Leeds. She graduated from  Goldsmiths, University of London, where she won the Hamad Butt Memorial Prize. Upcoming projects include Quench, Margate and Weston Studio, Royal Academy, London.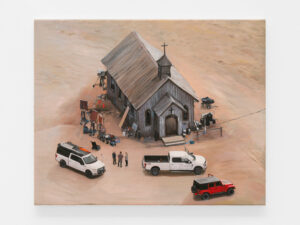 Alex Margo Arden, 20, A, 19, 18, B, 21, E, D, F, C, 22, G, 23, 2023, Oil on canvas, 1.7cm x 51.2cm
Aidan Duffy
(South Parade, London)
b. 1995 in Glasgow, Scotland, lives and works in London, UK.
Aidan Duffy creates sculptures of rich texture, shape and structure that combine and fuse the natural and the synthetic; the organic and inorganic. He collects and uses an intriguing range of natural and industrially made materials: stone and driftwood, metals, pottery, furniture and other discarded or found objects. Sometimes materials lie in the studio for months before they are incorporated into a work – movement and making precipitated by a sudden intuition. But the process is not haphazard, there is control and precision. Initial drawings serve as a fluid departure for his studio practice – line and colour leading to compositional armatures of metals, jesmonite and resin with sprinkled pigment: form indivisible from colour. Duffy's sculptural syntax goes beyond definition, spanning the fine and decorative arts as well as domestic functionality. Despite the seemingly fortuitous way in which the material is found and made, these sculptures have a unity and coherence of form and meaning; suggesting a harmony between the body and the environment; and this, in turn, demonstrates the vulnerability and resilience of the world in which we live.
Aidan Duffy (b. 1995 in Glasgow, Scotland) now lives and works in London, having grown up between Glasgow and the Scottish Highlands. Recent selected solo exhibitions include young coin rite, South Parade, London, UK (2023); Raw Nerves, Hannah Barry, London, UK (2022); My Empty Shell, Ambrosia Projects, UK (2022); The Room, South Parade, London, UK (2022); Grotto, Ridley Road Project Space, London, UK (2022); Sole, curated by Rebecca Ackroyd, Becky's Unit, London, UK (2020); Fashion Cafe, Kantine, Brussels, BE (2019); and Motte + Bailey, St. James Road, London, UK (2019). Duffy also contributes to various publications, such as the virtual magazine Bog. Upcoming exhibitions include a group show at Hannah Barry, London, UK and a solo exhibition at 243 Luz, Margate, UK (both
2023).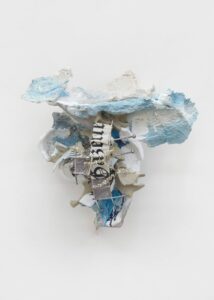 Aidan Duffy, Journalism, 2023, Jesmonite, Epoxy Resin, Epoxy Clay, Metal, Ce- ramic, Pigment, Acrylic, Fabric, Cord, 20⅞ (H) x 18⅞ (W) x 9½ (D) in. 53.00 (H) x 48.00 (W) x 24.00 (D) cm 
Anastasia Sosunova
(Eastcontemporary, Milan)
b. 1993, Lithuania lives and works in Vilnius, Lithuania
In her multidisciplinary practice, Anastasia Sosunova explores the power of systems of control, traditions and religious or enigmatic beliefs to shape the behaviour of individuals and communities today. Through a reflection on understanding and analysing the economic and spiritual structures of her
surroundings – in particular with reference to Eastern Europe and Lithuania – the artist envisions arenas in which personal and collective stories, memories of past events, legends, secular faiths and the reinterpretation of ancient mythologies co-exist and interweave. Sosunova works in various modes and media, combining graphics, sculpture, video and installation, in which the acts of worldbuilding and experiencing forms of alternative narrative emerge in realms defined by migrating and hybrid iconographies as well as by multi-layered identities. The unearthing of complex stories, rituals and collective psychologies, reinterpreted in what the artist describes as "an alternative form of contemporary folklore" – something "which teaches me that anything can be made up and everything can become a story, a speaking symbol" – are constant threads running through Sosunova's work, as are the intersections of memory, fiction and social norms that, through their reframing, shape the contours
of our contemporary condition. As the artist stated in a 2021 interview: "I like thinking about most of human culture this way, detecting prayer-charged sites, objects and rituals of the mundane."
Anastasia Sosunova has recently exhibited at Cell Project Space and Whitechapel Gallery in London, Malmö Konstmuseum in Malmö, Centre d'Art Contemporain in Genève, Palais de Tokyo and Centre Pompidou in Paris, FUTURA in Prague, CAC and National Gallery of Arts in Vilnius as well as Riga International Biennial of Contemporary Art 2 in Riga.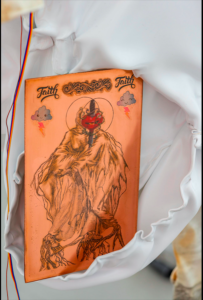 Anastasia Sosunova, The Visitation, detail (2022), Copper, varnish, ink, cable, temporary tattoo stickers, burnt styrene disposed after the fire in a warehouse, steel, epoxy resin, small piece of concrete from Vilnius parliament premises, AC hose
Masha Silchenko
(IMPORT EXPORT, Warsaw)
b. 1993 in Odesa, UK. Lives and works in Paris, FR.
The work of Masha Silchenko revolves around introspection, dreamlike apparitions, and chimerical connections. Her drawings and paintings explore the night as a sanctuary for magical beings. Ghosts become companions in the darkness. Fragile ceramic sculptures have eyes and wings. Time and again, freestanding houses with sparsely lit windows emerge, surrounded by shadowy foliage. Silchenko's focus on the visible and invisible and her extensive study of light and shadow is evident not only in her motifs, but also in the materials and installation of her works. Poetic texts, thoughts, and stories are written on canvas fabrics with bleach, over which glazed layers of paint are applied. In the interplay of various craft techniques such as ceramics, illustration and tapestry, Silchenko develops her own world of fantastic figures. Together with Björn Eichhorn, the artist produces a sound piece based on field recordings which can be accessed digitally by visitors and listened to on the go.
Masha Silchenko is Paris-based, Odesa-born visual artist (b. 1993). Having recently graduated from Ecole Nationale Supérieure des Beaux-Arts in Paris, Silchenko is currently completing a residency at the Hochschule für bildende Künste Hamburg. During her studies, she also completed a year- long exchange at the Geidai Tokyo University of the Arts, where she practised in a traditional pottery studio.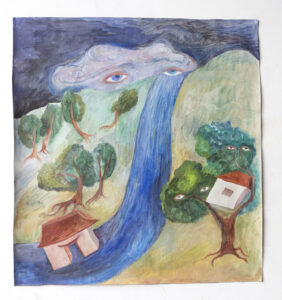 Masha Silchenko, Waterfall Painting (2021), Oil and colour pencils on canvas, 40 x 30 cm